The 6 Things You Are Getting Wrong About Legal
By Alex, Last updated: 2021-10-21 (originally published on 2016-10-20)
Whether you are just starting out or have been running an established business, managing legal is a core part of it. Yet business owners often struggle to understand local legal requirements, the different legal options, and hence fail to implement prudent legal precautions that are necessary for protecting their business.
But worry not – we are just about to debunk the 6 most common misconceptions that business owners have about the law and legal services – read on:
Misconception #1: In order for a contract to be "legally-binding", it must be drafted by a law firm
The Oxford dictionary defines contract as:
A written or spoken agreement, especially one concerning employment, sales, or tenancy, that is intended to be enforceable by law. 
Yet, many continue to have the wrong idea that contracts prepared by lawyers are more "official" and hence more "legally-binding" – this is wrong because all it takes is a written or spoken agreement to form a contractual relationship.
Surely we are not advocating that you enter into verbal agreements or draft your own contracts based on templates you find online – often times you don't know what you don't know and hence it is important that a professional will ask you the right questions. 
Did you know that Zegal's Document Builder has digitised this Q&A process, so you are prompted all the necessary legal considerations, get to draft your own contracts in a guided fashion, AND save time and money?

Try our Document Builder for free
Misconception #2: E-signatures are not recognised by law
With the advent of technology and the Internet, most communications and business transactions have moved online. Even if you are a locally-incorporated business with an office in one country, it is not uncommon that you collaborate with business partners around the world. Naturally, most communication and business negotiations take place online. Yet when it comes to signing business contracts, many business owners adopt the traditionalist view that only signatures where pen hits paper are considered valid signatures.
Did you know that e-signatures are recognised in many countries, including Hong Kong and Singapore?   
 Tweet this
In as early as 1998, Singapore became one of the first countries to allow the signing of documents online. This is now enforced by the Electronic Transactions Act 2010. Hong Kong soon followed and e-signing is now governed by the Electronics Transaction Ordinance (Cap 553). Both legislations bring local laws on electronic transactions in line with the United Nations Convention on the Use of Electronic Communications in International Contracts, adopted in November 2005.
E-sign, or invite others to e-sign with Zegal. Sign up for a no-commitment free trial here.
So, the next time you want to book a 12-hour flight to meet your business partner just to get a contract signed, think again. Having your contract signed online can save you both time and money, and allow you to manage legal more efficiently.
Learn how you can enjoy the benefits of electronic signatures: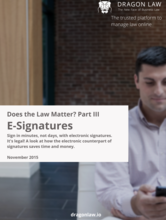 Download free eBook: E-signatures
Misconception #3: You can only sign contracts that are based in your country
Another question that business owners often ask is: Can I sign a contract that is governed by the laws of another country? If I do so, which country's laws are applicable to me?
International trade and business has been going on for centuries. It is common for business partners to hail from every corner of the world. Naturally, parties sign contracts under the laws of another country.
The fact that a contract is being signed in another jurisdiction where you might have no presence whatsoever is not a barrier to the validity of the contract. Rather, you should ensure you include a clause indicating which country's laws govern the execution of the contract.
This is important as regulatory differences cross-country may influence the outcome of disputes. Factors to consider when choosing an applicable governing law include availability the of preferred dispute resolution mechanism.
Misconception #4: You only need to set up your legal agreements once
Some business owners think legal is a one-time  worry – once they get the fundamentals right when starting out, they'll never have to think about legal again. This couldn't be further from the truth!
It is true that you must put inn place basic legal documents when incorporating your business, such as a Founders' Agreement or Shareholders' Agreement (if your business is incorporated as a company). These set out the key expectations and ensures that everyone – including the founders, partners and investors – are one the same page.
But it doesn't stop here!
If you have a website, you will need a Website Privacy Policy and a Website Terms of Use. These are minimum legal requirements even if your website doesn't sell goods or services, as they set out the ways in which your business will manage a user's personal data and defines the legal relationship between you and your website users respectively. If you are in eCommerce business or running an online marketplace, you will further need well-drafted contracts that help to manage expectations of your service, as well as limit third-party liabilities.
Even if you are not, there is a host of other scenarios under which you will think How can I best draft my legal documents to protect my business? Think: Raising capital, issuing and transferring shares, securing your intellectual property (IP) rights, hiring staff, working with freelancers… you get the drill.
Before you are overwhelmed by the thought of managing legal for your business, pause and think about this: The law exists to protect business entities and manage business relationships between individuals, so use it to your advantage.
Draft payment terms that will help you optimise your cash flow and stay out of debt. Offer your employees share options to incentivise and reward them for the work they have put in.
Dealing with the law makes business owners nervous, but it does not have to be this way. Think of managing legal as an ongoing process that is core to your business. Pay consistent attention to your legal needs and you will be able to secure your business interests and build a sustainable enterprise.
If you're not sure where to start, take our FREE Legal Health Check to find out how you can better protect your business.
Misconception #5: Lawyers are the only solution to legal issues
Many business owners turn down legal help because they generally assume it will come at a high-cost. The reality is that not every legal issue requires the attention of a lawyer. Just as other industries have been disrupted with new technologies, legal is no exception.
According to a BCG report, there are three broad categories of technology solutions that have been developing in the legal industry: 1) Enablers, 2) Support-process solutions, and 3) Substantive law solutions.
Source: How Legal Technology Will Change the Business of Law (BCG)
Enabler technologies such as cloud storage tools and cyber security solutions focus on facilitating digitisation of processes.
Support-process solutions allow processes ranging from customer relationship management to accounting to be managed more efficiently.
The third category of substantive law solutions involves the automation of simple or repetitive legal tasks, such as contract drafting and contract analysis, as well as document screening.
Evidently, you don't always need to turn to a lawyer for every kind of legal task. Existing technological tools can help make your job of managing legal easier.
Misconception #6: Online legal services & legal tech tools cannot be trusted
Surely something as important as the legal needs of your business can't be managed online?! We hear you, and we know that your concerns are valid. The reality is that many stakeholders are turning to technological tools and online services to manage their business needs.
In fact, the world's most established law firms are turning to technology to supplement the legal services that they provide to clients. At least 22 of the major law firms in the world have publicly acknowledged adopting artificial intelligence (AI)-driven systems, suggesting that we are moving beyond the early adoption stage into a phase of broader adoption. The fact that law firm Baker & Hostetler employed IBM's AI Ross made headlines.
The bottom-line is this: Online legal services are not set to fully-replace the intelligent work of a lawyer; but rather complement it so that the same outcome can be achieved in a fraction of the time, cost, and complexity.
Still not convinced?
Zegal's Managed Accounts let you enjoy the perks of technology, together with an expert who manages your Zegal account for you.
Tags:
Like what you just read?
---
Subscribe to our newsletter and be the first to hear of the latest Zegal happenings, tips and insights!