The comprehensive guide to Singapore budget 2017: SME edition
By Alex, Last updated: 2022-02-03 (originally published on 2017-04-05)
The Singapore Budget 2017 that was announced earlier this year was received with much excitement by the rest of Singapore, and one group of stakeholders in particular – Singapore's small and medium enterprises (SMEs). The nearly 190,000 SMEs in Singapore that make up 99% of businesses contribute to nearly half of the gross domestic product and employ more than 70% of Singapore's workforce.
As more details about the various Budget 2017 initiatives become available in the weeks following the Committee of Supply debates, we give you a comprehensive overview of how your SME can harness the Budget initiatives to stay ahead of the curve:
1. Up your team's skills and productivity with training support
First introduced in 2015, the Adapt and Grow initiative that aims to help Singaporeans adapt to changing job demands and grow their skills appears has proven effective, with 7 in 10 of the 10,000 rank-and-file workers placed through the Adapt and Grow career matching services in 2015 remaining in employment for at least 6 months after their placements.
The Adapt and Grow initiative underwent new enhancements that took effect on 1 April 2017:
What is it?
Businesses stand to receive up to SGD 42,000 in salary support when they hire Professionals, Managers, Executives or Technicians (PMETs) who are made redundant, or unemployed and actively looking for jobs for at least six months, in jobs that pay at least SGD 3,600 (for SMEs) or SGD 4,000 (for non-SMEs)
The eligibility criteria for employers are as follows:-
Any company registered in Singapore who;
Employs eligible PMET with minimum monthly gross salary of SGD 3,600;
Employs eligible* PMET job seeker on a permanent or contract basis for at least 12 months;
Provides eligible PMET with approved On-The-Job training (OJT) or WSG-approved courses.
Enhanced Professional Conversion Programmes (PCP)
What is it?
Businesses stand to receive 70% to 90% in course fee grant and salary support when they hire PMETs who are looking to switch careers, with enhanced support of up to 90% available for SMEs or PMETs aged 40 years and above. This includes both Place-and-Train and Attach-and-Train opportunities. The eligibility criteria for employers are as follows:
Registered or incorporated in Singapore;
Must offer employment directly relevant to the PCP, with remuneration commensurate with prevailing market rates;
Commit to PCP training arrangements;
Commit to work with WSG or its appointed partner on programme administrative requirements.
Enhanced Reskilling for Jobs – Work Trial
What is it?
Businesses have the opportunity to assess a jobseeker's fit via a cost-free short-term work trial of 40-480 hours per job seeker before offering employment. The enhancements include:
An additional Retention Incentive of SGD 1,000 at the 6 month retention mark for Singapore citizens who had been unemployed for 12 months or more prior to taking up the Work Trial; and
Salary support at 30% of monthly salary for 6 months, capped at SGD 600 per month for employees who hire Singapore citizens who have been unemployed for 12 months or more.
2. Remunerate your workers better with employer support schemes
Beyond receiving more support to hire workers looking to switch careers, SMEs can also remunerate their workers better with schemes aiming to help firms cope with rising wages:
What is it?
Budget 2017 continued to extend the scheme, which now co-funds 20% of wage increases given to Singaporean employees earning a gross monthly wage of SGD 4,000 and below.
The eligibility criteria for employers are as follows. All employers paying wage increases in 2013 – 2017 to Singaporean Singapore Citizen employees who:
Are earning a gross monthly wage of SGD 4,000 and below;
Received CPF contributions from a single employer for at least 3 calendar months in the preceding year;
Have been on the employer's payroll for at least 3 calendar months in the qualifying year (i.e. employer must have paid employee CPF contributions for at least three calendar months* in qualifying year); and
Have at least SGD 50 gross monthly wage increase.
Must not also be the business owner of the same entity (i.e. sole proprietor of the sole proprietorship, or a partner of the partnership, or both a shareholder and director of a company)
Special Employment Credit (SEC)
What is it?
The SEC, which was extended for 3 years from 1 January 2017 to 31 January 2019, provides wage offsets to employers hiring Singaporean workers aged 55 and above and earning up to SGD 4,000 a month, and persons with disabilities.
The eligibility criteria for employers are as follows. Employers who:
hire Singapore Citizen employees aged above 50 years and earning up to SGD 4,000 per month; and
make regular Central Provident Fund (CPF) contributions for these eligible employees.
What is it?
The ASEC will be extended for 2.5 years, from 1 July 2017 to 31 December 2019, and continue to support workers older than the re-employment age, as well as those above 65 years old as of 1 July 2017 and hence not covered by the increase in re-employment to 67.
3. Innovate and gain a competitive advantage with greater access to tech
Singapore Budget 2017 has been hailed as one that is "about changing the way things are done here so as to help Singapore stay ahead of the curve in the disruptive economy". In his Budget 2017 speech, Singapore's Finance Minister Heng Swee Keat identified capabilities businesses will need as Singapore matures as an economy and competes on the quality and novelty of ideas and ability to create value: the ability to use digital technology and embrace innovation.
In terms of the big picture, 23 Industry Transformation Maps (ITMs) were rolled out under the SGD 4.5 billion Industry Transformation Programme in Budget 2016 to help companies drive innovation and productivity. Six of these ITMs have been implemented. Under Budget 2017, the National Research Fund will be topped up by SGD 500 million and National Productivity Fund will be increased by SGD 1 billion.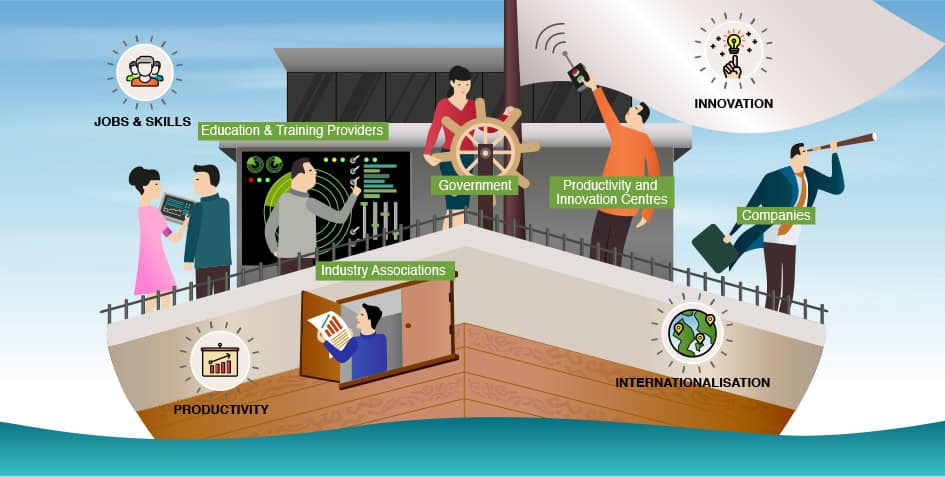 Source: Ministry of Trade and Industry Singapore
Beyond enhancing their own digital capabilities, SMEs have also been encouraged to take a more proactive approach towards becoming more innovative. Several programmes by the Agency for Science, Technology and Research (A*STAR) aim to strengthen SMEs' capacity for innovation by upgrading their technical capabilities, improving access to intellectual property (IP) and enabling faster time to market:
SMEs Go Digital (CSP)
What is it?
Administered by the Info-communications Media Development Authority (IMDA) in collaboration with other sector lead agencies, the programme aims to provide a more focused and structured support for SMEs seeking to go digital, whether this is for basic needs such as accounting software or advanced needs such as data analytics and cybersecurity. Businesses can take advantage of this initiative by:
Contacting a SME Centre
Securing a referral to the new SME Digital Tech Hub to be launched by the end third quarter of 2017; and
Working with IMDA to apply new & emerging tech solutions.
A*STAR Operation and Technology Roadmapping (OTR)
What is it?
A*STAR works with firms to conduct operation and technology roadmapping to identify how tech can help them innovate, by 5 half-day sessions covering topics such as Market/Technology Drivers and Game-Changing Products/Service. This initiative will expand its efforts to support 400 companies over the next 4 years. All Singapore-registered businesses with at least 30% of the shares owned by Singapore Citizens or Singapore Permanent Residents are eligible.
What is it?
SMEs that enter into a Research Collaboration Agreement (RCA) with A*STAR can now enjoy royalty-free and exclusive licenses of IP developed, for the first 36 months. For companies seeking access to IP, the IP intermediary will work with the Intellectual Property Office of Singapore to analyse and bundle complementary IP from Singapore and overseas. Employees who are eligible are as follows:
Applicable to all SMEs that enter into a RCA with A*STAR.
4. Free up funds to strengthen business operations with loans & tax rebates
As a small business, many of the pain points that you face can be attributed to the limited time, energy, and resources you have to run business operations and implement long-term strategies. These options to access financing and save up with tax rebates are thus welcome:
Corporate Income Tax (CIT) Rebate
What is it?
For Year of Assessment (YA) 2017, companies will be granted a 50% CIT Rebate capped at SGD 25,000 (up from SGD 20,000 in 2016). The Rebate will continue into YA 2018, with a 20% CIT Rebate capped at $10,000.
Who is eligible?
Given to all companies to help them with rising business costs.
What is it?
Launched on 1 June 2016, the SME Working Capital Loan will continue to be available until 31 May 2019 to help local enterprises access unsecured working capital financing in a period of slow economic growth. Local SMEs can apply for loans of up to SGD 300,000 to fund daily operations, with a repayment period of up to 5 years. The government co-shares 50% of the default risk of such loans with participating financial institutions in order to encourage lending to SMEs.
Who is eligible?
The eligibility criteria for companies are as follows:
Company registered and operating in Singapore;
At least 30% local shareholding; and
Group annual sales of ≤ SGD 100m or group employment size ≤ 200
Looking for tips on how to draft better contracts in order to optimise your cash flow?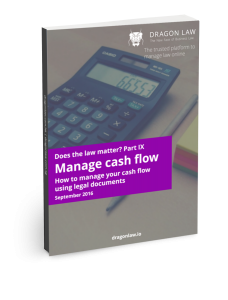 5. Expand into the region with internationalisation opportunities
According to an Internationalisation Survey of 700 companies in major sectors conducted by International Enterprise Singapore, internationalization has become the key engine of growth for Singapore companies. In 2016, the overseas revenue or SMEs formed 53% of total revenue, a 3% increase from the previous year. As Singapore's SMEs look to international markets for opportunities to grow their business, Budget 2017 promises to provide support in this direction.
The details on the new initiatives are limited at present, but SMEs can look forward to more information about the following in time to come:
International Partnership Fund: Singapore Budget 2017 commits up to SGD 600 million to set up this new fund managed by a unit of Temasek Holdings that will help Singapore-based companies increase their presence on the global market, by co-investing with these firms.
Global Innovation Alliance: With programmes such as the Innovators Academy for tertiary students, Innovation Launchpads for entrepreneurs and Welcome Centres for innovative foreign firms, this initiative aims to help Singaporeans gain experience abroad, make connections and collaborate with their counterparts in other innovative cities such as Beijing and San Francisco.
Claim your free trial. Start drafting legal documents with Zegal today.
How does your SME plan to take advantage of Budget 2017?
Share with us in the comments below!
Tags:
Like what you just read?
---
Subscribe to our newsletter and be the first to hear of the latest Zegal happenings, tips and insights!