Fintech solutions for startups & small businesses in New Zealand
22/09/2017
According to a study by Accenture, fintech investment in Asia-Pacific skyrocketed in 2015, from about USD 880 million in all of 2014 to nearly USD 3.5 billion in just the first nine months of 2015. In New Zealand, experts observe that fintech has grown despite the lack of a clear strategy from the government, with initiatives such as the Kiwibank Fintech Accelerator programme launched in late 2016. FinTechNZ, a financial innovation and technology association in New Zealand, was launched earlier this year.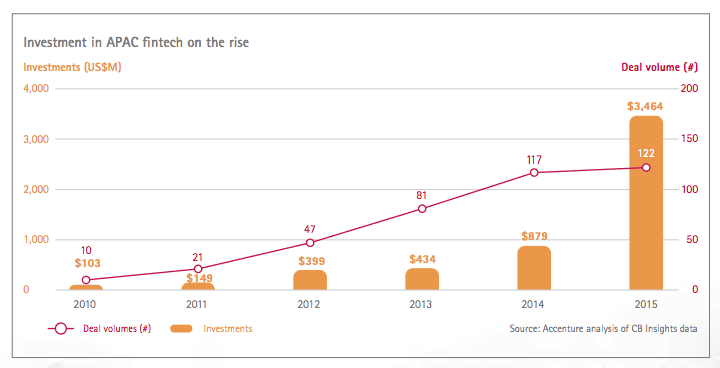 Source: Accenture
As the financial services industry began to embrace the potential of fintech, it is important to remember that the benefits of fintech are not just limited to just that few industries or sectors. Given that fintech redefines the way that we borrow, lend, save, store and transfer money, business owners and startup founders also stand to gain.
Related reading: Navigating The Regulatory Challenges Of #FinTech
Here, we give you the lowdown on key fintech startups in New Zealand that will make the lives of small businesses and startups easier.
For fundraising: Equitise
Founded in 2014 by a team with backgrounds in law, investment banking, financial services and equity capital markets, Equitise is a online equity crowdfunding platform that brings together investors and startups, enabling New Zealand startups to raise capital from the crowd. According to co-founder Chris Gilbert, raising capital through a platform like Equitise often leads to greater after-market support for the stocks, due to the broader base of shareholders.
Now that the Australian government has passed the first wave of crowdfunding legislation to enable companies to raise capital from mum and dad investors under certain conditions, as well as sophisticated investors, the future of Equitise looks bright as it will be launching in Australia.  
Equity crowdfunding is well suited to B2C companies, as such companies can leverage their customer database by inviting them to invest in the offer. This would allow the company to simultaneously use the fundraising process as a marketing campaign.
Occupying a sub-category of fintech known as insurtech, Insurely is an online platform that helps small to medium businesses to research, choose, and apply for insurance policies. As one of the first batch in the Kiwibank Accelerator programme, Insurely received NZD 20,000 in seed funding in exchange for 6% equity. The platform uses artificial intelligence (AI) to give users advice and bring clarity and management to small to medium business' insurance policy management.
For sales: Vend
Source: Vend
Founded in 2009, Vend now has 200 staff in the US, UK, Canada, Australia and New Zealand. This cloud-based point-of-sale (POS) and retail platform enables retailers to accept payments, sell in-store and online, manage their inventor, reward customer loyalty, and report on their business in real-time. This allows business owners to coordinate their sales across multiple retail platforms, analyse their sales data and make better data-supported sales decisions.
Vend has integrations with other digital platforms, such as e-commerce platform Shopify and cloud-based accounting software Xero.
For accounting: Xero
Source: Xero
Having been around for more than ten years, cloud-based accounting software Xero can hardly be considered a startup. Founded in 2006 in New Zealand, Xero now leads the New Zealand, Australian and United Kingdom cloud accounting markets. Xero's software provides business owners with real-time visibility of their financial position.
Xero has racked up an impressive array of accolades, including the Best Overall Fintech award at the Fintech Breakthrough Award 2017. More impressively, Xero has integrations with more than 500 apps acros a range of industries and business functions, including inventory, time tracking, and debtor tracking.
Learn how to manage your legal & accounting needs with Zegal's Xero Integration
Does your company in New Zealand use a fintech solution?
Share with us in the comments below!
Like what you just read?
---
Subscribe to our newsletter and be the first to hear of the latest Zegal happenings, tips and insights!