How Zegal uses Zegal to save 88 hours a month
By Alex, Updated: 2022-01-18 (published on 2017-02-14)
In most of the articles on Zegal's blog, we discuss the key challenges that startups and small businesses face, as well as how to tackle them. We recommend productivity tools that will help you streamline business processes, reduce administrative hassle, so you can save time, cost, and focus on growing your business.
We also explain how a cloud productivity tool like Zegal can help you achieve your legal needs in a fraction of the time, cost, and complexity. We advocate that companies should undertake assume a shift in mindset; from ringing an attorney when something goes wrong, to taking a preventative approach in getting it right from the outset.  
Still, we often hear questions like:
"There's no one person in our organisation that oversees Legal. How would we use Zegal?"
"I have businesses in more than one country. Can I still use Zegal?"
"E-signing? Is it legal? More importantly, is it safe?"
"I don't need your documents – I already have my own! Why would I still need Zegal?"
So, how can a business integrate Zegal into its daily operations?
As a startup ourselves, we're often also faced with too much to do and too little time. Here are three ways Zegal uses Zegal:
#dogfooding
1) Manage recruitment activity across Hong Kong, Singapore, and Australia
Our CEO, Daniel, will tell you it's not easy to run a business that grows 1000% a year. Zegal is now 50-man strong and growing everyday (see jobs here!). With a global HR function that is centralised in Hong Kong, how do we manage the creation and maintenance of Employment Agreements for 50+ employees across 3 jurisdictions, amid ever-changing employment regulations?
The good thing is that Zegal's technology has been set to comply with the employment laws of Hong Kong, Singapore, Malaysia, New Zealand, and Australia. Not only that – did you know there can be different variations of an Employment Agreement for one country?
Take Singapore for example.
While all employees under a Contract of Service are covered under the Employment Act, managers or executives are not excluded from Part IV of the Act (which provides for rest days, hours of work, annual leave and other conditions of service). Singapore's Ministry of Manpower defines Managers or Executives a an employee who earns a basic monthly salary of more than $4,500, and their duties and authority may include one or all of the following:
Influencing or making decisions on issues such as recruitment, discipline, termination of employment, performance assessment and reward,
Formulating strategies and policies of the enterprise, and
Managing and running the business (Source: Ministry of Manpower).
If you were not familiar with the employment practices in a local office, you run the risk of overlooking such provisions and providing employees with the wrong set of benefits – which could land you in hot soup in the event of dispute!
Luckily, with legal productivity tools such as Zegal, we ask as you draft your Employment Agreement how much you were looking to pay your employee – less than S$4,500 or more than S$4,500? We the customise the contract to include the right provisions – and you'd get it right without having to worry about it.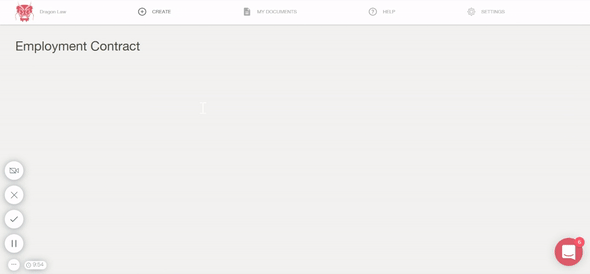 If you are creating an Employment Agreement for Hong Kong and stipulate less than 7 days' in annual leave, the minimum requirement under the Employment Ordinance, our app also notifies you of the error and prompts you to re-enter.
With senior employees, you use a Director's Service Agreement which contains stricter provisions for confidentiality, intellectual property (IP) rights, and post-termination restrictions.
Who uses Zegal: 
Chief Operating Officer/HR Director/Recruitment Lead/Office Manager

Your new hire
Documents you need:
What you save:
The time and cost of sourcing, evaluating, and engaging hiring a law firm locally – 5 working days = 40 hours
The hassle of printing, scanning, and filing (or even couriering) – a day at the post office = 8 hours 
The risk of getting it wrong – a piece of mind = priceless!

2) Work with partners in other countries
Scaling your business involves working with partners in other countries. In the past, it took few plane rides and in-person meetings, or good ol' snail mail in order to get a wet-ink signature on a hard copy document.
Are e-signatures legal? 
Does it differ from country to country, or even document to document?
Find out in our FREE eBook on e-signatures: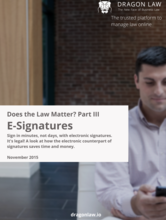 But getting a document signed isn't even the hard part. 
Contracts pass through many hands in the negotiation process, and this can lead to inconsistent versions, incongruent clauses, and errors in general.
A structured Q&A process in a document builder like Zegal means that when you amend a clause, the technology automatically ensures that corresponding numbers will match, numbers run correctly, and new rules are triggered to either set compatible clauses or prompt you for even more data that you might have missed out.
Who uses Zegal: 
Commercial/Partnership Directors

Your new partners/agencies/vendors
Documents you might need:
What you save:
Travel time and cost – 1 return flight around Asia = 16 hours
Back and forth over email, marking and tracking changes, versioning and reviewing documents = 10 hours 
Printing, scanning, and filing (or even couriering) – a day at the post office = 8 hours
The risk of getting it wrong – a piece of mind = priceless!
Use the power of the cloud to store, share, collaborate, e-sign, and manage your business documents.
No credit card required.
3) Automate our most frequently used documents
Is there a particular document that you use day-in-day-out at your company? Perhaps, like us, you are hiring aggressively and tend to need Employment Agreements. Or you might deal with many vendors/suppliers or have many clients – and often need to have agreements such as the Sale of Goods Agreement, or Distribution Agreement. If you already have your own template, but want to empower your managers to generate them even faster, and minimise error – you can get your template automated with Zegal!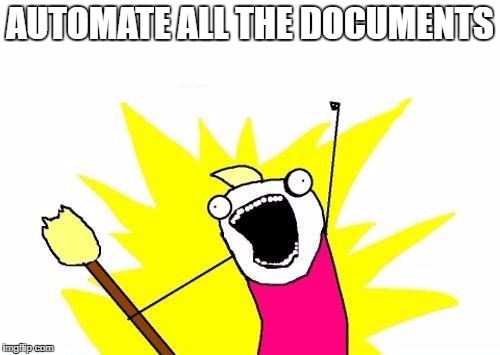 When we launched our Startup Plan, we allowed monthly billing on the condition that a client will commit to a full year's subscription. This meant we had to put in place a Subscription Agreement to govern the contractual relationship. By automating our Subscription Agreement, our sales team is empowered to share the contract with clients digitally, the client e-signs to signify their commitment, we then send an invoice and – the deal is closed!
Without legal technology, this would traditionally take a requests to the legal team and take a few days to turn around. In the worst-case scenario, a salesperson might lose out on potential a deal if a client was going impatient or had changed their mind.
Learn more about automating your documents with Zegal
Who uses Zegal: 
Documents you can automate
Our app already contains 500+ documents for use in 5 different countries. But if the document you need is not available, or you prefer to have your own template, then we can automate any document you send us!
What you save:
Your salespeople save time, so does your legal department = 4 hours
Documents accessible and stored in a centralised bank instead of passing it across departments = 2 hours
The risk of getting it wrong – a piece of mind = priceless!
Total time saved with Zegal = 88 hours
As you prepare your business for 2017, think about the ways in which you can build your business to be more efficient, cost-effective and sustainable. Is it time to consider an online productivity tool that can help you meet your legal needs in a fraction of the time, cost, and complexity?
Start managing your legal needs with Zegal today.
Contact us now to schedule your 30-min Legal Health Check and learn what Zegal can do for your business.
Tags:
Like what you just read?
---
Subscribe to our newsletter and be the first to hear of the latest Zegal happenings, tips and insights!