Expand Your Business Into New Markets with these amazing Tools
By Alex Tanglao, Updated: 2023-01-18 (published on 2017-10-29)
Congratulations! Your business has been successful, so successful that the only way left to grow is expansion into new markets – whether into a new industry or into a new region. As with any venture into the unknown, there are a myriad of questions that need to be answered, and a plethora of problems that need to be solved. These range from questions of compliance or the many logistical problems that come with setting up base in a new region.
The process of expanding into a new market is daunting, but you can count on a range of tools to help you through the process. Here, we have compiled a list of tools and services that you may want to bookmark for when you are fancying taking your business to a new level.
1. Find office space
One particular pain point associated with international expansion is finding an office space. If your company is looking to set up shop temporarily to test the waters before committing to a more permanent office location, we recommend these two co-working space platforms with an international reach. For the business owner looking to expand internationally, a membership with either of these platforms will be useful wherever you go.
WeWork
WeWork offers a very impressive and affordable network of 211 workspace locations across 52 cities spanning across the globe, from a horde of cities in the United States to Seoul, South Korea. For businesses that are looking to hit the ground running right after setting up shop in another region, WeWork has you covered not just in office space but in corporate real estate. WeWork spaces are carefully designed and constructed to prioritize "natural light, comfort, and inspiration", and these spaces are replete with amenities such as front-desk services and refreshments.
Within these spaces, WeWork has made it one of its priorities to foster a sense of community through multiple initiatives. Members are able to access networking, advice, opportunities and job listings, and events hosted at WeWork spaces. For business owners looking to expand into new markets, there is no such thing as too much information to be gathered. With access to a global network, the opportunities for knowledge exchange and more are as endless as they are valuable.
CoPass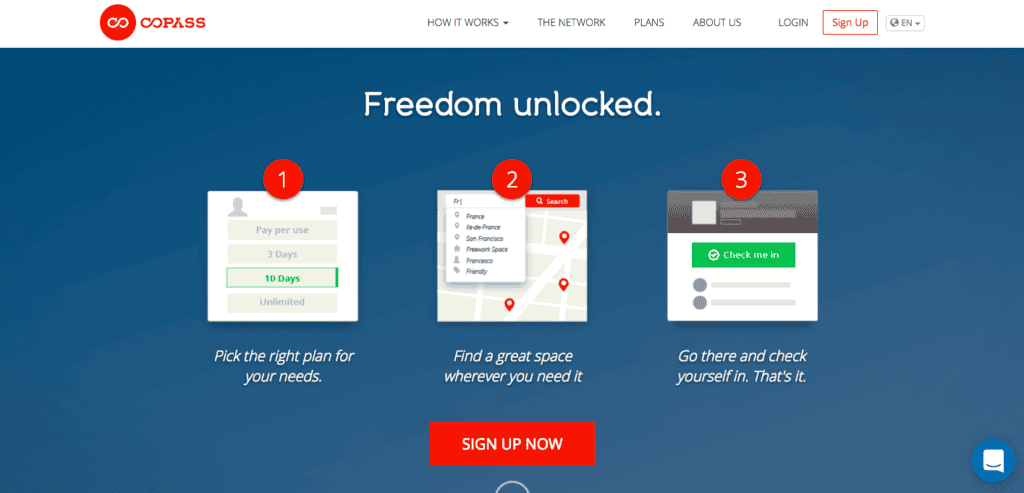 Source: CoPass
Where WeWork distinguishes itself by offering a multitude of benefits and opportunities available to all of its branches, CoPass's biggest strength lies in the sheer number of co-working spaces accessible. As of now, CoPass offers over 750 co-working spaces scattered across 465 cities and 79 countries, accessible all within one membership. It has achieved these massive numbers by having many individual office space holders join its global network, asking only for a 10% transaction fee in return. If your business is solely concerned with setting up shop in a location that has not yet been conquered by the likes of WeWork or other co-working space companies, CoPass very likely has you covered.
2. Recruit talent
Finding talent for businesses has always been a difficult and time-consuming task. It's therefore no surprise that an entire industry has formed around it, with recruitment firms advertising their services around the globe. What we are saying is that you don't have to handle recruiting all by yourself without the help of these tools with global reach.
LinkedIn
It almost goes without saying that LinkedIn has the largest congregation of job seekers, housing a massive pool of talent potentially interested in hopping onboard your new venture. LinkedIn's features make it easy for both employers and job seekers to connect with each other.
As a business owner, you can take advantage of the following features to help your talent search:
Keyword search for specific qualifications and skillsets;

Search based on recommendations posted on their profiles

Join specific interest groups to link up with like-minded individuals;

Post job opportunities for a fee.
These features, along with other methods to increase your visibility on LinkedIn, make looking for quality applicants a process that anyone can do.
Related reading: Optimise your hiring process – A guide for small businesses
Expert360
When dealing with challenges arising from expanding abroad, engaging a consultant to provide an outside perspective can be beneficial. However, management consultancy firms are notoriously expensive, and a lot of time is spent on making sure that you are getting the best bang for your buck.
Expert360 is a platform that connects you with its pool of highly qualified consultants available on a freelance basis. Its network of consultants comprises established consultants from management consulting firms and senior executives from large and stable corporations. Sifting through the list of potential consultants for hire is a breeze with Expert360's sophisticated recommendation engine and reviews left by past employers. Expert360 retains consultants who are specialized in a wide variety of industries, from human resources to finance to sales & marketing. Hiring expert advice for your business expansion has never been easier or cheaper.
3. Conduct market research
Proper market research is typically not conducted in-house, because the sheer amount of work can sometimes take a dedicated team a substantial amount of time to complete. For businesses looking to engage in market research without engaging large market research firms like Nielsen, we have a number of tools that you can use to gain an edge over your competitors.  
IBISWorld
IBISWorld is a great productivity tool that gives you access to market data at your fingertips. You can find analysis on over 1,300 different industries, so you can pick the one that most fits yours. Through the different types of industry reports, you can gain insight on market characteristics, operating conditions, current and historic performance of industry, and major industry participants.
Source: IBISWorld
By analysing who your competitors are in 5 different major economies (US, Canada, China, Australia and United Kingdom), you can see whether your company would have an edge and advantage entering into the market. Through the industry reports that IBISWorld has compiled, you can also identify the risk and opportunities in the new markets. With all this information available, you can make informed decisions to help your business reach its potential fast. Now you don't have to use up valuable time researching but instead can focus on what you do best – developing and growing your business.
Pureprofile
Pureprofile is a platform where users can answer survey questions and complete market research tasks for rewards. Over the past 14 years, Pureprofile has amassed a substantial user base, having paid out millions in rewards to its account holders. With the information Pureprofile has accumulated, you can gain deeper insight on customer's preferences, so you can amend your marketing tactics to target your clients.
Pureprofile has compiled the data it has collected into vital insights for businesses looking to identify and target audience segments with relevant products and marketing campaigns. With every client base, there are specific channels, types of content and campaign formats that will bring about the most engagement. This valuable information empowers you to make decisions that will drive sales.
SimilarWeb
SimilarWeb is a digital market intelligence platform that offers data-filled insights into both your audience and your competitors. The platform offers a  bird's eye view of the market, leaving no stone unturned as insights on consumer intent, emerging trends and bounce rates on competing sites and apps, are all compiled into one service. Businesses are empowered to target particular customer segments and stand out from their competition while doing so. SimilarWeb has gathered data on 80 million websites and 3 million mobile apps across 60 countries, and has compiled them into 240 categories. SimilarWeb's clients range from small businesses to global enterprises.
4. Stay compliant
One of the biggest hurdles of cross-border expansion is that of compliance. Whether it is ensuring that employment contracts are legally compliant under your new jurisdiction or that your books are compliant with international accounting laws, businesses typically outsource their compliance matters to law firms or accountants. However, it is possible to manage your own legal needs using software solutions that automate the process.
Xero
Xero provides cloud-based accounting software for businesses around the world. Financial reporting frameworks and legislation are often subject to reform by government and industry groups. When it comes to managing your accounts in a new market, it is important to stay compliant on a whole host of business processes including financial reporting, payroll (which includes hiring and firing, salary, leave dates, benefits, bonuses and more), taxes and tax accounting. Xero ensures that changes to the law in these areas are seamlessly integrated into its online accounting software.
Zegal
Currently operating in five jurisdictions, Zegal offers a cloud-based legal software solution for businesses and law firms alike. Business owners expanding into new markets understandably worry about whether their existing legal documents are compliant with laws in the new market. Zegal's online legal software contains a suite of legal documents that are constantly updated to stay compliant with the changing laws and regulations in each of the jurisdictions.
Other useful features include the option to digitally sign and store your legal documents in the cloud, which saves time and resources when you need to get a document signed by multiple parties across different countries. Zegal's integrations with Google Drive, OneDrive, Dropbox and Xero allow you to seamlessly integrate the Zegal platform into your business processes. If you opt for the Premium plan, you will also receive legal advice from a dedicated law firm via live chat. Essentially, Zegal provides the help your business needs to succeed at a fraction of the cost of a law firm.
Claim your free trial. Start drafting legal documents with Zegal today.
Do you use any tools that help you expand into a new market?
Share with us in the comments below!
Tags:
Like what you just read?
---
Subscribe to our newsletter and be the first to hear of the latest Zegal happenings, tips and insights!