What is Legal tech, and why is it important?
By Bethany Barrett, Last updated: 2023-01-11 (originally published on 2022-06-21)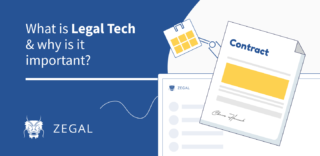 Legal Tech, or LawTech, is a term increasingly used by legal professionals working in larger firms and in-house teams. Improving technology is the top priority for legal firms in 2022.
Many consumers will have also likely used Legal Tech, perhaps without knowing it, for instance, to sign a document online. 
The legal tech industry is booming and is most certainly here to stay. With that in mind, this article answers some key questions, such as:
What is the definition of legal tech?

What are the benefits of legal tech?

What are the barriers it faces?

How can legal tech help me?
What is legal tech?
The Solicitors Regulation Authority (SRA) and the Law Society define legal tech as 'technologies that aim to support, supplement or replace traditional methods for delivering legal services, or that improve the way the justice system operates'.
Just as its sibling FinTech encompasses tools and systems changing how the financial services industry works, legal tech aims to improve the way the legal sector operates both from an internal and external point of view. 
A recent study by ContractWorks found four critical areas of focus in the legal tech sphere:
Contract management

Matter management

Electronic signatures

Electronic billing
And this is just the tip of the iceberg. With the legal tech market already worth an estimated 17.32 billion US dollars in 2019 and due to hit over 25 billion US dollars in 2025, the scope for legal tech is set to grow hugely over the next few years. 
What are the benefits of legal tech?
While not all exclusive to legal tech specifically, the benefits brought by legal tech tools are becoming more tailored to the issues faced by the industry.
Efficiency
The ability to search for key contract terms with the click of a button or generate comprehensive timelines instantaneously does not just make a lawyer's job far less admin-heavy. It also allows them to spend more time on tasks better suited to their qualifications. 
Transparency
Legal issues often appear more complicated than necessary, thanks to a centuries-old legal culture based on elusiveness, coded jargon, and often a superiority complex.
The tide has slowly changed on this outlook over the past 20 years, and legal tech is undoubtedly helping a shift towards user-friendly legal solutions, like Zegal.
With the SRA reporting that 72% of firms believed the purpose of implementing legal tech is to improve service quality, maybe legal tech may finally help the legal industry change external perceptions of it. 
Certainty
You are far less likely to misplace a critical piece of due diligence when it is handled by legal tech solutions than when it sits amongst thousands of documents in a physical room ready to be sorted by overworked trainees.
Legal tech also drastically reduces the margin for human error through tools such as contract automation and management systems. 
Security
Digital signatures and encrypted data rooms are great examples of how legal tech secures documents processed by lawyers. Over 80% of firms surveyed by PWC in 2021 stated that they had an investment in these tools, which are now widely used outside the legal sphere. Consequently, this is undoubtedly an area that will continue to be developed by legal tech engineers. 
What are the barriers facing legal tech?
The barriers facing legal tech generally lie at the outset of the implementation process. Whether this is a lack of funding for legal tech projects, a lack of staff training, or a lack of tech literacy generally, a failed legal tech adoption can hugely damage a firm. 
But they are far more likely to succeed when legal tech projects are given the proper priority, planning, and dialogue, which is why companies are increasingly turning to experts like Zegal.
Why is legal tech important to non-legal professionals?
Fundamentally, legal tech is making the law more accessible, resulting in a growing number of businesses and individuals turning their resources to it.
User-friendly tools such as contract automation systems are potent weapons for in-house legal teams and small businesses. 
Just as FinTech brought the rise of the challenger bank, legal tech can bring equality between law businesses of varying scales. With the right tools, a startup can compete with global behemoths, which is worth celebrating. 
Like what you just read?
---
Subscribe to our newsletter and be the first to hear of the latest Zegal happenings, tips and insights!