What should be included in a UK employment contract?
By Bethany Barrett, Date published: 2022-05-26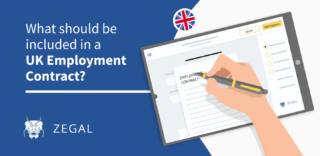 This article does not constitute legal advice. Professional employment law advice should be sought where necessary. 
Hiring additional and replacement employees becomes more important as businesses grow and develop. When making the decision to hire, the more important aspects in any business owner's mind are likely to relate to the marketing and interviewing process.
But this is not where the considerations should end. Attention should be paid when creating an employment contract, as changes cannot be made unilaterally by the employer. As with any contract, both parties must agree on alterations (the employer and employee).
In some cases, this will also involve negotiations via a trade union or employee representative. Therefore, the cost and time involved in making any changes are significant, and success is not guaranteed. 
Consequently, it's essential to make sure that the employment contract works for both parties when it is originally signed.
What does the law say?
Employers don't have to issue employment contracts by law. The only requirement is that employees are provided with a 'Written Statement of Employment Particulars' within two months of the employment commencing.
This is separate from any employment contract, laying out only broad details of the employment terms, and can be changed by the employer acting alone.
However, due to their broad scope, employers may struggle to later rely on the provisions of the Statement. Therefore, it is always advisable to generate an employment contract alongside the Written Statement- ultimately, it makes things more transparent for both parties.
Zegal can help with your employment contracts
With Zegal's Document Builder tool, you can have a legally-binding employment contract tailored to your business needs within minutes.
Employment contracts are just one of many templates available on the Zegal platform, allowing you to take care of all your contracts in one place while having access to the team of Zegal lawyers for advice when necessary.
Key components of a contract of employment
Basic details
A lot of these can be lifted from the Written Statement of Employment Particulars, such as:
Names of both the employee and employer

Job title (including the classification of employee- this is important as employees are given different rights than contractors, for example)

Employment start date (and end date, if known)

Hours and location of work 
Job description
While you may have already included the job title, a description of possible duties can also be useful in clarifying what is required from the employee. These duties can be altered by the employer, given an employee's duty to be adaptable. However, any alterations or directions to act outside of the job description must align with the employer's duty to maintain mutual trust and confidence. A general 'catch-all' clause can be useful to make this element clear, i.e., the duties will be X, Y, Z, plus any other duties which are reasonably required of the employee by the employer. 
Compensation and benefits
This is an opportunity to demonstrate the value placed upon the employee clearly and could be the difference between them choosing to leave or stay with the company. Include all of the benefits offered alongside the core salary, such as private healthcare, bonuses, and employee share schemes. While the details of these benefits can be provided elsewhere, a clear list of the types of benefits offered will help persuade employees to join the company. 
Paid leave entitlements
Similarly to details about benefits offered, this section can market the company. Clarity on holiday, parental, and sick leave entitlements is helpful for employers to provide employees with a more concise overview of leave entitlements. For this reason, it may also be worthwhile to include basic details about how any paid leave is calculated and the process involved in booking it (if applicable). 
Pensions 
Given the advent of the automatic enrolment system for employees in the UK, this section of an employment contract can be vital. Details of pensions eligibility and the type of scheme offered may be too lengthy for inclusion in the employment contract itself, but a simple statement of whether the employee will be eligible for enrolment, the name of the scheme, and where more information can be found will act as a useful signpost for employees looking for the pension options available to them. 
This must be given as part of the Employment Particulars Statement, so it can be transposed into the employment contract if needed. While this might be repetitive if it's listed elsewhere, employees are more likely to check their contract for information relating to their employment. 
Confidentiality provisions
Confidential information can be protected from disclosure by an employee during their employment, but it becomes more difficult post-employment. Without an added provision, only trade secrets are protectable post-termination of an employee's employment contract. This is a high threshold to meet, and given the importance of confidential information to many businesses, this risk should be taken seriously.
Confidentiality provisions should be considered carefully in any employment contract to encompass any confidential information the employee may have access to. This can be a thorny area due to the need for carve-outs (such as when disclosure is required by law), so professional advice should be sought if this is an area of particular importance. 
Termination and disciplinary procedures
It may seem pessimistic to consider what will happen when things go wrong or when the employment relationship ends, but it is essential to be clear from the outset.
Consider the conditions either party must meet before the employment can be terminated, any restrictions on how the employee can act post-termination (e.g., anti-compete or anti-solicitation provisions), and details of where disciplinary and grievance procedures can be found. 
This can be problematic for both parties, especially since the employer/ employee relationship is presumably already fractious when issues arise., so a balance between party interests is vital.
While an employer will be keen to protect their interests for the least cost possible, the brand image should also be considered, especially when providing severance packages or restricting an employee's future behaviour.
Tags:
Like what you just read?
---
Subscribe to our newsletter and be the first to hear of the latest Zegal happenings, tips and insights!