How To Avoid Copyright Using Plagiarism Checker?
By Dipendra Bhatta, Updated: 2023-09-26 (published on 2022-08-02)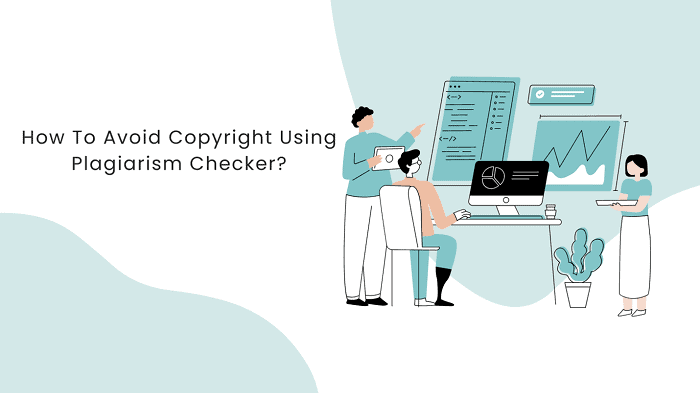 You must be wondering if you could find any suitable answer to your query or not regarding what is a plagiarism checker, how to avoid copyright using plagiarism checker.
In this article, we'll be sharing all the necessary details you need to know about copyright and how can you avoid it using plagiarism checker tools.
While technological advancements have made tasks easier and more effective on the contrary, there are numerous difficulties people are facing due to that.
Plagiarism and copyright issues are increasing at a very fast pace. Let's first understand what are these terms and how can we avoid copyrights using an online plagiarism checker.
What Does Plagiarism Mean?
The term plagiarism means an act of using somebody else's content be it text, image, or video, and pretending to be owning it.
When you steal someone's idea or thought that also come under an act of plagiarism.
There could be other reasons like an error in citations, improper quotation marks, irrelevant references, etc. that comes under plagiarized content.
It is not an illegal but an unethical act. If plagiarized content is found on your website then you'll need to pay penalties.
What Does Copyright Mean?
The term Copyright defines that one has the right to copy but only if you're authorized and allowed to use the content.
The using of copyrighted content without the consent of the copyright holder is a crime.
For clarification: Content that can be shared or used by anyone but has a copyright claim requires the claimer's approval.
You may use it only with the permission of the copyright holder. It is considered a legal issue for which one must account for or be punished for committing a civil crime.
What Is The Difference Between Copyright And Plagiarism?
Here are some points that show you how plagiarism and copyrights are two different terms;
Plagiarism is to use one's content and pretend that you are the owner, whereas copyright permits you to copy but only with the consent of the copyright holder.
You can find plagiarism in both written and electronic form whereas, copyright is something that includes web content, software, applications, art, novels, movies, etc.
Plagiarism is an unethical act whereas, copyright is a civil crime that is punishable by law.
Plagiarism is a random thing and has no rules, whereas for copyright you can go through the rules and regulations for copying provided by the owner.
Tips and Tricks to Avoid Copyright and Plagiarism:
To avoid plagiarism and any sort of copyright in your content you must keep the following tips and tricks in mind;
1. Get Permitted by Copyright Holders First
By any chance, you have to use any copyrighted content on your website or anywhere then you need to avoid copyright claims first. For that, you'll have to get permission to use the content from a copyright holder. This is the most ethical way of using someone's content with their consent and with acknowledgment.
2. Images and Videos Can Cause Copyright Claims
Yes, images, videos, and infographics can cause you a copyright claim as they are copyrighted too. They also require permission from the copyright holder then they allow you on some agreement or may charge any fee to use them.
If you use them without their consent then it can create problems for you as it will count as an illegal act.
3. Make Sure to Cite What You Write:
If you're writing anything, make sure to cite them and every time you write, this will help you generate plagiarism-free content.
It allows you to maintain the flow of information without missing any citations.
Most of the time what happens is we write something from somewhere but forget to add a citation, afterwards it creates a problem for us to find where did we find this or that.
4. Do Not Copy Paste
Try not to copy or paste from any other source, paper, or website. It gets very difficult and unethical to use someone else's content.
Try to generate ideas yourself and stick to the thoughts you get while writing anything. If necessary, rephrase the content and mold it in your writing style to avoid clashes.
In this way, you can make your writing skills advanced and improve smartly.
5. Use of Relevant Quotations
The use of relevant quotations in your content is another unique way of eliminating or avoiding copyright or plagiarism.
One must include the proper quotations in their writings but they should be short and well cited. It should never be more than one or two sentences as it decreases the percentage of unique text in your content.
Apart from that, there should be quotation marks around the quotation and must end with a citation.
How to Avoid Copyright Using a Plagiarism Checker?
One can use the tips and tricks mentioned above to avoid copyright but it would be a manual thing and will consume more time.
If you want to have a quick solution that is way more effective then it could only be a plagiarism checker.
Yes, you read it right plagiarism checker tools can eliminate all sorts of plagiarized content that are causing copyrights to your content and you can write anything freely.
The plagiarism checker helps you to make things work for you by eradicating any sort of plagiarized content found in your text.
How can you avoid copyright using a plagiarism checker? The answer is quite simple, it works in the same way as it works in removing plagiarism from the content.
Here are the easy steps you can follow;
You just have to copy the content and paste it into the input section of the plagiarism checker tool.
Next, press the 'Check Plagiarism' button for generating plagiarism-free content.
You'll see the results in the right section from there you can copy it and use it wherever you want without having any fear of copyright claims or strikes.
Wrapping Up:
Copyright infringement is one of the great causes your website can get destroyed. That's why you always have to make sure the content that is present on your website is plagiarism free and is not copied from anywhere. If you copy it from anywhere proper citation and relevant references are required to make it unique.
One must always get the permission of the copyright holder before using their content be it images, text, blogs, videos, infographics, etc. Also, if you're working with any team make sure that they are using a plagiarism checker tool to avoid copyright. You must not ever use your previous work in any recent texts as this also counts as self-plagiarism which can create a fuss for you. As the work you've done is not your property now the copyright claim shifts to the publisher when you publish it.
Tags:
Like what you just read?
---
Subscribe to our newsletter and be the first to hear of the latest Zegal happenings, tips and insights!