7 Legal Documents Every Business Should Have
By Alex Tanglao, Updated: 2023-08-07 (published on 2023-06-19)
Legal Documents play an essential role in protecting the interests of a business and the business owners throughout a company's lifetime.
If you're starting a business, tackling your legal needs can seem daunting, but it doesn't have to be. It's wise to start protecting your business at the very start and not leave it until it's too late.
Here are some key legal documents essential for a business's success.
1. Confidentiality Agreement
In the excitement of setting up a business, it's natural to want to share your ideas with family and friends. But remember, once an idea is out there, you can't draw it back in.
If you are working with potential business partners and will share your business ideas with them, ask them to sign a Confidentiality Agreement (also known as a Non-disclosure Agreement or NDA), under which they are legally bound not to disclose your confidential information to a third party, and may only use that information for a specified reason.
Non-disclosure agreements forbid your business partners or employees from disclosing confidential and proprietary information about your company.
In the case of employees, before sharing any confidential information, an employer should put confidentiality expectations in written form so that it's clear what information they can share.
2. Shareholders' Agreement or Partnership Agreement
A Shareholders' Agreement is an agreement between the shareholders of a company.
It sets out many critical rules for how the business will run, ensuring that the shareholders cooperate and continuity throughout the company's life.
This document should cover who the shareholders are, their rights and responsibilities, and what will happen if and when they decide to leave the company.
If you operate under a business partnership, ensure you have a Partnership Agreement that sets out how decisions are made, and profits (and liabilities) are shared.
You can make several legal documents for your partnership business.
Everyone involved in a partnership/shareholders' agreement should understand and agree on the terms and conditions.
3. Employment Contract
An employment relationship should be documented right from the outset.
An Employment Contract sets out the obligations and expectations of both the company and the employee to minimise potential disputes.
An Employment Contract should cover key areas such as
pay,
benefits,
hours,
annual leave, and
An employment agreement clarifies the expectations of both parties (employee and employer) and helps to settle any future conflict.
4. Memorandum of Understanding
A Memorandum of Understanding (MoU) is a legal document for a business containing essential conversations with your suppliers, potential partners, and others involved in the business.
It's a milestone towards the realisation of a project and states the expected input of different parties at the beginning of a project.
A comprehensive MoU should set a clear roadmap for its parties on how they will move forward with a project.
5. Non-Compete Agreement
An agreement not to compete is a contractual obligation between an employer and an employee or contractor.
The employee or contractor agrees not to work for the employer's competitors or to open a competing business after the employee or contractor completes their service.
Restrictions to compete can be for a specific amount of time, in a specific field, and in a specific geography.
Non-compete or non-compete clauses can help a company retain valuable employees, protect confidential information (such as intellectual property or trade secrets and customers), and prevent unfair competition.
6. Website Privacy Policy and Website Terms of Use
As e-commerce has grown, legislation that governs online business has become stricter.
Website providers should clarify how personal data (e.g. name and contact details) provided by users will be used with a Website Privacy Policy.
By clarifying the scope of personal data usage and protection, website providers can comply with legal or regulatory requirements for data collection and avoid future disputes concerning data privacy infringement.
A Website Terms of Use establishes the legal relationship between the website operator and users and ensures that users agree to your terms when using your website.
Users often agree to website terms by ticking a box or are bound by the terms simply by using the website.
7. Purchase Order, Invoice, and First Payment Reminder Letter
Good cash flow is essential for a healthy business. Set out payment terms in a Purchase Order when you engage customers.
Issue Invoices on time and keep track of all payment-related documents, as these will be critical when chasing up debts.
Ensure you understand how to deal with late payments and follow the proper procedures to collect your money.
If a customer is late paying your invoice, send a formal First Payment Reminder Letter. It can prompt a customer to pay the overdue invoice so you stay on top of your cash flow.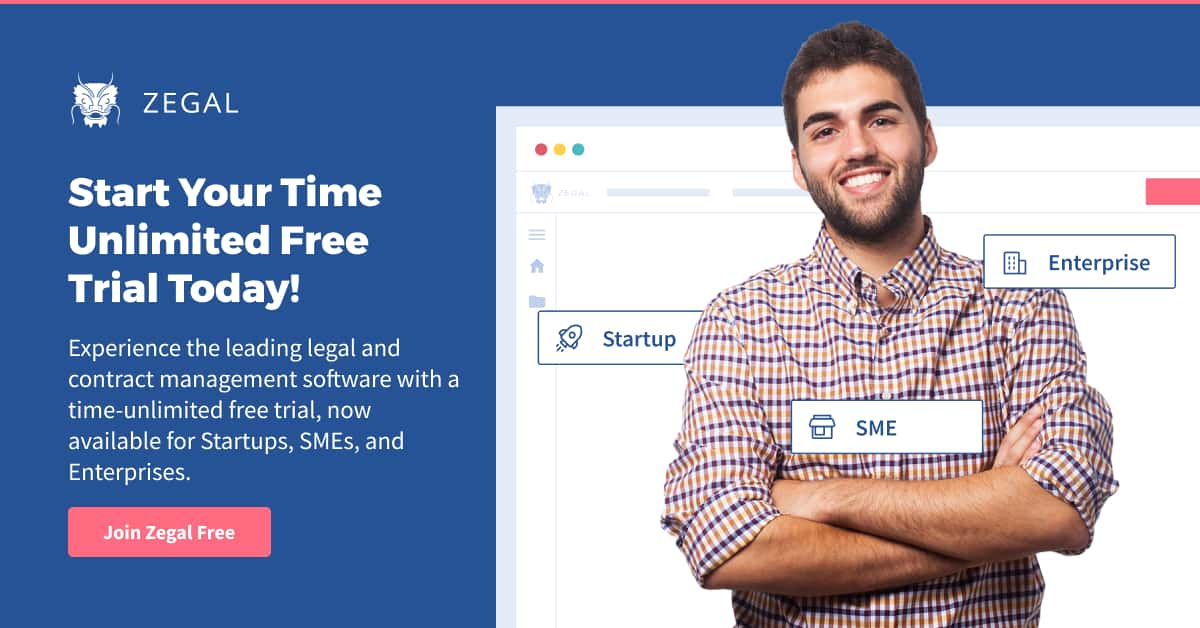 Read More
Related Documents
Like what you just read?
---
Subscribe to our newsletter and be the first to hear of the latest Zegal happenings, tips and insights!