Co-Working Spaces in London
By Hailey, Updated: 2023-03-16 (published on 2022-02-19)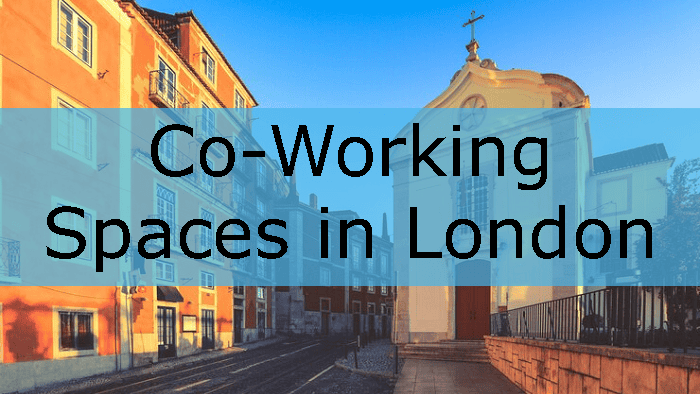 Huckletree – Shoreditch
Known as 'The Home of Entrepreneurship', this co-working space is located conveniently at the heart of London's innovative district just opposite the iconic Alphabeta Building. With an objective to bring together the city's most forward-thinking startups, scaleups, and entrepreneurs, this co-working space provides members with spacious auditoriums, classrooms, and a library ideal for any meeting or event your company may be hosting. Other benefits at Huckletree Shoreditch include specialized industry-focused networking events, growth workshops, and happy hour socials.
UNCOMMON – Highbury & Islington
With premium private offices starting at £1,800 per month, UNCOMMON's mission is to encourage businesses to learn and grow together. Boasting a rich array of various amenities including a flexible pay-as-you-go office space solution, fully stocked kitchenettes, and a spacious outdoor facility, this modern co-working space is situated between Holloway Road and Highbury & Islington. Adjacent to the facility are tennis courts, footpaths for walks, and overground links to King's Cross in under 10 minutes; members of UNCOMMON truly benefit from all that this finance and tech hub has to offer.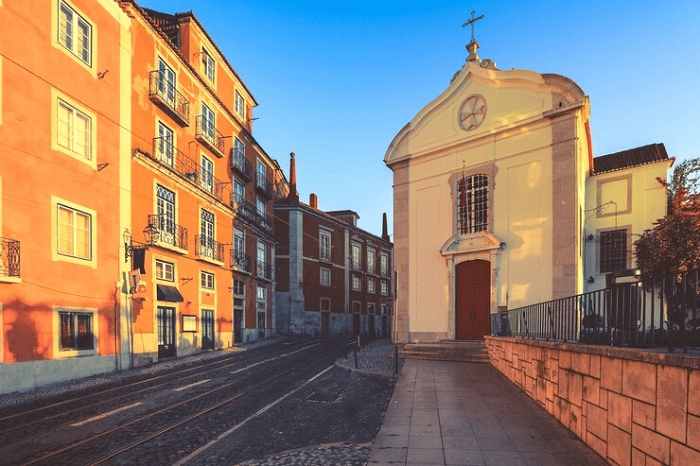 Offering unlimited hotdesking with weekend access, Work. Life is nestled within one of London's most iconic postcodes, creative and entrepreneurial spirit comes in abundance at this co-working space. With office space benefits such as bookable meeting rooms, flexible hot-desking, and advanced WiFi features, Work. Life is ideal for start-up businesses looking for a fuss-free space to get work done. Just down the road from Work. Life is Camden Lock which offers a variety of restaurants and food kiosks to try out as well as an opportunity to bask in the creative culture of the city.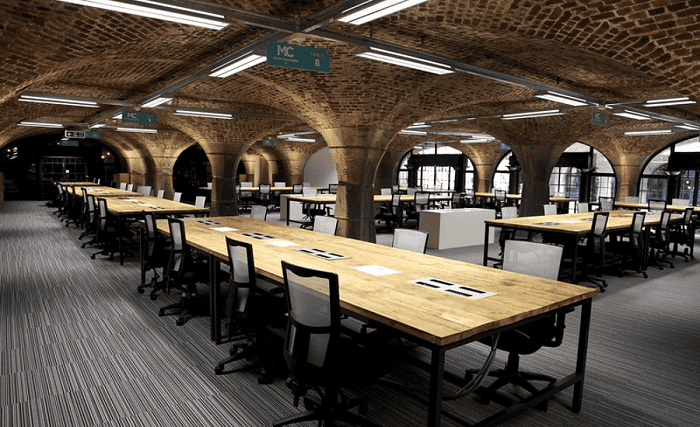 Situated only 10 minutes from Tower Bridge, the Dock is a driven and diverse community of businesses and entrepreneurs and offers a range of workspaces, private office suites, and meeting rooms to help take your business to the next level. Known for its visually striking setting within Tobacco Dock's vaults, this co-working space welcomes businesses of all sizes – from start-ups to well-established enterprises. This space knows no boundaries, with private offices catering to up to 50 people, and provides 24-hour access to all its members along with amenities such as event spaces, lockers, and a mailing address for your company.
If you're looking for something a little more quaint, look no further than to Second Home outside the City of London limits which truly lives up to its name. Members at Second Home can pay £25 for a single pass and can expect to enjoy speedy WiFi, beautiful natural light, and an in-house cafe to indulge in throughout the working day. This co-working space also offers an expert selection of curated workshops such as their 'Introductions and Business Breakthrough Programme' and Wellness Programme to give you the best work-life balance.
Set in the former press and broadcast center for the London Olympics, Plexal provides one of the most spacious work environments for businesses of all sizes; in fact, Plexal currently houses more than 4,000 startups, academics, students, and social enterprises. What sets this co-working space apart from the average competitor is that Plexal focuses on connecting start-up businesses with academia, government, investors, and corporate giants. Moreover, Plexal highlights a specific focus towards finding solutions within the technology sector, such as cybersecurity and urban mobility.
Located in one of the most vibrant intersections of the city and London's creative quarter, Fora leverages its scenic views, natural light, and eclectic entertainment scene to provide businesses with the most dynamic and driven working environment. Designed with businesses in mind, this co-working space offers an abundance of flexible desking options as well as a well-connected hub for your business. Other notable features of Fora include a landscaped courtyard, roof terraces, and premium working amenities.
For a tried and true co-working space option, head to WeWork's East London location which is set in a modern glass structure, allowing natural light to flood through as you work. As with all other WeWork locations, at Spitalfields, your business will be able to benefit from business-class printers, meeting rooms, and professional social events catered to your specialized industry. The economy of Spitalfields in particular is heavily based around retail and is in close proximity to East London Tech City, making it the ideal location for any tech business to hunker down in.
Furnished by world-renowned designer Tom Dixon, LABS' mission is simple; to inspire and stimulate. Formerly an industrial site of distilleries and warehouses dedicated to producing world-renowned gin, businesses are able to benefit from being close to Camden Market and Hawley Wharf; both exhilarating business-centered districts home to a plethora of leisure brands and independent retailers. Complete with private offices, event spaces, and air conditioning, this space just 4 minutes from the station provides both a relaxed and creative environment for every time of business.
Just minutes away from Green Park, Bond Street, and Oxford Street, The Clubhouse is an exclusive, luxurious space for businesses to impress all clients and investors. Offering perhaps some of the most competitive and premium amenities, a membership at The Clubhouse grants you free rein access to all other clubhouse locations in Bank, Holborn, and St. James Square. With a Club lounge, flexible meeting rooms, and a specialized boardroom, The Clubhouse is sure to provide your business with the most advanced and high-quality service to assist in developing your start-up.
Finding the right workplace for your business is crucial, especially during its infancy. If you're still unsure of which co-working space is most suitable for your start-up, consult Zegal's experienced team of industry experts to assist you in choosing the right co-working spaces in London for your business needs.
Like what you just read?
---
Subscribe to our newsletter and be the first to hear of the latest Zegal happenings, tips and insights!