Invoice Payment Terms
By Hailey, Updated: 2023-11-28 (published on 2022-04-26)
Issuing invoices is a crucial aspect of all functioning businesses and can directly impact the procedures regarding when employees are paid.
A well-crafted document of invoice payment terms will communicate not only when and how frequently payment should be made, but also provide supplementary information such as the company's preferred payment method and consequences of late payment.
Moreover, as a start-up or small business owner, knowing how to craft and send an invoice is crucial as prompt and timely payments ensure that cash continues to flow within the business and that clients make due payments on time. Additionally, invoice data extraction can help streamline the process of creating invoices and tracking payments, making it an essential tool for any business.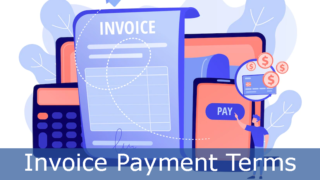 What are invoice payment terms?
Essentially, invoice payment terms are a set of rules and guidelines outlining how, when and via which methods your company's customers and clients should pay your business.
More specifically, invoice payment terms established by your company clarifies your business' standard expectations for any payments made by the company or its clients, including when the client needs to pay you and the penalties that may be incurred should this time frame be missed.
The clearer your invoice payment terms are, the more your business continues to get paid correctly. This also assists your clients in efficiently understanding your billing process.
Common invoice payment terms
Typical components of an invoice payment terms include the following:
An invoice number that is issued by the company will allow the business and customer to keep track of invoices chronologically and quickly identify them.
Company contact information. Should a dispute surrounding a client's payment arise, they should be able to contact your company promptly to resolve or clarify issues.
An invoice date.
The total invoice amount that is due to the company.
Where the client should file their receipt of payment.
The payment date and period of time your client has to pay the due amount.
Stipulations for an advance or a deposit, such as when the advance is due and whether it will be deducted from the final amount payable to the company.
Payment plan details.
A list of payment methods accepted by the company.
Other useful payment terms
Well, thought-out payment terms should benefit both the company as well as the customer by, maximizing how quickly your clients pay you after a product or service is provided to them and, minimizing any inconveniences for your customer.
In addition, your payment terms should match your business goals and allow for your company to continue developing and expanding with the tools it needs. As you start to issue invoices to your customers, you should consider how your payment terms will affect the running of your business and the cash your company currently holds.
Below are examples of payment terms that may help the smooth running of your business by avoiding late payments from customers. Remember to always discuss these terms with your customers before entering into any contract and include these terms in the invoice themselves when issued.
Pre-payment
This requires customers to pay expenses for your services or products in advance. This form of advance billing allows your company to avoid late payment and secure cash flow by requiring your customers to pay in full upfront. This is particularly useful if the service your company provides requires more arduous preparations which would incur damaging losses if your customer decided to cancel last minute.
50% Upfront
An alternative to prepayment is requiring your customer to pay 50% of the due cost of their purchase. As previously mentioned, your business may be providing a service or product that requires potentially expensive preparations. As such, acquiring the 50% partial payment from your customer can provide the working capital needed to complete the customer's order.
Installment agreement
You may also decide to break up your customer's payment into multiple installments set over an agreed period. For example, you may agree to a payment plan whereby partial payments are due by the customer every month.
Subscriptions and retainers
For clients and customers in long-term agreements with your company, it may be more efficient and resourceful to require customers to pay on a regular basis. For example, monthly or annually. To send these invoices on time, it is useful to set up an automated invoice system so that your company never forgets to charge for services or products.
Glossary of invoice payment terms
The table below explains the abbreviations and payment terms most commonly used within invoices that small business owners should keep in mind when constructing invoices of their own for clients.
| | |
| --- | --- |
| PIA | Payment in advance. |
| Stage payments | Installation of payments due over a set period of time agreed by both the business and client. |
| Forward dating | The invoice for payment will be made to the customer after the service is provided or the product is received. |
| Rebate | Refund sent to the customer or client after the purchase has been made. |
| EOM | End of the month. |
| Net 7, 10, 15, 30, 60 | Payment by the customer is expected 7, 10, 15, 30, and 60 days after the invoice has been issued by the company. |
| 21 MFI | 21st day of the month following the invoice date. |
| CBS | Cash before shipment. |
| Accumulation discounts | Discounts on orders of a larger quantity. |
| CND | Cash next delivery. |
Why are invoice payment terms important for small businesses?
For startups, the cash coming in and out of the company can amount to crucial changes in its greater cash flow projections, regardless of how big or small the payment is. As a business owner, it is highly likely that you will want to know exactly how much money is coming into your business and when.
Moreover, it is vital that your company is able to maintain accountability by keeping track of any outstanding amounts due by your customers to avoid cash flow discrepancies. Thus, knowing exactly how much money your business is receiving each month will not only allow you to monitor your company's cash flow but also better position yourself to make informed future business decisions based on its current standing.
Having clear invoice payment terms is the first step in generating accurate cash flow projections which, in turn, will greatly assist your business in planning for taxes and managing its growth. A clear, straightforward forward and well-structured invoice can help you ensure that your customers pay promptly and are aware of the penalties associated with late payments.
Hence, clearly communicating these terms of invoice payment will allow both you and your customers to fully understand each party's duties as purported by the agreement.
Your small business must be able to securely obtain any payments from customers in an efficient manner. Setting up an effective invoice payment process is crucial in maintaining and up keeping cash flow within your business.
Therefore, it is important that your company's payment terms and invoicing requirements are a priority as this will set expectations for your customers and help maintain productive relationships with them.
For more guidance on how to craft your company's invoice payment terms, consult Zegal's payment terms guides or raise a query to our team of industry experts.
You Might Also Like:
Along with this document, make sure you see these other templates in our library:
Like what you just read?
---
Subscribe to our newsletter and be the first to hear of the latest Zegal happenings, tips and insights!