How to successfully implement legal tech into in-house legal teams
By Bethany Barrett, Updated: 2023-01-12 (published on 2022-07-12)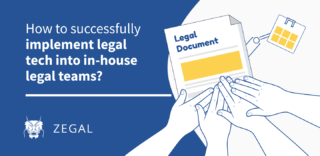 The Legal Tech industry is steadily following in the footsteps of its sibling FinTech, generating worldwide revenue of over 17.3 billion USD in 2019 alone. The pandemic has only further contributed to this trend, acting as a huge catalyst in its growth. In-house legal teams have a lot to gain from experimentation in the field, with many Legal Tech projects focussing on simplifying the core legal processes that in-house teams complete every day.
However, this also means that in-house teams have much to lose during the implementation process. Their smaller scale relative to their company's chosen counsel, combined with their more selective focus on the core and everyday legal issues faced by the company, means that the imposition of any new process or tool will significantly impact the team, its workload, and its efficiency.
No in-house legal team, but still interested in the benefits of legal tech?
That's where Zegal comes in! With tools such as contract automation, contract lifecycle management, and approval workflows, Zegal brings legal tech tools directly to over 20,000 businesses.
Ensuring legal tech success within in-house teams
With over three-quarters of in-house legal professionals having experienced at least one failed tech adoption project, it is clear that the in-house legal industry has a lot to learn about how to best craft the user experience of the process.
So how do you ensure success when integrating legal tech into an in-house legal team?T here are three key areas to consider:
Selection

Implementation

Continued support
Selecting the right legal tech
1 in 4 in-house legal professionals cited employee resistance as a barrier to the future adoption of legal tech. Given that 1 in 3 also cited it as a reason why legal tech projects fail, it is clear to see how a dangerous cycle appears. Once an employee has suffered one failed legal tech implementation, they are more likely to be resistant to trialing another, resulting in a lower chance of success for future projects.
To help combat this resistance, getting employees of all levels involved in the selection process is critical. The most successful legal tech projects are often those that aid the most mundane of processes because these processes usually take the most time cumulatively and ultimately present little financial return for the company.
Engaging with employees to discover these processes and how they are currently conducted will mean they are more likely to advocate the legal tech. Successful adoption of legal tech tools could boost team morale, further improving productivity and employee retention.
Implementation
While most tools will aim to be somewhat self-explanatory, and employees will be able to pick them up as they work, it is often the case that tools won't be used to their full potential unless adequate training is given.
Training also presents a further opportunity for employee engagement, especially where custom-built tools are being implemented.
Continued support and development
Gone are the days when a company could upgrade to the newest version of Windows before breathing a sigh of relief that they were sorted for the next several years. Technology is now patched, developed, and upgraded far more often, and legal tech is no exception.
Asking what more the tool could do or how it could do what it is currently doing better will help shape future development goals.
Now is a great time to turn to legal tech
While there are risks of failed legal tech integration, the potential benefits are far greater. Equally, as the field grows, adoption will become imperative.
Considering the process of how to implement legal tech, before embarking on it, will help to ensure success.
Like what you just read?
---
Subscribe to our newsletter and be the first to hear of the latest Zegal happenings, tips and insights!