Legal Considerations When Starting a Small Business
By Adele Ross, Updated: 2023-11-28 (published on 2021-06-03)
There are too many startup and small business tales that begin with legal matters that never got prioritised or poorly executed agreements that ended up with tears for the founders. Knowing what you need to iron out when opening your business will help you to avoid extraneous costs in the future as well as potentially saving you from losing your hard-built business if you run into any legal battles. Let's look at some of the more common legal issues that need to be addressed:
What kind of business do you have?
Here are the three most common options that businesses fall under:
● A limited partnership refers to a business with one or more partners or directors and holds no liability to the company. All the company's debts and finances will belong to the company, and only shares or dividends will belong to the directors and shareholders.
● A sole proprietorship is a personal business where all of the businesses debts become the owner's responsibility. You are also responsible for your taxes and paying them to the HMRC. This means all the profits your business makes once you have paid all the monthly costs will belong to you. If you hire staff,  you will be liable for their tax and salaries.
● A corporation would be seen as a separate legal entity managed by directors where a group of shareholders appoint the directors. All decisions would then be made by the shareholders, including the investments and monies paid to staff. They are responsible for declaring the companies income, paying salaries, fees to unions and bargain councils and taxes to the HMRC.
Trademarks
When it comes to the name of your business, of course, you want to try and avoid having any clashes with other existing businesses. Use a company name generator and run a scan of potential names for your business through the Companies House website to ensure that the name you choose doesn't create confusion for customers, or legal problems for you. As soon as you have run the scan to search for your name, you can work on adding a trademark to your company's name. A trademark can be added to the logo, slogans, and any jingles you create, to protect it from being duplicated even if a different name is being used. A trademark will add a unique quality to your business. It gives the owner exclusivity and will remain part of the license from the filing date and can be renewed indefinitely. The rights can only be obtained through trademark registration and not when you have registered the business. 
Licenses
You may need several types of licenses or permits before you open your business. What you will require will depend on the kind of business, of course.  For example, you may need a business license, trading license, and sales tax permit. Perhaps, this might not be the best time to open a restaurant, coffee shop, pub, food stall, or catering company, but if you do, you will have to register for a license with the local governing body for food standards and health and safety. If you plan to provide entertainment in an establishment, you will also need to get the relevant permits for music and entertainment.
It is best to do some additional research and contact relevant local government agencies to learn more about the specific licenses you will need to run your type of business legally.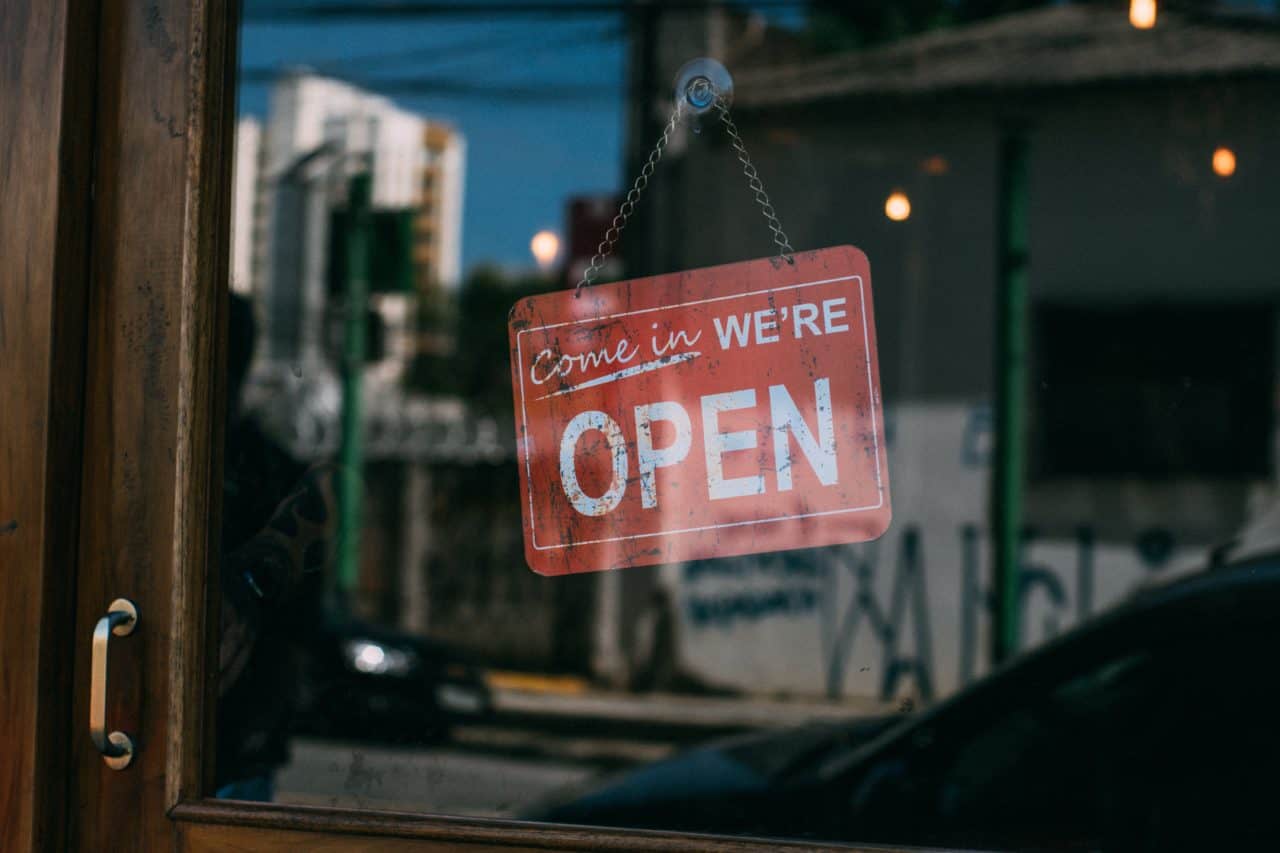 Health and safety and data privacy
Health and safety need to be adhered to by all businesses regardless of the size or type of business. You will need to provide a safe environment for your employees to work in at all times. Or, if in physical premises, the well being of the clients and customers visiting your establishment will also need to be considered. These laws do not just apply to the inside of your business but in the surrounding area as well. A risk assessment will help you identify possible health code violations that could be a risk to your staff or anyone visiting as well as establishing a healthy and safety policy. If you are in the tech space or operating an online shop, data privacy is important right from the start. You must make sure your business is GDPR compliant and you have a data protection policy and a  privacy policy right from the get-go. 
Insurance
Your liability insurance will depend on your businesses' requirements and needs to be done to cover any employees. Aside from being a legal necessity, you will avoid being fined for every day that you do not have your insurance sorted. Employers liability and indemnity insurance will also insure you as the owner if anything should ever go wrong and your business ends up closing shop.
Confidentiality and Non-Disclosure Agreements
Confidentiality agreements and non-disclosure agreements are incredibly important documents for every business. Suppose you have a business that requires ideas to be churned out regularly? These ideas can make or break your business, and for that, it is essential to keep everything that you discuss with your employees, banks, customers and clients confidential and treated as privileged information. 
Terms and conditions
If your business has an online presence, it will be crucial to get all the information you want to use in order. It is very messy when something that isn't clearly stated on your website is used against you in court. Your terms and conditions will ensure that everyone visiting your website understands your business. When you use your website for things like SEO services to update your companies online searchability, you will need to make sure that there are legal factors attached that prevent anyone from claiming that you've used their methods or you're using their products. As well as addressing consumer law requirements, business terms and conditions address consumer law and establish what you will provide the public as a business. Therefore, your advertising and online marketplace terms and conditions will need to be addressed before you go live online. 
Employee/independent contractor agreement
When you hire someone to come and work for you, you need to establish from the start if they are an employee or if they are working on a short term contract. This is important for the new IR35 rules in the UK. Longer-term contracts are also an option as long as you notify them of their rights within that contract. Some laws will protect full-time employees, and some agreements cover temporary staff, and you need to include these in the contracts for both types of employees, whether they are full time or not. Law firms can be extremely helpful in guiding businesses through this often complex process since they are well-versed in interpreting local laws and regulations. Additionally, class action lawyers, for example, can help you with any unfair business practices, forecast potential issues that may arise, and provide tailored solutions that uniquely address specific business needs."
Lease agreements
If you plan to move your business into a bricks and mortar building, you want to make sure that the lease covers all the things it needs to for you to be able to work without any setbacks. Basic amenities need to be protected like water; electricity; clean working bathrooms; a safe building; and security. Your lease needs to coincide with the agreement you have with your insurance so that you are covered in a case of theft or natural damage. There should also be an Act of God clause in your lease. This clause will prohibit you from liability if anything happens to the building. For instance, that you will not be held liable for the damage made by a natural disaster that prevents you from working or trading.
In summary
To conclude, the legal terms and agreements of your business need to be in order from the moment you register your business. Many small businesses make the mistake of cutting corners, leaving them with legal fees that threaten their hold over their own business. Being liable for your business can also leave you with personal losses if you have not structured the business properly or are not insured. Spending the time to get your legal ducks in a row now, may well save you, and your business, in the future. 
Adele Ross is a business owner and content writer. I enjoy searching for information and reading about historical events and origins. I also enjoy cooking and spending time at the beach.
This article does not constitute legal advice.
The opinions expressed in the column above represent the author's own.
Start managing your legal needs with Zegal today
BECOME A ZEGAL REFERRAL PARTNER
ABOUT ZEGAL
Zegal is the end-to-end platform for the legals smaller companies need. 
Our story
Zegal was founded in 2014 by lawyer friends Daniel Walker and Jake Fisch. Having been a part of the system that preserves quality legal advice only for those that can afford it, the two were determined to build a model that delivers the 'corporate law firm' experience to small business.
Today Zegal is the world's only end-to-end platform for smaller companies to create, negotiate, and sign both the simple, and complex contracts they need to run their business, with expert legal advice, 100% online every step of the way. Since our launch, we have helped more than 20,000 companies close commercial contracts, run leaner HR teams, and enter new markets. You can use Zegal for your company in the UK, Australia and across Asia. Make your legals simple.
READ MORE: UK Startups: Essential Legal Documents
Like what you just read?
---
Subscribe to our newsletter and be the first to hear of the latest Zegal happenings, tips and insights!