Light and Easy to Hold
With its handy 5.44 x 2.64 x 0.28 inches dimensions, iPhone 6s is perfect for those who wish to continue using their phones with just one hand. Its weight of just under 142 grams makes it one of the lightest and sleekest iPhones in the market. This is really convenient for those who keep their phones in their pockets. No bag? No problem!
Full Warranty
One thing that many people worry about when buying refurbished devices is the quality. While many refurbishers don't offer sufficient warranty for their products, you don't have to worry about that with Ola Tech! We at Ola Tech provide one year or more of Apple Care equivalent warranty for all phones. Our customer support team has 35+ years of experience in the tech industry, so your phone is in the right hands! We guarantee complete repair or replacement at no cost!
Same Features at a Lower Price
iPhone 6s has the same number of colors offered as all of its successors, apart from iPhone XR and 11, at up to 13 times lower price. Noteworthy iPhone characteristics such as 3D Touch, 12Mp camera, and premium display are all present in iPhone 6s at this significantly lower price.
Compatible with iOS14
iPhone 6s is also fully compatible with the much-awaited iOS 14. This means that you can enjoy the same new, fresh, and modern interface as someone who owns an iPhone 11 Pro Max. Along with this software update also comes more security, better messaging features, and a more informational App Store, all in your under HK$1000 iPhone 6s.
Metal Back
Unlike most of its predecessors and successors, iPhone 6s has an aluminum back instead of a glass back, which makes it significantly less susceptible to cracks and scratches. A metal back also gives the phone a premium look.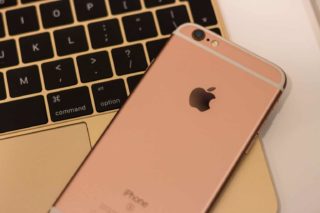 Headphones Jack
It is undeniable that many of us still miss being able to use the same headphones for our laptops and phones. In order to keep charging slot and music slot the same, all latest iPhones are only compatible with EarPods with Lightning connector. However, these cannot, in turn, be used with laptops or computers. Not only are buying multiple headphones expensive, but they can also be a waste. However, with iPhone 6s, you don't need to worry about that! It is the last phone that still contains a headphone jack, which means that you no longer need to have 2 different types of earphones to listen to music on your laptop and phone.
Lower E-Waste
Annually, 50 million tonnes of electronic waste is produced, of which only 20% is formally recycled. A significant amount of the remaining 80% is burned by incinerators, which releases harmful hydrocarbons in the air. Other forms of improper e-waste disposal can lead to toxins entering groundwater and harming the underwater ecosystem. Using refurbished phones reduces e-waste as electronics are being given second lives instead of being disposed of.
So, evidently, our like new and refurbished iPhone 6s are exactly the phone which you should be buying right now if you like high-quality .. and wish to protect our planet! Head straight to our marketplace to buy an iPhone 6s with 1 FREE 1 Year Warranty now!
Article by Sneha Puri. We at Ola Tech are providing you with a comprehensive service: we adopt certified methods for dat
a erasure to maintain your privacy and subsequently help you dispose of your devices in a sustainable manner. This includes recycling or reselling. This is your chance to rebrand your company, attain a more loyal customer base, and attract productive employees.  
This article does not constitute legal advice.
The opinions expressed in the column above represent the author's own.
Start managing your legal needs with Zegal today
READ MORE: Drive Results With Remote Workers
FURTHER READING: 5 reasons why companies should donate old phones and computers
Article syndicated with permission from https://ola.tech/blog/why-iphone-6s-is-still-worth-it/
Ola! provides reliable, sustainable, and long-lasting green electronics with up to a 1-year warranty.
They are the eco-friendly marketplace platform to buy refurbished & renewed tech. Their mission is to make buying tech devices affordable to everyone while supporting worthy causes.