Your Complete Toolkit for Alternative Dispute Resolution (ADR) in Singapore: Do's and Don'ts for ADR Clauses
Articles »

Your Complete Toolkit for Alternative Dispute Resolution (ADR) in Singapore: Do's and Don'ts for ADR Clauses
By Farrah Isaac, Updated: 2023-01-18 (published on 2019-08-05)

Topic 1: Do's and Don'ts for ADR clauses
This is the first in a series of five articles on alternative dispute resolution (ADR). This article will give tips on what to consider and avoid when preparing ADR terms in a contract.
The next article will analyse sample ADR clauses in two template agreements from the Zegal database: a Business Collaboration Agreement and Partnership Agreement.
More and more companies are realising how important it is to plan how they will resolve contractual disputes well before they happen. This means they are able to take advantage of alternative dispute resolution ("ADR") methods, that may be more suitable for them than going to Court.
Parties can consider and discuss their competing interests, such as confidentiality, cost, or speed of resolution, to select suitable ways to resolve any dispute. Once contracting parties agree on the dispute resolution method, it will be recorded as a clause in their contract (ADR clause).
A well-drafted ADR clause then helps parties resolve the dispute using the method(s) they agreed to before things went wrong.
However, a badly-drafted ADR clause can be costly and stressful to deal with. It can lead to disagreements between parties about the way in which the dispute should be resolved, increased costs, and delays in resolving the dispute itself.
Set out below is a list of important points to consider and common pitfalls to avoid when drafting ADR clauses:
Contradictory Methods of Resolving Disputes:
Some types of dispute resolution can be used one after the other. ADR clauses can provide for "multi-tiered dispute resolution" so that if one method fails to resolve the dispute then there is still a back-up option.
Types of multi-tiered dispute resolution that can work together: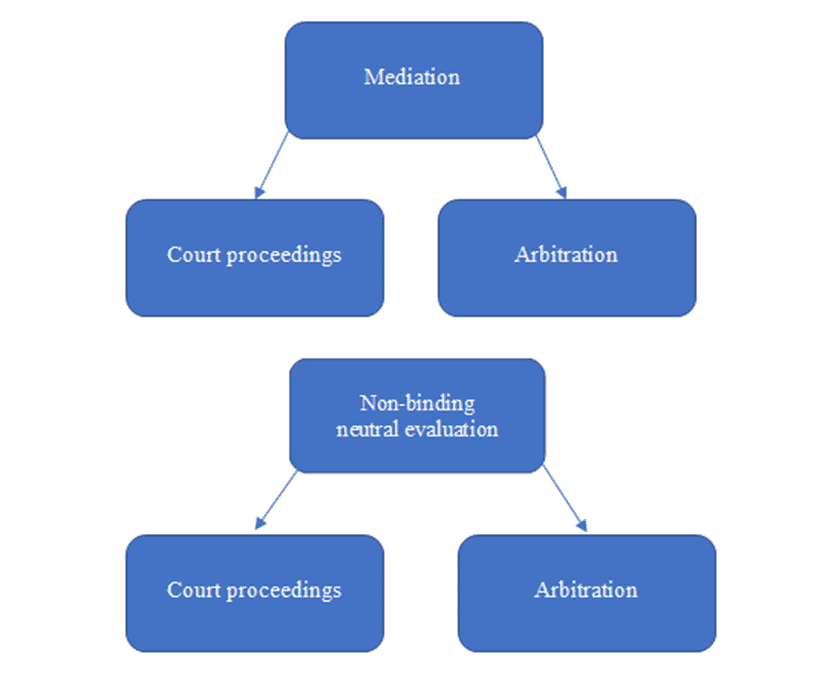 However, take note that you can only provide one "track" per contract e.g. mediation followed by arbitration only.
Problems arise when a contract contains two or more incompatible methods of dispute resolution. For example, where both methods are final and binding, or where parties provide two conflicting options for the second stage, because they wrongly believe that they can decide between them later when a dispute arises.
Incompatible combinations include:
Arbitration followed by binding neutral evaluation;

Court proceedings followed by arbitration;

Court proceedings or arbitration;.

Mediation followed by arbitration and/or Court proceedings
Forgetting to Provide a Cut-off Date for Multi-tiered Dispute Resolution
If parties agree to negotiate or mediate a settlement before moving on to another type of dispute resolution if it does not work, then it is useful to provide a maximum duration for the first stage. Otherwise, there may be a dispute at the next stage about whether the parties complied with their contractual obligations to negotiate or mediate before moving on.
Some mediation and arbitration institutions have already prepared a multi-tiered mediation-arbitration procedure with timelines for each stage. If you agree to follow their procedure in your ADR clause, you can then follow their timelines. For example:
Singapore International Mediation Centre's Arb-Med-Arb Protocol

Singapore Law Society's Arb-Med-Arb Procedure
Arbitration Institutions That Don't Exist:
Parties opting for arbitration usually choose to arbitrate with the assistance of an arbitration institution, which will be specified in the contract. When you choose an arbitration institution, make sure you check and state the correct name of the institution you have in mind. Providing for arbitration at the "International Chamber for Contractual Disputes" when you meant the "International Chamber of Commerce" can be a costly error to fix.
Location, Location, Location
If contracting parties are located in different countries, failing to provide the physical location for dispute resolution meetings or hearings can cause disagreements. In arbitration, not providing the location of the supervisory jurisdiction (known as the "seat of arbitration") can also cause serious problems.
Sometimes, the arbitration institution's rules may provide a default location or seat, or help make a decision on behalf of parties. However, agreeing ahead of time is the best way to avoid uncertainty.
Time and Money
Many institutions that provide ADR services charge a range of fees based on the type of service required and/or according to the value of your dispute. Consider whether the option you have chosen is suitable and cost-effective for your contract.
For example, an ADR clause that provides for arbitration with three arbitrators instead of one will drive up costs significantly and may not be suitable for straightforward or low value contracts.
You can do your research to get an idea of how long the chosen ADR method will probably take. While it is not possible to anticipate every possibility, you may also wish to check whether that ADR method has an emergency option in case an urgent dispute arises.
Make use of the resources on the relevant ADR institutions' websites such as fee schedules and fee estimate calculators, and statistics on how long their cases take to resolve, so that you are aware of what to expect.
Conclusion
The tips above come from common real -life issues that courts and lawyers often see. Dispute management and ADR planning can be a complex issue to tackle. If in doubt, have a chat with a lawyer about your options. Do consider having a lawyer draft your ADR clause to avoid ending up with the headache of a faulty ADR clause to deal with on top of a contractual dispute.
If the ADR clause is done well, even if the dispute itself is unpleasant, it is helpful to have a clear roadmap for the methods to resolve it.
General disclaimer: Please note that this article is intended as a general guide on the subject matter and should not be treated as legal advice. It is to your benefit to seek specific professional advice tailored to your situation or business needs. All views expressed above are the author's personal opinions.
Farrah Isaac is a lawyer at Eversheds Harry Elias LLP, the Singapore office of global law firm Eversheds Sutherland. She specialises in managing and resolving commercial disputes through arbitration, litigation, and negotiation, and assists clients ranging from large multi-nationals to small and medium enterprises, including start-ups.
She is also experienced in advising clients to manage the risks of or avoid disputes through proactive planning, and in providing straightforward and cost-effective advice and solutions.
For further information or questions about her articles, connect on LinkedIn or get in touch by email at farrahisaac@eversheds-harryelias.com
This article does not constitute legal advice.
The opinions expressed in the column above represent the author's own.
Start managing your legal needs with Zegal today
READ MORE: 5 Reasons to Set Up Your Business in Singapore
READ MORE: How a Memorandum of Understanding (MoU) Can Help Your Business
Like what you just read?
---
Subscribe to our newsletter and be the first to hear of the latest Zegal happenings, tips and insights!