Lawyers: Solicitor vs Barrister
By Joanne Hue, Updated: 2023-03-23 (published on 2022-01-03)
At some point you will likely need to refer to a lawyer – it's rarely a question of if and usually a question of when. But how do you find one, and what kind of lawyer do you need? This is what we'll be exploring in this series about lawyers.
Today's topic is about the differences between solicitors and barristers.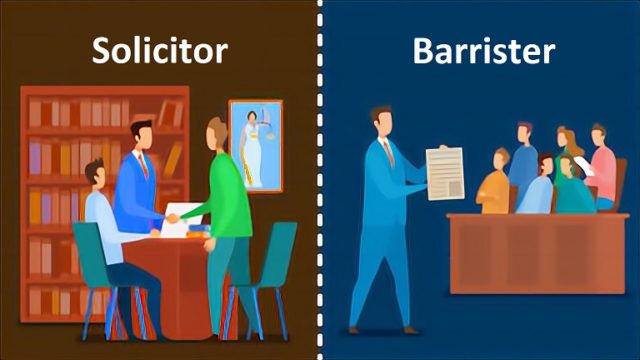 2 Types of Lawyers
What Is a Barrister?
Let's get the easy one out of the way – a Barrister is a qualified legal professional who specializes in a particular area of law and offers specialist advice. He represents clients, advocates and defends them in court or at a tribunal.
Some barristers have a more generalized practice that covers many areas of law while many barristers have specialization in one particular area of law.
What Is a Solicitor?
A solicitor is a qualified legal practitioner who prepares legal documents for their clients during a court case. He specializes in some areas of law and provides specialist legal advice to its clients on those areas of law.
Solicitor is the first contact for people when they want to see a lawyer regarding their legal issues. Most solicitors work for large organizations including commercial or non-commercial law firms, the government, private businesses, banks, and corporations. As mentioned, they have special knowledge in various areas of law such as property, crime, wills & probates, family, finance, and employment.
Solicitors provide legal advice to clients, undertake negotiations and draft legal documents. Although this is an office-based job, it does require travel to meet clients and to represent them in court.
In the earlier times, the advocacy work of solicitors was limited to magistrates courts where not so serious cases were dealt with and also to county courts for minor cases but nowadays, they work in the highest courts also.
What does a solicitor do?
As mentioned above, a solicitor is the first point of contact for the clients who want to take legal advice regarding any of their issues. After discussing the issue with their clients and taking instructions from them, they advise clients on necessary legal action required to be taken as per their area of expertise and specialization. Primarily, the solicitors in the UK are litigators while others have their specialized practice areas and some of them do their own advocacy cases.
Solicitors mainly work directly with clients which include their suitability to provide legal advice and their services, noting down their instructions and then rendering them advice on law and related legal matters in that particular case.
All the paperwork and correspondence with their clients such as drafting documents, letters, tailoring contracts as per the client's requirements, adequate legal advice, and the procedure and preparation of court documents are dealt with by the solicitors.
To attain a particular objective, they also negotiate with clients and opposing parties. They gather evidence, supervise the implementation of agreements, calculate claims for damages, compensation, loss of earnings, maintenance, etc., and coordinate the work of all parties involved in the case. They handle legal work from high-value commercial cases to personal injury cases, family law issues such as divorce, criminal law, wills & probate, finance, and the general administration of estates.
Solicitors can also obtain 'rights of audience' which enables them to represent clients in court. It means that many of the functions performed by the barrister can also be performed by the solicitors. However, the barristers work at higher levels of the courts as compared to the solicitors. Generally, most of the solicitors have rights of audience, they usually do 'behind the scenes' type-work such as:
Giving advice to clients on their legal issues
Negotiations and discussions between parties to reach a settlement to resolve the legal issue.
Drafting of various legal documents and pleadings.
Where necessary in disputes, they may also represent clients in court. Where the matter is complex, in such cases, they usually engage barristers or specialist advocates for their expert advice or instruct them to appear in court to represent their client.
What does a barrister do?
In England & Wales, barristers are engaged by solicitors to represent the case of their clients in court. They only get involved when the case reaches the court and it requires advocacy before a court. They basically represent clients in court by preparing legal arguments. They translate and structure the client's view of events into legal arguments to attain the best result for their clients.
Barristers usually specialize in particular areas of law such as criminal law, equity, and trusts, commercial law, family law, divorce, personal injury law. Their work varies depending upon their area of specialization, their level of experience, etc. They render advice to their clients on the law, the strength of their case and also provide them his opinion in writing. They advocate the matter in court on behalf of their clients and the client's solicitor by presenting their case, presenting evidence, examining and cross-examining the witnesses, and also giving reasons to support their case. They will try to settle with the other side by negotiating the terms.
Most of the barristers practicing in England & Wales are self-employed. Other barristers are employed in law firms of solicitors directly advising clients or in agencies such as the Crown Prosecution Service (CPS), or in specialist legal departments in industry, commerce, charities, or central or local government, advising only the organizations they work for.
Basically, barristers who are self-employed work in offices known as Chambers which may be shared with other barristers. Once they complete their training, they may secure permanent positions called tenancy in a 'set' of Chambers.
The barristers within one chamber work independently from each other and even they appear on opposite sides to each other in the same legal matter whereas, the solicitors employed in the same law firm avoid doing this keeping in mind the best interests of their client and to avoid conflict of interest.
Barristers are not allowed to pick and choose the cases they wish to work on and they are kept, independent. This is known as the Cab Rank Rule. This rule prevents a barrister from denying a case even if they find the case objectionable or if they think that the conduct of the client is unacceptable, any other opinion or reason with respect to the source of the funding.
The self-employed barristers are generally briefed and instructed by the solicitor, they can't be instructed by the clients directly. However, where a barrister is a part of the Public Access Scheme which allows a barrister to be contacted directly by the member of the public to obtain legal advice or representation.
Solicitor vs Barrister Work Patterns
As discussed, most solicitors are employed by a big organization which includes commercial or non-commercial law firms. Such solicitors are known as 'in-house' solicitors. Being an employee, they will receive a regular salary, holiday pay, sick pay, and other benefits attached with the employment. Employment comes with a sense of job security.
On the other hand, barristers are self-employed and associated with chambers shared by them with other self-employed barristers. There is great uncertainty that comes with self-employment with respect to income, holidays, sick leave as a barrister will not be paid.
With a number of experience, they become senior and can charge more fees, and within time this issue doesn't remain, however, for barristers at their initial stage of career, it can be very challenging. Not all barristers are self-employed, some of them are 'in-house' as they are employed by law firms or other big commercial organizations with which this uncertainty like self-employed doesn't remain. Such employment brings regular income and other associated benefits.
Solicitor vs Barrister Access to the Public
Solicitors are contacted and instructed by the clients directly, whereas, the same is not the case with barristers. Where the cases are not so complex and are straightforward, the members of the public can instruct a barrister where the barrister is a member of the Public Access Scheme. Public access is available in all types of work that barristers can do, except for work funded out of legal aid. It is also unlikely to be appropriate in cases involving children.
Workwear Differences
Earlier in times, a barrister was expected to wear a long black robe and wig as a traditional court attire. Many barristers are still expected to wear this attire and dress up in the same way as earlier, however, this is no longer necessary with an increasing number of barristers including some civil practitioners.
On the other hand, there is no dress code for solicitors. They just have to dress up smartly.
Work Experience Opportunities
Anyone willing to pursue a career as a barrister, the work experience you are going to undertake will be different from the work experience in pursuing a career as a solicitor. Law students or budding solicitors would likely consider gaining work experience in the form of a vacation scheme in the law firms or other organizations, whereas, budding barristers would take work experience in the form of a mini-pupillage.
Like what you just read?
---
Subscribe to our newsletter and be the first to hear of the latest Zegal happenings, tips and insights!