Rajah & Tann launches ReadyDocs – powered by Zegal
By Zegal, Updated: 2021-06-01 (published on 2020-07-08)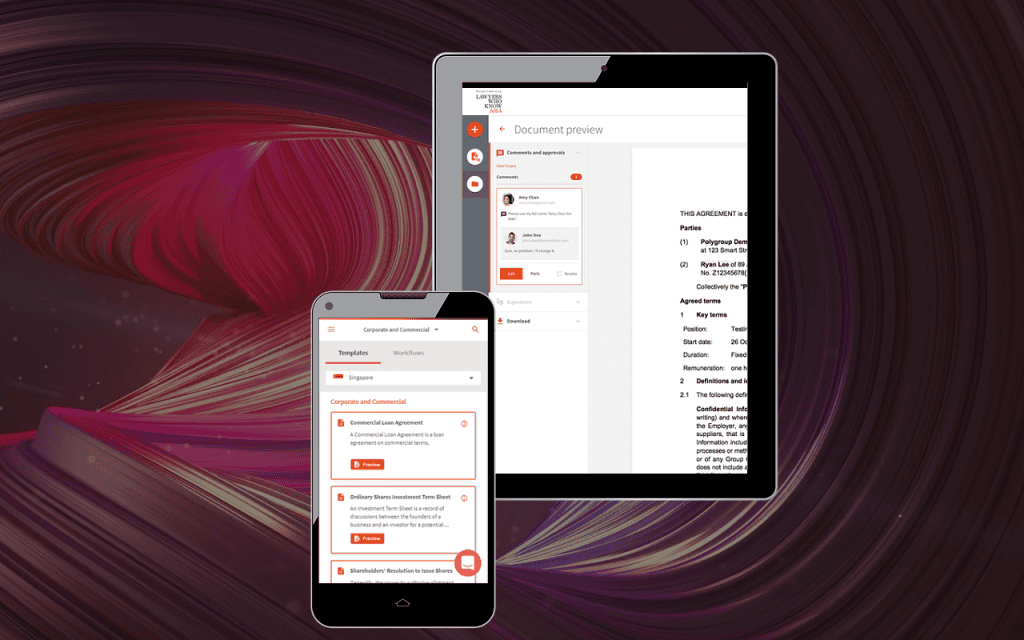 Rajah & Tann Asia have always been a forward-thinking law firm, combining modern legal services with traditional knowledge and know-how. They have shown this again with their pioneering efforts in partnership with us at Zegal in launching ReadyDocs. This white-label remote contracts management platform enables clients to remotely create, edit, digitally sign and manage Rajah & Tann contracts from any device at any time. 
This law-as-a-service (LaaS) platform provides real-time access to legal services and will be debut in Singapore first before being rolled out in other jurisdictions for Rajah & Tann's clients. ReadyDocs empowers small- and medium-sized business owners, startup founders and general counsel to work on time-critical contracts as soon as the need arises, with the security that all documents generated on the platform come with the quality assurance of Rajah & Tann Asia. 
Abdul Jabbar, Head of Corporate and Transactional Group of Rajah & Tann Singapore said: "As new technological innovations become available, law firms must leverage them to meet the evolving demands of our clients. Rajah & Tann is excited to launch this platform as a much-needed solution, especially during this time when remote interactions are becoming the norm and clients need to be able to access their documents on the go,"
ReadyDocs aims to enable clients to generate commercial contracts, or entire suites of contracts built as easy-to-follow workflows, and also automate existing contracts and processes.
Rajesh Sreenivasan, Head of the TMT Practice at Rajah & Tann Singapore adds: "As a firm, we are looking beyond providing legal solutions. We are offering business solutions to help our clients better manage their legal costs by integrating technology with our services. ReadyDocs is one such solution that will empower our clients to take control of their legal workflow,"
ReadyDocs is powered by Zegal, and puts the client at the heart of the platform. Clients can use the platform to generate commercial contracts; entire suites of contracts built as easy-to-follow workflows; or even automate their existing contracts and processes.
Our Zegal founder, Daniel Walker, said: "Rajah & Tann Asia is leading the adoption of LegalTech in Asia, and we could not be more excited that they have chosen our platform. Legal technology is not just limited to improving lawyers' efficiency. It can and should make clients say 'wow!'. By deploying a client-facing platform, Rajah & Tann Asia is recognising the importance of delivering that amazing experience." 
Rajah & Tann, like us, believe that the delivery of modern legal services lies in working together, digitally, and benefiting from all the efficiencies that the online revolution has brought to remote working. 
Full press-release available here
About Rajah & Tann Asia
Rajah & Tann Asia brings together leading law firms and lawyers in Cambodia, China, Indonesia, Lao PDR, Malaysia, Myanmar, Singapore, Thailand, the Philippines and Vietnam, with each offering the highest standards of service to locally-based clients while collectively having the capability to handle the most complex regional and cross-border transactions and to provide excellent legal counsel seamlessly across the region. With 800 fee earners, all working towards one shared goal, we are lawyers who know Asia and who give our clients home advantage.
This article does not constitute legal advice.
The opinions expressed in the column above represent the author's own.
Like what you just read?
---
Subscribe to our newsletter and be the first to hear of the latest Zegal happenings, tips and insights!