10 Cost-Saving Tech Tools for Startups
By Guest Post, published: 2023-06-07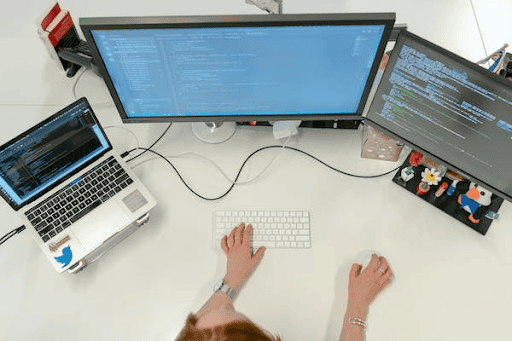 As a first-time start-up founder, the odds are never in your favor as there is only a 20% chance of surviving the ever-demanding business landscape teeming with aggressive competitors. Factually, about 90% of startups crumble within the first year and only 50% survive beyond the fifth year.
From creating your product to developing a marketing strategy, not to talk about managing your finances and other pieces that aid the growth of a business, all of that can be burdensome for any new business owner.
While new entrepreneurs are usually keen on keeping their start-up costs minimal, some expenses are just unavoidable and maddening. So, does that imply giving up on your business idea? Well, not if you equip your stack with the right set of tools.
Fortunately, this piece is your one-stop solution to getting your hands on the 10 best cost-saving tech tools for start-ups. Not only do these tools minimize operational costs but they also cast a strong influence on the overall efficiency and productivity of your business. Read on to learn more!
Best Cost-Saving Tech Tools You Need
An effective tech stack is a collection of software services that ensures the credibility of the base performance of your products and services.
Each of these tools listed in this article has been selected based on categories and direct interactions so you can be sure of making the most out of each penny you expend.
1. Fleetio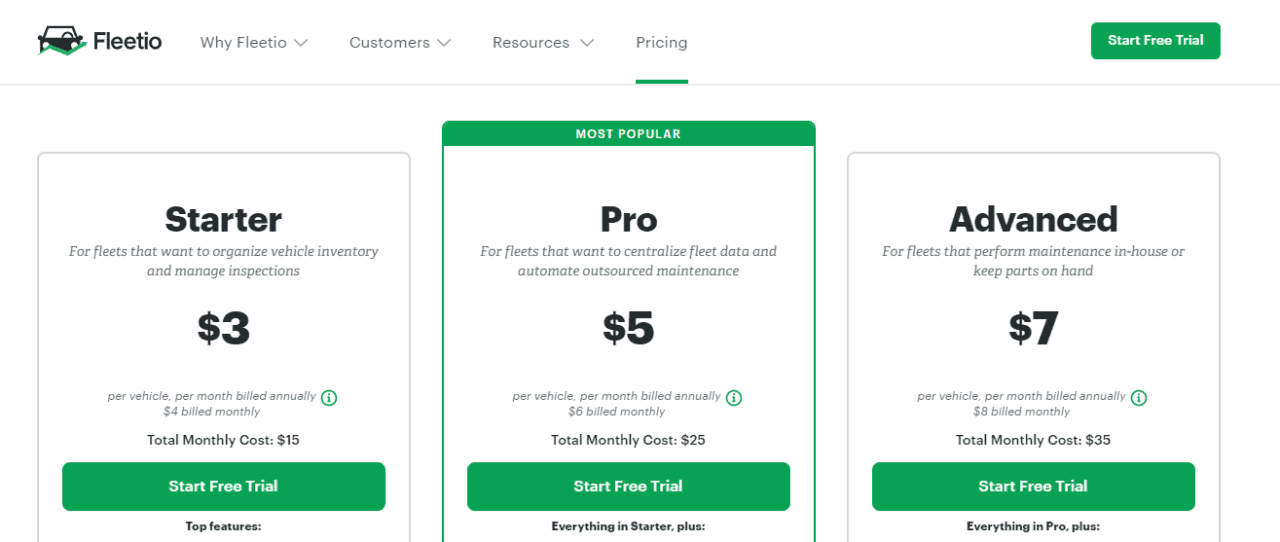 Organization is key! Fleetio is the ideal fleet management platform for start-ups and a simple alternative to spreadsheets and other antiquated end-user development tools. Furthermore, it features;
A unique work order template that allows you to arrange, schedule and keep tabs on service tasks and costs.
Maintenance management that keeps an up to date information about vehicles and other pieces of equipment, automates all in-house and third-party maintenance activities, tracks fuel transactions, and identifies issues to maximize uptime.
A VIN decoder that recovers vehicle specifications and maintenance schedules.
Some other interesting features include maintenance vendor networks, purchase orders, vehicle inspections, recall alerts, and more.
Pricing:
Starter: $15 per month
Pro: $25 per month
Advanced: $35 per month
2. TestGorilla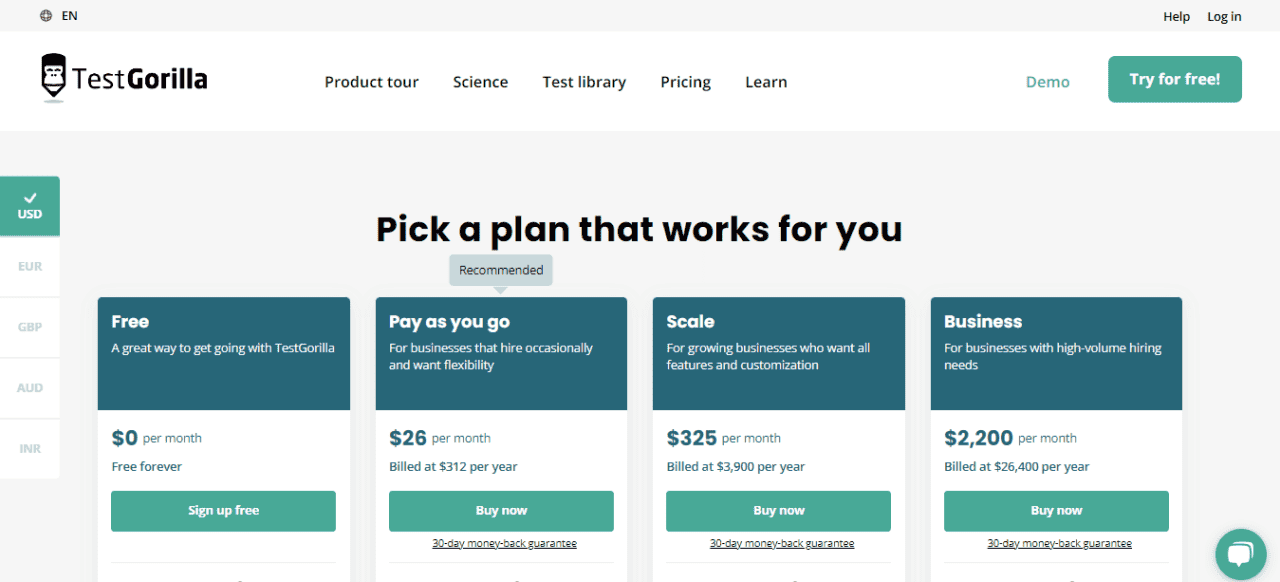 TestGorilla is your all-in-one web-based assessment software and it takes the top tier among all resume-screening tools for small businesses. It streamlines all your hiring process activities and makes it easy to hire and retain the best candidates without having to worry about the large cost of making a new hire.
It eliminates the extra bit of stress of having to worry about manual resume analysis.
It offers high-quality skill and behavioral assessment options that allow you to make data-driven decisions in your hiring processes.
It features a real-time analysis of candidate performance by comparing stats and watching their personalized videos.
Testgorilla is also characterized by stellar support to get prompt answers to questions, flexible file uploads, an intuitive interface, third-party integrations, mobile-friendly features, and more.
However, after deciding on your choice of candidate in the hiring process, you may need a legal contract management platform like Zegal to create, negotiate and execute contracts with new hires. Asides from being a cost-efficient tech tool for start-ups, you can create an effortless experience for employee satisfaction. 
Pricing:
Free: $0 per month
Pay as you go: $26 per month
Scale: $325 per month
Business: $2200 per month
3. Yieldify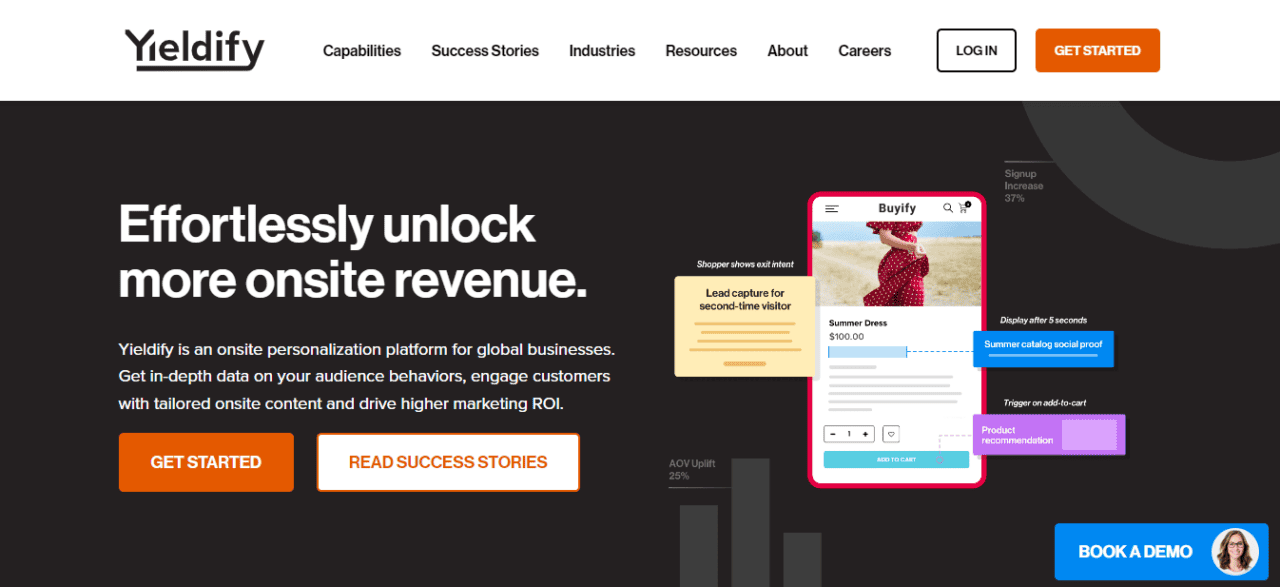 E-commerce platforms are multifarious but none can increase ecommerce conversions and drive higher ROI like Yieldify. This customer-journey optimization platform is also prominent for its ability to simplify personalization and centralize all your performance data.
Being an A/B testing software, you can;
Analyze and understand the behavior of customers to develop actionable insights and make informed decisions.
Make quick edits to existing content, and web pages, and create modified versions of all components in real-time.
Segment your web traffic to test variables of web pages to get detailed customer reviews
Know the statistical significance of the results derived from testing the variables of an original component
And there's more from where that came from. Yieldify is a viable tool for enhancing the customer journey and aside from helping you generate more leads, you stand a chance of converting your leads into paying customers.
4. BetaList
What's a stack without a launch tool? Typically, we call that incomplete!
Your startup's story starts from here! BetaList is an exceptional pre-launch platform that helps your business gain the desired attention it needs for a successful unveiling. 
Its single most significant benefit is that it allows you to present your business idea to a vast community of media-savvy business aficionados and develop actionable insights from the feedback gotten from them.
Beta List leverages quantitative and qualitative research to help startups and entrepreneurs understand the behavioral pattern and needs of their target audience to develop the right product that addresses their customer demands.
Pricing:
Hobby free
Startup: $129
Funded: $299
5. MindMeister
Collaboration made easy! MindMeister is the ultimate online mind-mapping software that paves the way for real-time collaboration and brainstorming sessions with your team.
Additionally, you don't have to be a genius before pulling off a successful project with MindMeister, it comes with an infinite canvas for your ideas making it easy to ideate and project concrete steps for your upcoming projects.
Its alternative to PowerPoint feature allows you to transform your mind maps into presentations
Its exceptionally-designed themes give your maps color and style enhancing readability and understanding.
It consists of a series of predefined mind map templates that gives you a wide variety of layout options.
Other features include key shortcut options, mixed map layouts, and seamless integration with MeisterTask- a task management tool- which allows you to transform your ideas into actionable tasks.
Pricing:
Basic: Free
Personal: $3.49 per month
Pro: $5.49 per month
Business: $8.49 per month
6. Finmark
This is the ultimate finance modeling toolkit for any startup or SMB. Finmark is exceptional for its ability to predict ROIs and expenses, keep tabs on your financial standards, and set up a hiring plan without needing to know any complex formulas and equations as in a spreadsheet. It consists of
A collaboration and sharing feature that allows you to create, organize and share financial plans with stakeholders.
A centralized budgeting option that streamlines your expenses, budget forecast, and analysis under a unified channel.
An automated hiring plan that eliminates every element of assumptions in your hiring plans and predicts your future headcount requirements.
With Finmark leading the way in your company's finances, you can plan for growth, compare budgets and perform sensitivity analysis to build an ideal finance model.
Pricing: Customized pricing for every stage of your business
7. Justinmind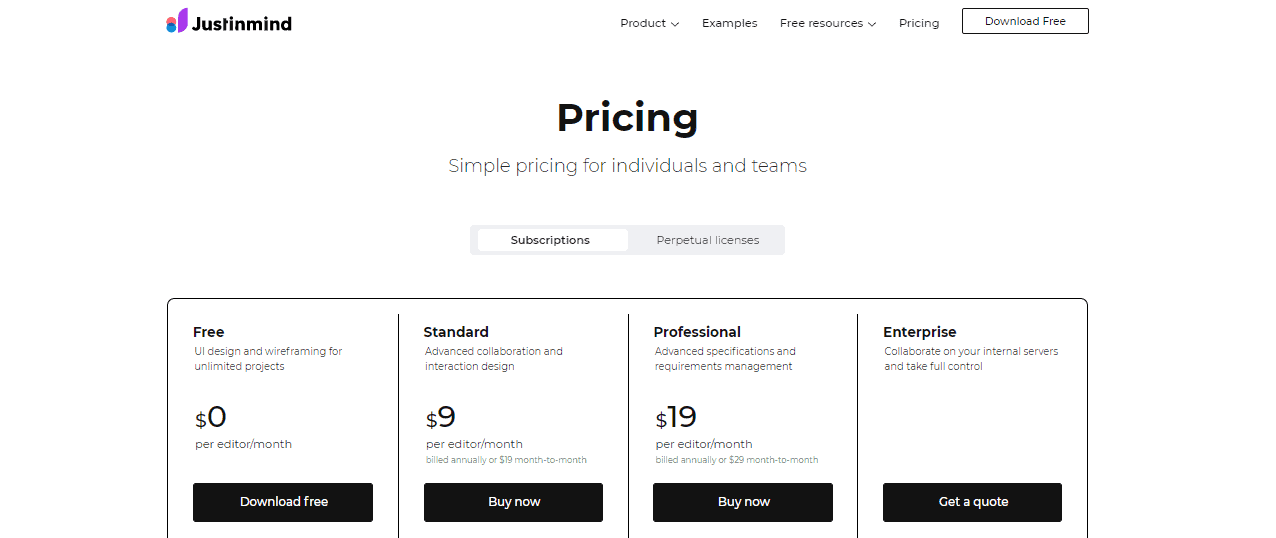 It's not every time you stumble across a phenomenal all-in-one prototyping solution for web and mobile applications. From wireframing to highly interactional prototypes and fully-functional simulations, Justinmind takes the lead. 
It boasts a pre-built UI kit library that features over 4000+ regularly updated components
It is characterized by a rich web interaction that allows you to duplicate any possible action without prior knowledge or experience.
It comes with a flexible and responsive design feature that makes it easy to adjust your wireframes with a dynamic layout to fit all screen sizes on any device.
Justinmind also features a sketch plugin, adobe plugin, smart templates, animation, and effects to name but a few.
Pricing:
Free: $0 per month
Standard: $9 per month
Professional: $19 per month
8. Google Analytics
Google Analytics is a prominent web analytics tool that you'll always come across in the stack of every startup. It allows you to keep track of customer interactions with your site throughout their entire lifecycle. It comprises of
Built-in automation that provides prompt responses to your analytics data allowing you to predict customer actions and develop actionable insights about growth opportunities.
A real-time reporting feature that monitors customer activities to better understand what content or aspect of your site drives engagement and conversions.
An explorations feature that allows you to retrieve, manage, and visualize your data without the constraints of pre-defined reports.
Google Analytics has more robust features like conversion tracking which allows you to measure how much traffic is being converted into signups.
Pricing: Free as long as you do not go beyond 5 million impressions per month
9. Hootsuite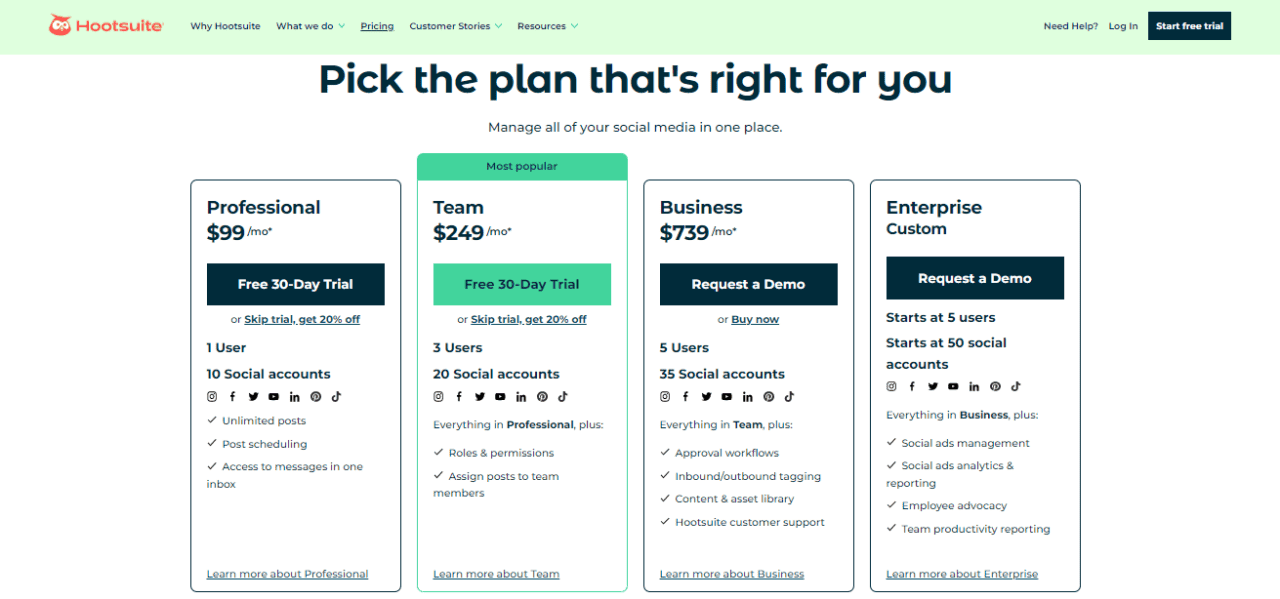 You can never get it wrong with Hootsuite! This is a time-tested social media marketing tool for startups, and it's prominent for its highly intuitive UI and pricing plans.
Hootsuite's social media calendar and planner allow you to easily create, schedule and publish content on all social media handles through a unified dashboard.
OwlyWriter AI feature generates instant winning captions and post ideas for your social media campaigns.
It helps you measure the ROI of your social media campaigns and keep a tab on impacts created under a single channel.
Additionally, its freemium version can schedule up to 30 posts on all social media handles making it particularly handy for startups. Other interesting features include free Canva templates, seamless integrations, and more.
Pricing:
Individual: Free
Professional: $99/month
Team: $249/month
Business: $739/month
10. Mailchimp
If you're looking to fully optimize your email marketing campaigns, then you need a tool that is nothing short of exemplary. That's where Mailchimp comes into play.
Interestingly, there are about 4.5 billion email users in the world and an estimated 319.6 billion emails were sent in 2021 with the numbers expected to rise to 376.4 billion by 2025.
Isn't that just mind-blowing?
With Mailchimp leading the way in your email marketing strategies, you're guaranteed a reliable email service to manage your audience through segmentation, behavioral targeting, and predicted demographics.
Additionally, it promises complete campaign transparency, email personalization and tracking, built-in templates, analysis of success and click-through rates, and more to enhance the efficacy of your email marketing campaigns.
Pricing:
Free plan
Essentials: Free for 1 month / $13 per month
Standard: Free for 1 month / $20 per month
Premium: $350 per month
Turn The Tides In Your Favor
You're all set! A list of the best cost-saving tech tools for startups at your fingertips. Now you can be sure of a swift, convenient, and effective business operation. Proper usage of these tools allows your startup to flourish and reach its full potential within a short time space.
So, strike out the fear and make your stand imposive, you have what it takes to turn the tides in your favor.
Author Bio:
Rilwan Kazeem is a freelance content writer, explorer, and reader. He has covered topics including digital marketing, HR, business, and product descriptions. Rilwan's writing has been featured in Leaderonomics, Engagedly, and Newsbreak—where he unraveled "10 simple steps to launch an online business in 2023", among others. He is the recipient of the 2015 Golden-Ink essay contest award at the Ladoke Akintola University of Technology.
Tags:
Like what you just read?
---
Subscribe to our newsletter and be the first to hear of the latest Zegal happenings, tips and insights!