13 Best Small Business Ideas To Start in 2023
By Guest Post, Updated: 2023-11-16 (published on 2023-03-02)
Starting a business can be daunting, especially when you are still determining where to begin. With the world constantly changing, it can be challenging to develop an innovative and profitable business idea. However, with the right mindset, you can identify great business ideas that can thrive in 2023. This blog post will discuss some of the best business ideas you can start in 2023.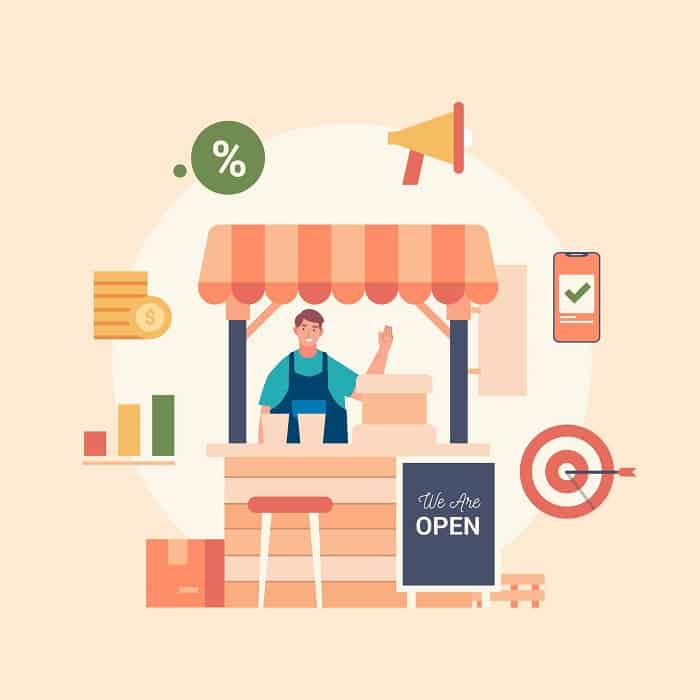 E-commerce Business
One of the most popular business ideas that are booming in 2023 is an e-commerce business. With the pandemic forcing people to stay at home, the demand for online shopping has skyrocketed. Consumers are now more comfortable shopping online, which has led to an increase in e-commerce businesses.
Starting an e-commerce business involves setting up an online store and selling products or services over the internet. You can sell anything from clothes to gadgets and even digital marketing or graphic design services. The advantage of e-commerce businesses is that you can operate from anywhere in the world, and the startup costs are relatively low compared to traditional brick-and-mortar stores. Besides the many advantages, an e-commerce business also requires a lot of hard work and organization. As a start-up, an e-commerce checking account specifically designated for the business helps keep finances organized, providing you with a clear overview of incoming payments, expenses, and net profits. It also helps protect financial activity related to your e-commerce business by setting up a secure place to store information, as well as enabling easy transfers from external payment providers
Dropshipping
A business concept that is becoming more popular in 2023 is drop shipping, where you sell products online with print on demand without the need to keep any inventory. Instead, you collaborate with suppliers who handle product storage and order fulfillment. This eliminates the need for you to manage inventory, packaging, or shipping.
Dropshipping is an excellent business idea for people who want to start an e-commerce business but need more capital to invest in inventory. With drop shipping, you only purchase the products after you have made a sale, so you don't have to tie up your money in inventory. You can also sell a variety of products without worrying about storage space. And you can use affordable electric tricycles to organize the shipment yourself, saving time and money.
Dropshipping is a popular business model that allows entrepreneurs to start an online retail business without investing in inventory or managing shipping and storage logistics. With drop shipping, the seller lists products on their website or marketplace. When a customer places an order, the seller purchases the item from a supplier who ships it directly to the customer. The seller can handle the physical product without worrying about warehousing or shipping costs. With a low initial investment and the ability to sell various products, dropshipping is a great business idea for anyone looking to start an online retail business.
It offers the flexibility to work from anywhere and the potential for high-profit margins. Dropshipping is a low-risk business model as you only purchase products after they have been sold, ensuring no surplus inventory or loss of funds. Dropshipping is an innovative and profitable business idea for anyone looking to break into the world of e-commerce.
Social Media Marketing
Social media marketing is a business idea that has been around for a while but is still relevant in 2023. Businesses are looking for ways to reach their target audience, and social media is an excellent platform. As a social media marketer, you help companies to create and manage their social media accounts, create content, and run social media campaigns.
Additionally, as videos are one of the main ways that people today consume content, social media marketers must include videos when developing campaigns and promoting brands. Some of the ways to increase their visibility and reach wider audience and expand business horizons are to include subtitles and captions to their videos and translate audio from video using Happy Scribe, as one of the most convenient automatic transcription software available today. Other benefits are: Improved communication, Greater customer satisfaction and Increased traffic and engagement.
The demand for social media marketers is high, and it is a lucrative business idea for creative people with excellent communication skills. You can start by offering your services to small businesses in your area and grow your client base over time.
Virtual Event Planning
The pandemic has changed how we organize events, and virtual events have become the new normal. Virtual event planning is a business idea that is perfect for people who have experience in event planning and want to transition to virtual events.
As a virtual event planner, you help businesses plan and organize virtual events, including webinars, conferences, and product launches. You will be responsible for managing the technical aspects of the event, including setting up the platform, managing the audio and video, and ensuring that the event runs smoothly.
Merchant Business
A merchant business idea involves selling goods or services to customers for a profit. This can be done through a physical store, online marketplace, or a combination. Merchants typically purchase products from wholesalers or manufacturers and then sell them to customers at a markup. Successful merchant businesses require a deep understanding of the products sold, market demand, and customer behavior. For merchants, it is important to understand chargeback rules to have advanced operations and take the business to the next level.
They must also manage inventory, pricing, and marketing efforts to maximize profitability. In today's digital age, e-commerce has become an increasingly popular platform for merchants to reach a wider audience and streamline their operations. A merchant business idea can be a lucrative opportunity for entrepreneurs who are passionate about a particular product or industry and have the skills and knowledge to succeed in the competitive marketplace.
Online Education
Online education is a business idea that has been growing in popularity over the years and is expected to continue to grow in 2023. The pandemic has forced schools and universities to shift to online learning, and many people have realized the benefits of online education.
Starting an online education business involves creating and selling courses online. You can create courses on anything from cooking to coding and even offer professional development courses. The advantage of online education is that you can reach a global audience, and the startup costs are relatively low.
Sustainable Products
Sustainable products are becoming more popular with the growing concern for the environment. Consumers are looking for environmentally friendly and sustainable products, and businesses that offer these products are thriving.
Starting a sustainable products business involves creating and selling eco-friendly and sustainable products. You can create reusable bags, water bottles, and utensils or offer products made from recycled materials. The advantage of a sustainable products business is that it is socially responsible and can help you positively impact the environment.
Smart home
Smart home technology has become increasingly popular recently, allowing homeowners to automate and control various household functions through connected devices and apps. This technology includes smart thermostats, lighting, security, and entertainment systems. As the demand for smart home technology continues to grow, starting a smart home business can be a profitable and innovative venture. There are various opportunities for entrepreneurs in this industry, including installing and maintaining smart home devices, providing consultation services to homeowners on the best smart home solutions, and developing custom smart home software and applications. In this smart home blog you can discover smart home solutions and learn what they can look like.
The smart home business can cater to a diverse customer base, including homeowners, property managers, and real estate developers. With the increasing popularity of home automation, a smart home business offers a chance to capitalize on the growing demand for this technology. However, the smart home industry is highly competitive, and companies must stay up-to-date with the latest trends and technology. Nonetheless, starting an intelligent home business offers an opportunity to tap into a rapidly growing market and provide innovative solutions for homeowners seeking to enhance their living experience.
Pet Services
Pet services are another business idea that is expected to grow in 2023. Pet ownership is rising, and pet owners are willing to spend money on their pets' care and well-being.
Starting a pet services business involves offering services like dog walking, pet grooming, and pet daycare. You can also provide pet training and behavior modification services. The advantage of a pet services business is that it is recession-proof, and pet owners are willing to pay a premium for quality services.
Food Delivery Services
Food delivery services have become increasingly popular in recent years, and it is a business idea expected to grow in 2023. With people living busy lives, there is a growing demand for convenient food delivery services. Small business management software allows us more accessible and less time-consuming management processes. If you want your food delivery business to grow, then consider using management software.
Starting a food delivery service involves partnering with local restaurants and delivering food to customers' homes or offices. You can also offer meal subscription services, where customers can receive pre-cooked meals delivered to their doorstep.
The advantage of a food delivery service is that you can operate from home and have low overhead costs. You can also partner with multiple restaurants, allowing you to offer a variety of cuisines to your customers.
Financial Services
A financial services business idea involves providing services related to managing money and finances for individuals, businesses, and other organizations. This can include accounting, financial planning, investment management, insurance, and digital banking services. Financial services businesses are essential to the economy and play a critical role in helping individuals and organizations achieve their financial goals. With the increasing complexity of financial markets and the growing demand for personalized financial advice, entrepreneurs have ample opportunities to develop innovative financial services businesses. Successful financial services businesses require a deep understanding of financial markets, expertise in various financial products, and a commitment to providing exceptional customer service. At BadCredit.org, you can get informative and educational expertise from financial experts and expand your knowledge and skills. The potential for growth and profitability in the financial services industry makes it an attractive business idea for those with a passion for finance and a desire to help others manage their money.
Success stories
Success stories in business ideas are inspiring examples of entrepreneurs who have turned their innovative ideas into thriving companies. Phil Strazzulla's startup SelectSoftware Reviews is an excellent example of a success story; you should discover it if you want to have your success story one day. These stories often demonstrate the potential for success in various industries and can motivate aspiring entrepreneurs. Here are a few examples of success stories in business ideas:
Virtual Reality
Virtual reality is a technology that has been around for a while but is still in its infancy. Virtual reality offers endless possibilities, from gaming to education, and it is a business idea that is expected to grow in 2023.
Starting a virtual reality business involves creating and selling virtual reality experiences, such as games, educational programs, and simulations. Collaborating with educational software development services can help you create cutting-edge VR educational programs. You will need to invest in the technology required for virtual reality, such as headsets and software.
The advantage of a virtual reality business is that it is a relatively new and innovative industry, and there is a lot of room for growth and innovation.
Final Thoughts
Starting a business in 2023 can be exciting and challenging. With the world constantly changing, it is essential to identify business ideas that are both innovative and profitable. The business ideas listed above are just a few options available. By doing your research, identifying your strengths and weaknesses, and having a solid business plan, you can start a successful business in 2023.
Tags:
Like what you just read?
---
Subscribe to our newsletter and be the first to hear of the latest Zegal happenings, tips and insights!