5 Reasons Why Cloud Computing Is Important for Your Business
By Jolene Rutherford, Updated: 2023-10-31 (published on 2020-04-15)

The fact that technology has a great impact on business nowadays is evident. Not so long ago, companies had to establish and maintain their own server environment so that they could host and run applications on their premises.
Today, we have cloud computing that's revolutionising businesses and their operations. This relatively new technology became the cornerstone for the digital transformation of companies.
So what exactly is cloud computing?
Simply put, this technology leverages virtualisation to provide companies with on-demand data storage, computing power and various other cloud services.
These services are maintained by service providers at remote data centres so that users don't have to manage everything on their own. With that in mind, here are a few reasons why cloud computing is important for your business.
Cost-effectiveness
One of the primary benefits of cloud computing is cost-effectiveness. From a business perspective, this benefit can be a game-changer. As mentioned before, cloud computing is a technology that provides services to companies on-demand.
In other words, you only pay for what you use. This allows businesses to optimise their budget more efficiently and use only the services they'll need to remain competitive or to grow and develop their company further.
Let's put all of this into a perspective that's easier to understand: running an on-premise data centre that will support your business needs would be a costly endeavour. You'd have to purchase hardware, hire staff, conduct regular maintenance and upgrades, develop in-house solutions or apps, and so on.
Cloud computing is a subscription-based model, which means there are no purchasing, labour or maintenance costs. Only monthly subscription fees for the services you're currently using. If you no longer have the need to use a service, you can simply stop paying for it. Cloud services include software, platforms, infrastructure and other IT needs.
Digital transformation
A lot of businesses today engage in digital transformation. After all, it's one of the surest ways companies are able to remain competitive in today's crowded market. However, there's more to digital transformation than simply going paperless.
The fact of the matter is that digital transformation includes a complete digital migration of business operations. That means that companies will migrate everything to the cloud. However, a lot of companies are still hesitant about this transformation.
The main reason is that this is a costly and often complex activity. Not one company wants the downtime for migration nor do they want to risk improper migration that will result in hefty losses. Fortunately for such companies, this entire migration can be successfully outsourced.
As a matter of fact, you can find reliable companies that will ensure proper cloud enablement. That way, you can ensure a smooth and seamless transition to the cloud with no repercussions. Sooner or later, every business will have to consider an enterprise digital transformation because the traditional ways of operating are slowly becoming too costly and obsolete.
Effective creation of in-house solutions
Many tech businesses today create custom software solutions and in-house apps they use or sell to clients. Cloud computing can once again offer assistance and benefits in such matters. As mentioned, the cloud offers a variety of services and you can use only the ones you need.
A good example of such services is PaaS (Platform as a Service). Businesses can leverage cloud computing so that they can get their hands on a reliable platform they can use to develop in-house solutions more effectively. Moreover, you can also opt for reliable DevOps services to ensure seamless integration and software delivery.
The platform itself is managed by service providers while your business manages the apps that are developed through it. With application monitoring, you can ensure your apps are always performing optimally. This service is popular among developers and they prefer to have a stable platform they can work on without having to manage it themselves. 
PaaS also includes high customisation options that developers can leverage, as well as automation that can be implemented when needed, while companies enjoy a cost-effective way to develop in-house solutions.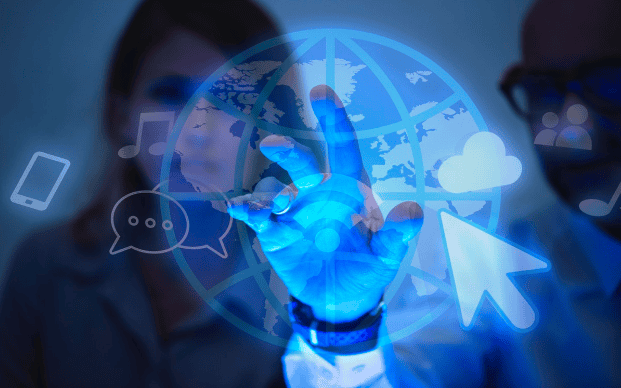 Data backups and recovery
Cloud storage is one of the greatest benefits cloud computing has to offer. Any relevant business data can be stored in the cloud, which makes it more accessible and usable. That said, your data can be accessed from any device and anywhere in the world, which is ideal for remote workers and offices. "Implementing a cloud-based mobile device management tool will help close the loop on the management and security of information accessed under a company's BYOD( bring your own device) policy."

Moreover, the cloud has an integrated data backup and recovery process that keeps your business data safe at all times. Your data is secured and protected from cyber attacks, natural disasters and even physical thefts.
The way it works is that your data is never stored in one place. Instead, it's split into fragments and encrypted then distributed across various locations, i.e. remote data centres. That way, even if a cybercriminal was to steal your data from one location, it would be incomplete and unusable.
In case of a disaster, you also have data backups stored in the cloud, which means data can be easily recovered in a moment's notice and your business can resume operations as if a disaster never happened.
Scalability
Effective business scaling is of vital importance these days. Companies that are able to scale up and down quickly can ensure a competitive advantage in the market. That said, cloud computing provides seamless scalability to businesses.
For example, cloud services, such as IaaS (Infrastructure as a Service), allow companies to subscribe to an entire IT infrastructure without the necessity for procuring hardware. You can add or remove servers in your infrastructure based on current business needs, which allows your company to scale quickly and efficiently. Furthermore, businesses can opt for any software or any custom app they need.
Cloud solutions such as SaaS (Software as a Service) allow you to use any app available on any device in your company. This helps companies leverage the latest software solutions whenever they need them and you can pay for these apps for as long as you wish. In other words, cloud computing provides companies with any resources needed for efficient business scaling. You only need to consider your needs and plan for cloud services accordingly.
Cloud computing has evolved over the years to better serve businesses that leverage this revolutionising technology. In today's competitive environment, companies need a way to improve their efficiency, productivity and overall performance, and cloud computing can certainly provide a way.

Jolene Rutherford is a marketing specialist – turned blogger. Interested in digital marketing and new technology trends. Love sharing content that can help and inform people.
This article does not constitute legal advice.
The opinions expressed in the column above represent the author's own.
Start managing your legal needs with Zegal today
READ MORE: Data Science as a Bridge Between Business and Technology
Like what you just read?
---
Subscribe to our newsletter and be the first to hear of the latest Zegal happenings, tips and insights!