Have Singapore's Changes To The Employment Act Affected Your Business?
By Will Elton, Updated: 2023-01-18 (published on 2019-03-14)

Changes to Singapore's Employment Act took effect 1 April 2019
It is without dispute that the Singapore employment landscape has been constantly adapting to keep up with global economic forces and the changing profile of local workforce.
Singapore's Employment (Amendment) Bill 2018 was passed in Parliament on 20 November 2018, bringing changes to the Employment Act (EA) and Employment Claims Act (ECA) which took effect from 1 April 2019.
The key major changes were:
Senior managers and executives to be covered under the EA.

Statutory protection against unfair dismissal expanded.

Part IV of the EA on working time protections to cover more employees
More details on these recent changes are set out below. The following are key amendments for employers to take note of:
1. Core provisions extended to all employees
Core provisions under the Act now extend to professionals, managers, executives and technicians (PMETs). These include the minimum days of annual leave, paid public holiday and sick leave entitlements, as well as other protections such as timely payment of salary and protection against wrongful dismissal.
The three groups of employees who currently enjoy core provisions are:
All workmen: manual workers or blue-collar workers.

All non-workmen: rank-and-file white-collar workers.

Managers and executives (M&Es) with basic monthly salaries up to S$4,500

2. Additional protections extended to more employees
In addition to the core provisions, the Act provides a set of additional protections in Part IV, such as on hours of work, rest day and overtime pay. Today, Part IV covers workmen earning up to S$4,500, and non-workmen earning up to S$2,500. They are collectively known as Part IV employees.
In addition, the Government will align the salary cap of S$2,250 for calculating overtime pay with the new salary threshold of S$2,600. Taken together, an additional 100,000 employees benefit from these enhancements.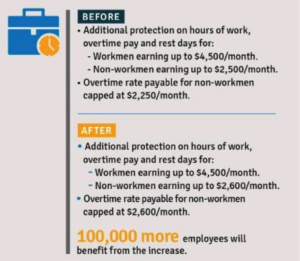 3. Employment dispute resolution framework enhanced
Shift adjudication of wrongful dismissal claims to the Employment Claims Tribunals (ECT):
Previously, salary-related disputes were adjudicated by the ECT, while wrongful dismissal claims were adjudicated by Ministry of Manpower (MOM). In fact, both types of disputes are often related.

Today, under the Employment Claims Act (ECA), when the ECT adjudicates a case, it must take into account the principles and parameters contained in the tripartite guidelines. In cases where a dismissal is found to be wrongful, the ECT will order compensation or reinstatement. There is no change to the scope of remedies. Per the previous practice, the ECT will take into account factors beyond just the wages or maternity benefits owed to the employee, in determining the amount of compensation.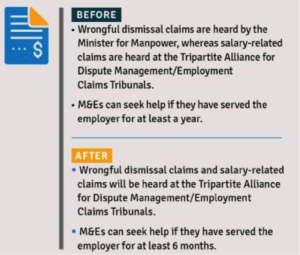 Useful Document: Notice of Termination by Employer
4. Other amendments
Recognition of medical certificates (MCs) from all doctors for paid sick leave and clarification for hospitalisations
Previously, employers were required under the EA to accord paid sick leave only if the medical certificate (MC) was issued by Government and company-appointed doctors.

Today, employers are required to recognise MCs from all registered doctors for the purpose of granting paid sick leave.
In addition, regulations relating to protection of employees' entitlements and their wellbeing
MOM's regulatory framework continues to be enhanced to ensure that it remains responsive to the emergence of undesirable employment practices.

Previously, some employers have out of convenience, or even with an intention to cover up for late or non-payment of salaries, asked their employees to sign salary vouchers before receiving their salaries, or to sign on blank salary vouchers. Such errant practices have hopefully been curbed.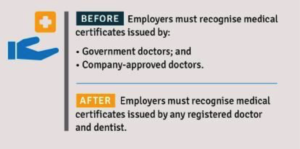 Graphics / MOM
READ MORE: All You Need To Know About Singapore's Employment Law in 5 Minutes
Like what you just read?
---
Subscribe to our newsletter and be the first to hear of the latest Zegal happenings, tips and insights!