Reasons to start a business in Australia
By Alex Tanglao, Updated: 2023-01-18 (published on 2017-07-17)
Aside from its breathtaking beauty, Australia has plenty to offer in the world of business and startups for giving reasons to start a business in Australia. Ranked 19th on the 2016 Global Innovation Index, the land down under is home to one the most flexible economies in the world. The business environment is well regulated and transparency is high. The political landscape is stable and a strong framework of regulations gives investors ample confidence to put their money into promising ventures.
Source: The Economist
The cities of Melbourne, Adelaide and Perth were ranked among the world's top 10 most liveable cities in 2016. All in all, Australia is recognised as one of the easiest places in the world to start a business.  Australian government also have different kinds of  grants for businesses.
If you are thinking about becoming your own boss, here are some reasons to start a business in Australia.
1. You'll be part of a growing startup ecosystem thanks to strong government support
The growing startup culture in Australia has meant greater support from various stakeholders such as the Australian government and fellow entrepreneurs. The Australian government has invested heavily in Research and Development. The research & development (R&D) tax incentive helps businesses stay one step ahead through a tax offset that promotes innovation in even the smallest companies. One of the big products that originated from Australia is the anti-hacking software kernel seL4 which regulates access to a computer's hardware and is able to distinguish between trusted and untrusted software, thereby protecting secure data from hackers.
In addition, the Entrepreneurs' Programme was introduced to increase the productivity and competitiveness of businesses by providing funding and access to a national network of private sector advisors and enablers. The Entrepreneurs' Programme offers funding support for incubators that help startups enter global markets.
2. You will have access to the resources to succeed given the availability of funding
Access to funds is a key factor that drives innovation as it allows entrepreneurs to develop and commercialise their ideas. The tax incentives for eligible investors that came into place on 1 July 2016 to encourage support for innovative, high-growth potential startups include the following:
A 20 per cent non-refundable carry-forward tax offset on investment, capped at $200,000 per investor, per year.
 A 10 year capital gains tax exemption for qualifying investments held for at least twelve months.
Venture Capital Limited Partnerships (VCLP) were introduced to draw in foreign investors to Australia with the purpose of boosting the local VC market with multiple tax benefits. The investments must be toward businesses that have total assets valued under $250 million, with 50% of assets and employees located in Australia.
In particular, there has been growing investment in the fintech sub-sector, with the industry expected to be worth $4.2 billion by 2020 based on its current trajectory. In 2016, Australia was ranked the sixth most attractive place for investors in venture capital and private equity in the Venture Capital & Private Equity Country Attractiveness Index.
3. Australia's strong trade relations with other countries sets the stage for expanding your business abroad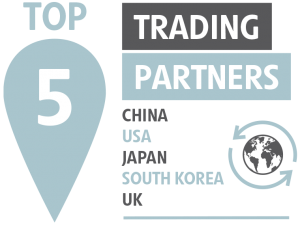 Source: Austrade
With strong trading ties with major economies across Asia, Europe and North America, Australia is a good base for expanding the reach of your business abroad. In 2015-16, two-way trade in goods and services totalled A$661 billion, making up 40% of Australia's nominal GDP. Australia maintains strong trade relations with Asia-Pacific Economic Cooperation (APEC) countries, while the ASEAN region is a significant market. If you are eager to grow their business, Australia's strong trade relations will stand you in good stead as you get access to cheaper resources and overseas markets.
Learn: Minimum wages in Australia 
4. Australia's strong talent pool allows you to build a solid team
Australia boasts of a high literacy rate at 99 percent as it has a thorough educational and training system. You will have a ready supply of tertiary-educated workers given that more than 40% of Australian workers hold a tertiary qualification.
Source: Austrade
If you're looking for technical talent for your startup, you're in luck. According to a report by startup rating platform Oddup, 20,000 new technical professionals have relocated to Melbourne over the last five years. The overall workforce are skilled and educated possessing diverse language skills. A cultural melting pot with people from all over, Australia is also the place for you to build a diverse team with members each bringing different perspectives and experiences that will help make your business more robust.
5. Innovation is rewarded with strong intellectual property (IP) laws
Australia has a strong record of innovation, with its R&D spending placing it among the world's leading innovative countries such as the USA, Japan, Sweden and South Korea. Accordingly, there are strong IP laws in place to protect your trademarks, patents, copyrights, designs and so on. This is crucial as intellectual property is a core asset of a business.
Ranked 12th on the International Property Rights Index in 2016, Australia administers IP legislation via IP Australia. Access the eServices site to apply, register, renew and pay for IP rights. Make the most of the Australian jurisdiction's strong IP legislation to give your business a competitive advantage over the rest.
Are you an entrepreneur in Australia with more reasons to start a business in Australia and why your mates should join you in starting up down under?
Let us know in the comments below!
Tags:
Like what you just read?
---
Subscribe to our newsletter and be the first to hear of the latest Zegal happenings, tips and insights!