More than the strawberry generation: How you can go about finding the right Millennial for the job
Articles »

More than the strawberry generation: How you can go about finding the right Millennial for the job
By Alex Tanglao, Updated: 2023-01-18 (published on 2017-08-16)
Much has been said about how millennials in the workplace are the strawberry generation that is entitled, inexperienced, and unable to work hard. Given the less than flattering perception of millennials, it is no wonder that some employers shun hiring this group of young workers. But is there really nothing that the millennial generation can bring to the table in your company?
Indeed, there are some advantages that millennials have over Gen X and the baby boomers. As the generation that grew up in the digital age, millennials are early adopters who keep up with the latest tech trends and can recommend tools and technologies that can help make your business more efficient and accessible to the increasingly tech-savvy consumer. While the job-hopping culture among millennials is often criticised, the fact that these young workers constantly striving for better is a trait to leverage on, especially if you land a millennial who is the right fit for your company.
Here, we offer you five top tips for hiring and retaining millennials in your company.
1. Design your company's roles around what makes millennials tick
It is commonly understood that compared to Gen X and the baby boomers, millennials have different expectations regarding how they want to build their career and interact with their employers. Millennials conceive of their roles as stepping stones and growth opportunities, and thus tend to prioritise opportunities to learn, grow and advance.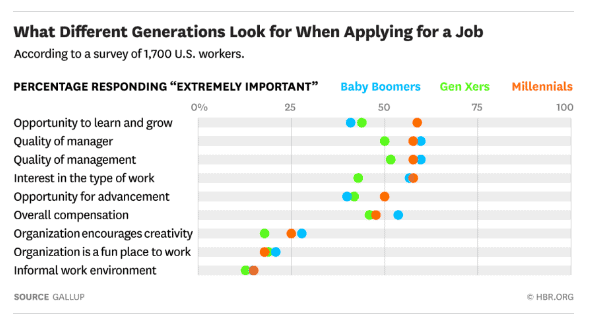 Source: Harvard Business Review
According to recruiters in Singapore, other key priority areas for millennials are job flexibility, company culture, and having a sense of mission. Millennials are just as driven by the why as they are about the what. In order to motivate, inspire and engage your young employees, it is crucial that you clearly define and articulate your business' mission, as it is one of the things from which your employees draw a sense of purpose. Given the emphasis placed on finding meaning in work, implementing a corporate social responsibility (CSR) programme can also demonstrate that you care about how your business situates itself within the community, and make your company more attractive to millennials.
2. Allow for flexibility in the workplace
According to a study by PwC which surveyed 44,000 Millennials and non-Millennials in 18 territories globally, employees want more flexible. If they were able to make their current job more flexible, 64% of Millennials would like to occasionally work from home, and 66% of Millennials would like to shift their work hours. Across the board, 15% of male employees and 21% of female employees say they would give up some of their pay and slow the pace of promotion in exchange for working fewer hours.
Millennials measure productivity based on the output of the work performed, rather than the number of hours spent in the office. They view work as a "thing" and not a "place". Where you choose to put in place flexible working arrangements, ensure that you properly set out your organisation's approach to flexible working in a Flexible Working Policy. This should be used in conjunction with a Flexible Working Request, which is a form that your employees can use to request flexible working arrangements.
In order to manage your team while accommodating varying work schedules, an option is to leverage tech solutions for managing flexible teams:
BoltonRemote helps companies find full-time offshore talent by helping B2B technology and Internet companies turn their business processes into managed, scalable offshore functions and providing a solution that includes proactive staff retention practices, a fully-serviced office and competitive HR benefits.
HReasily and Talenox are HR solutions providers that help small businesses improve productivity by streamlining HR work processes (e.g. payroll processing, staff management system, absence management software). This helps you keep your HR practices in order even when managing a flexible workforce with varying work schedules.
3. Provide mentorship, training and opportunities for growth
According to a survey conducted by consulting firm Accenture of more than 1000 students, 80% of 2014 graduates expect to be formally trained by their first employer, while more than half of those who graduated in the past two years report receiving no training in their first position.
Millennials are big on growing and learning, and the environment they are in needs to cater to that. It all starts with putting your new hire through a proper onboarding process, in order to integrate your employee into your company's work culture and connect him with colleagues he can seek mentorship and advice from.
In order to make your organization an attractive prospect in the long run, it is crucial to foster a culture of mentorship as young people thrive on collaborative work and support from colleagues. This means assigning a more experienced employee to your new hire from the get-go, and having regular check-ins to ensure your employee is on track with his learning objectives. Young employees are also more likely to expect to hear from top management, so it would be good to develop avenues that provide access to your company's leadership, such as microfeedback platforms to ask questions on specific topics and engage on follow-up feedback. Making communication two-way and real-time will ensure that you constantly keep your young hires engaged.
Here are some quick tips for how you can create a culture of mentorship and opportunities for growth within your organization.
Offer career security. Demonstrate that staying with the company can lead to career enhancement. Share examples of people who've progressed through training and on-the-job learning in your organization. Appeal to the Millennial aspiration to be more employable over the long-term.
Focus on career variety & mobility. Create opportunities for Millennials to work on different projects with different teams to build experience and networks across the organization. Satisfy their appetite for new opportunities without them having to go elsewhere. Highlight the value of progression and not just promotion to build a portfolio of skills and experiences.
Have regular career conversations. Check in with Millennials regularly about their career path and development. Rather than annual reviews, focus on near term objectives and implement plans to achieve them. Use these conversations to connect how their work today will enhance their career prospects and longer term employability.
Appreciate your Millennials. Maintain a high-touch approach and offer frequent, face-to-face feedback, and yes, affirmation. Find new channels that encourage recognition and sharing from managers and peers. It doesn't cost anything and is an effective way to engage people in their roles.
Source: ManpowerGroup
4. Incentivise your new hires with more than just dollars & cents
Given that Millennials are tend to be more motivated by your company culture and work environment rather than salary, building a strong company culture and providing workplace benefits is the way to go in attracting this generation of workers. This is beneficial for small businesses which often do not compete on salary, and the perks and benefits that Millennials want can be inexpensive.
There are five key types of perks that can keep your employees engaged:-
Pampering Perks. This group of perks entices employees through the promise of indulgence. Think weekly ice cream runs, napping rooms and paid gym memberships.
Community Perks. While pampering perks are material, community perks encourage young workers to participate in group activities and helps build community. Ideas include organised volunteer efforts for the team, regular potlucks, and department retreats.
Lifestyle Perks. Learn to accommodate the lifestyle of a young professional seeking work-life balance through policies such as telecommuting, a casual dress code, or a paid day off on birthdays.
Convenience Perks & Special Deals. These are perks that take some day-to-day stress off your employees. This include specially organised discounts at local businesses, personal use of tablets and phones, and providing mobile phone stipends.
Culture Perks. This is the number one reason why a young professional would choose your company. Develop a culture that gives your workers the freedom to take initiative and make things happen, the ability to be part of the decision-making process, and support for entrepreneurial efforts and side projects.
Source: Career Attraction
Evidently, some of these suggestions are more cost-friendly than others. Regardless of which you choose to implement, ensure that you align expectations by putting in place clear policies and guidelines. For instance, a Bring Your Own Device Policy ensures that where you allow your employees to connect to the company network and access company data using their own devices, there are clear rules on permissible and impermissible uses of personal devices on the company network.
Check out our post for more tips on keeping your employees motivated!
5. Tap on job search platforms where Millennials are likely to be
Now that you've fostered a company culture and designed a role that appeals to Millennials, the next question is: Where do you find them?
As Millennials are increasingly eschewing traditional job search portals, businesses should be more savvy about where to find Millennials. Here, we round up the top job search portals you can find Millennials on: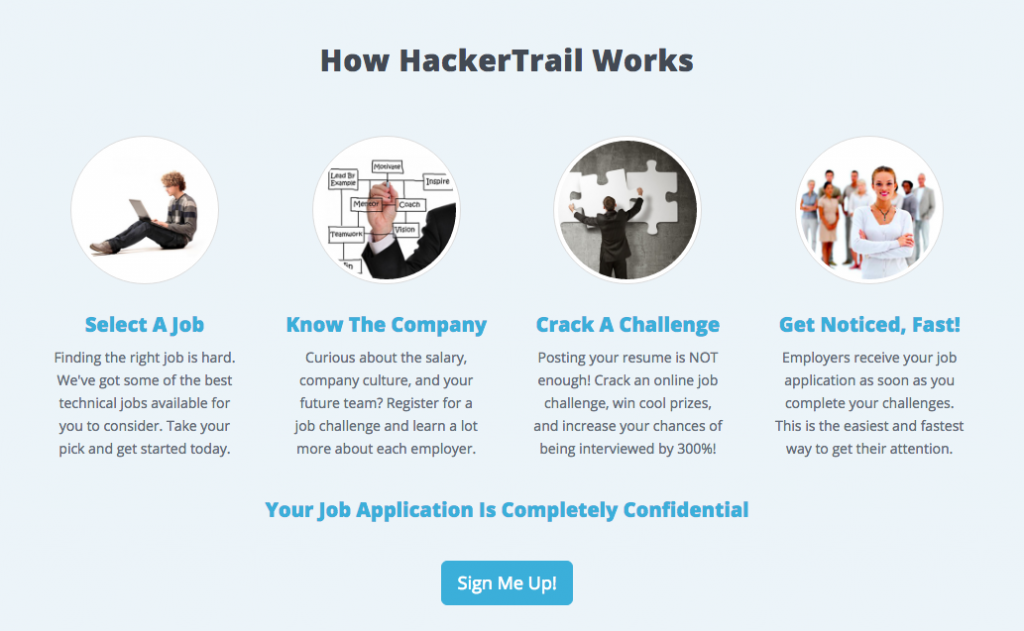 Source: HackerTrail
Want the lowdown on what legislation you have to comply with when hiring employees?
Download our free eBook (Singapore)
Download our free eBook (Hong Kong)
Have more tips on how companies can best go about hiring younger workers?
Share with us in the comments below!
Tags:
Like what you just read?
---
Subscribe to our newsletter and be the first to hear of the latest Zegal happenings, tips and insights!