Techniques to Identify Target Audience for Better Marketing in 2022
By Guest Post, Updated: 2023-11-30 (published on 2022-06-27)
How to Identify Your Target Audience to Improve Marketing Efforts in 2022?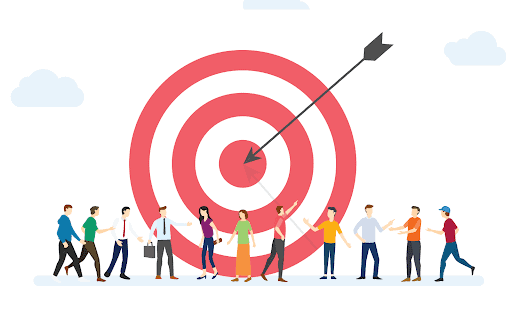 An essential part of building any marketing campaign is knowing who it's for. Who are the people most likely to be interested in buying from you? What's their behavior like? What do they usually search for? How to make sure you're the first result they see? What is your target audience for a better marketing approach? How to find your target audience?
You can find out all of that by identifying your target audience.
With the help of our recommendations, you'll be able to perform analysis and build several profiles of people to target. As a result, you'll get more leads and revenue because you'll know just how to communicate with potential customers.
Sounds good, doesn't it?
What Is A Target Audience?
Your target audience is all the people you see as potential readers, leads, customers, advocates, etc. These people are somewhat similar in their online behavior, interests, demographics, etc.
You can have more than one Target Audience for Better Marketing.
When identifying it, you should ask the following questions:
How and where do these people communicate online?
What are their favorite online channels?
Which are their favorite online places to hang out?
What about their demographics? (Age, location, occupation, hobbies, job position)
What about their psychographics? (Personality features, lifestyle, online and offline behavior, attitude)
What problems do they have that you can solve with your product or service?
For example, you've created SEO (search engine optimization) software. What's your audience identification? Specialists, agencies, small businesses (and medium, or large). That's already 3 categories.
Let's describe one. Off the top, let's say it's 25-40 year old males that often work remotely and have issues with slow-loading, ineffective, expensive software. They use LinkedIn and Twitter often and are very picky when it comes to software for their job.
Or it could be a female SEO specialist of another age with different interests and pain points.
Types of Your Target Business Audience
Gathering all the potential buyers into one group may be difficult. First, you'll be targeting either influencers or decision-makers. The first group consists of people who encourage others to buy. The second one – is actual buyers.
Next, there are 3 more detailed types you'll come across during audience identification:
Demographics.
This type allows you to group people by their demography (age, occupation, location, etc.). You can connect with these people on a special level by tailoring personalized ads.

Purchase intent.
This type includes people that are looking for a similar product or service and have similar pain points. When you identify this group, you will know what arguments to present when marketing your offers.
Special interests.
This type allows you to group audiences by their hobbies and the kinds of entertainment they enjoy. This should help you find out more about their buying behavior and pitch products and services they will definitely be interested in.
The Benefits of Target Audience Identification
You get the following benefits by successfully identifying your target audience.
Proper placement.
You have to choose several of the most popular marketing campaign placements, the ones that your target audience uses most often. You have to be where they are so that the magic of the 'right place, right time' can happen. Understanding who your target audience is – that's the key to that magic.

Proper time and resource focus.
Another perk of audience identification is the ease of keyword research and making sure you create the right content for the right people. When you know who your potential customers are, keyword ideas come in clusters. With a high-quality digital tool, you won't spend a lot of time choosing the right queries.

The tone and type of content are also easier to understand when you know who's on the other side.

Product adjustment opportunities to cater to your customers.
While you may see your product or service in a certain way, it doesn't necessarily mean your target audience appreciates it. Only by knowing their interests, age, communication, buying habits, etc. can you adjust what you offer to make sure they will buy it.

Offer analysis and improvement.
If you identify your target audience mid-campaign, you can analyze the offers you already have, improve them if possible, and create new more effective ones in the future.
Tactics to Identify Your Target Audience
Lastly, let us see how to determine your target audience in detail.
Gather Existing Audience Data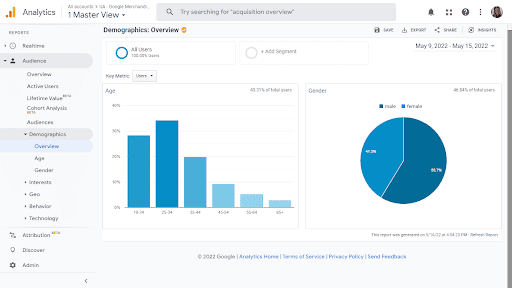 You already have lots of information about the people who are buying and may buy from you in the future. Gathering and analyzing it will show you certain patterns that describe your target audience. Here's where to look for that data:
Google Analytics.
The tool itself offers an extensive view of the visitors of your website, including where they come from, their age, gender, interests, location, and even device. Use this data to estimate your target audience.

CRM data.
Your customer relationship management data will tell you all there is to know about your existing clients. The system will show you:

Identification data (name, email, phone number, mailing info, social media accounts, essential and relevant personal info)
Description (career and education, marital and parental status, lifestyle)
Quantities (the number of purchases, website visit frequency, social media engagement, etc.)
Quality (satisfaction rate, answers to questions like "Why did you choose the product?", service rating, etc.)


Social media.
Analyze your audience on social media and view the profiles of the most frequent visitors to get an idea of who you're connecting with.

Interviews.
Create quizzes and surveys and send them to your email list and/or post them on your website to talk to the customers themselves and find out more about them.
Analyze Competitors
Peek into your competitors' marketing campaigns to see who they target. How do they communicate with their audiences? What pain points are they using?
You can find out who your competitors are if you check SERP rankings for your focus keyword. If you use the SE Ranking SERP check tool, along with a ranking monitor tool, you can analyze and monitor your competitors with no extra charge,, which gives you a complex overview of the strategies of the other players in your niche.
Keep an eye on the things your competitors do better to ensure you improve your next marketing campaign. If you're not at the top of the list yet, it may mean you lack something the competition has.
Additionally, don't forget to analyze the social media campaigns of other businesses. Who do they target? What content do they use to draw attention? What do they offer to their audiences?
Conduct Market Research
The next step is identifying the market. What's your niche? What does it already have? What doesn't it have?
Look into trends and their dynamics. See how often your industry changes and what potential gaps it has that you can fill. Your competition may have found their perfect niche to the top and forgotten to focus on similar ones with gaps that users talk about online.
The dynamics will help you build campaigns for seasonal products. For example, if you have an item or service, especially popular during the Christmas holidays like Felt Christmas Tree; Halloween may be the right time to start doing some light marketing to prepare people for what's coming.
You have to be aware of new trends all the time and incorporate them into your products and marketing to make sure users say "Now THAT'S what I've been looking for."
Perform Data Analysis
As you determine the target audience for better marketing, you should do some in-depth data analysis. Following this, you will have a lot of data and some understanding of your audience and what it wants. Howyou need a full, clear picture of all potential customer or influencer groups with comments, possible keywords, and plans for marketing campaigns.
Make sure you do a detailed grouping of the audience and have a marketing campaign for each group. This will help you create personalized experiences right from the very first ad!
How to Engage You
r Target Audience
The next important stage after finding your target audience for better marketing is engaging it. There are several channels you can use to build trust, show that you're a reliable business, and make sure people see that you offer exactly what they want and need:
It's estimated there are almost 4 billion people on social media this year. And the number will only grow. Therefore, maintaining a consistent presence across all social channels may be tough, so it's better to only choose sites where your target audience resides.

For example, if you have a pretty large, diverse audience, Facebook is a great social media to start with. If you want to target more IT-savvy people, Twitter should definitely be on your list. If your business is connected to retail or anything visual or physical, Instagram is an excellent choice to target audience for better marketing.

Be interesting, communicate with people, ask and answer questions, and build a relationship.
User-generated content (UGC)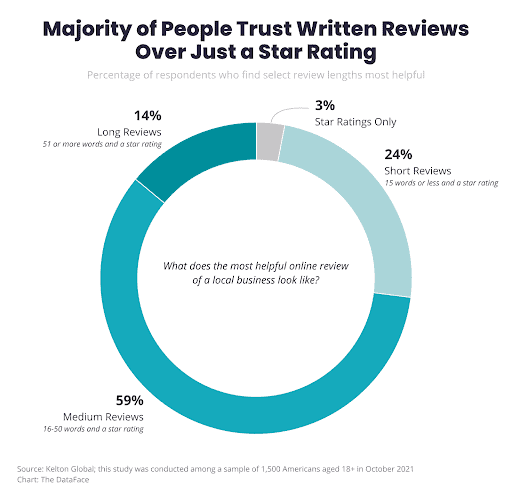 To build social proof and encourage people to try your products and services, encourage your existing customers to share a few words, images, or videos about their experience and the items they bought and/or the service they received. You can offer a discount or a present for such content, gathering it on your website as testimonials.
People are drawn to other people's opinions, and that's why reviews are so popular nowadays. 97% of survey respondents say a written review is much better than just a star rating.
Email campaigns
Engaged users are likely to subscribe to your newsletter. There, you can share useful information about the market, your products and services, customer testimonials, case studies, news, special offers, and more.
This is the kind of soft and steady marketing that will make people want to buy from you. Considering you'll be interacting with a hot audience (people who have already engaged with your content), the return on investment should surprise you.
Video content
Video content is entertaining, visually pleasing (if you do it right), and will most definitely engage people. It can be a set of longer product reviews or how-to guides for YouTube, a bit of aesthetics for Instagram Reels and Stories, or short entertaining videos for TikTok.
Events
Organizing hybrid events (when the speakers gather at the venue and the viewers access the event online) like webinars and Q&A sessions will bring you closer to becoming a favorite brand with leads. Invite experts in the area, show why consumers need your products and services, answer questions live, hold giveaways for the most active people, and pitch new products.
So, offering a bonus to attendees that stay till the end or purchase from you within 24 hours may boost positive reactions.
Summary
"Who is your target audience?" this should be one of the main questions you ask before building a marketing campaign. After all, a business will only work if it has customers. So, find your target audience for better marketing, learn about their identities, interests, attitudes, and behaviors, and you'll be stronger than your competitors.
Interpersonal relationships between brands and customers create an atmosphere of trust. If you talk to the visitors in their language, understand their issues, and have optimal solutions for them, you're sure to see more revenue and satisfaction rate growth.
Make sure you use the recommendations we provide to gather information about your target audience for better marketing, group it and engage it with your content, campaigns, and events.

You Might Also Like:
Along with this document, make sure you see these other templates in our library:
Like what you just read?
---
Subscribe to our newsletter and be the first to hear of the latest Zegal happenings, tips and insights!