The Best Legal Podcasts (2022)
By Joanne Hue, Updated: 2023-01-11 (published on 2021-12-17)
In recent years, podcasts have become really popular and legal podcasts are used by law students and lawyers to gain information through a platform that is unique and gives a new way to discover and learn about the issues within the legal profession. Such podcasts are also helpful in raising their commercial awareness.
It allows their users to listen to them by utilizing their spare time or less time during their busy schedules or while on a walk, runs, commute, or whenever engaged in the house works. These are great sources to gather information about a subject and listen to those who have experience and knowledge in the field.
So without further ado – here are our favorite legal podcasts in each category.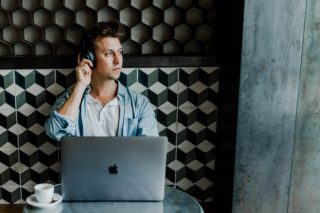 Best Legal podcasts for Aspiring Lawyers & Professional Development
More from Law
This podcast was produced by the trainee Solicitor (Harry Clark) at Baker McKenzie. The host focuses and helps in broadening your legal horizon. It embarks on a variety of interviews of partners, trainees, entrepreneurs by providing a deep-dive analysis, discussions focusing on legal developments. It also touches on topics like leadership, well-being, public speaking, requirements of firms from junior lawyers, the life of a trainee, etc.
Listen here: Apple Podcasts | Spotify
UK Law Weekly
This weekly podcast is hosted by Marcus Cleaver, a former university lecturer in law. Firstly, its duration is not too long (up to 10 mins) and it focuses on legal decisions and news. Secondly, it deals with recent cases and reviews from the courts also it is amazing for aspiring lawyers who have completed their studies and are willing to learn more.
Listen here: Apple Podcasts | Spotify
The Intelligence, The Economist
This podcast is very helpful to aspiring lawyers who are searching beyond the news mentioning techniques and strategies to impress firms at interviews.
Listen here: Apple Podcasts | Spotify
Not all Lawyers Have Law Degrees
This is a BBC podcast that highlights the different ways to become a lawyer. It was shortlisted for the UK Diversity Legal Awards D&I Initiative of the Year 2021. The guests Ceri Evans (national program director for apprenticeships at The University of Law), Carley Green (24-year-old criminal barrister), and Isaac Eloi (the national) mention how joining a specialist network helped him to get on a niche role at ICE.
Listen here: Apple Podcasts | Spotify
RightsUp
This is a podcast by the Oxford Human Rights Hub (OxHRH). This presents talks with worldwide academicians, practitioners, and policy-makers "to advance the understanding and protection of human rights and equality." It delves into subjects like sex education in school, the future of the UK Human Rights Act, and Holding Corporations Accountable for Human Rights. Its very first topic was Revenge Porn and the Law rights is one of the best UK legal podcasts out there.
Listen here: Apple Podcasts | Spotify
The Law Entrepreneur
This podcast was founded by Neil Tyra out of frustration and the time spent on running his own firm. The guests are practicing lawyers and industry specialists who have a lot to offer in terms of advice related to the business side of running a law practice. His perspective is that the law school doesn't sufficiently prepare lawyers to run a law practice.
Listen here: Apple Podcasts | Spotify
---
Best Legal podcasts for latest news and events
Law Pod UK
This podcast started somewhere around mid-2017 and it is brought up by the barristers at One Crown Office Row. The host discusses the aspects and developments related to civil and public law. It also highlights developments in medicine law such as 'A patient's right to experimental medical treatment. It is very engaging for individuals studying law. In the year 2020, it highlighted the different areas of law (such as rights during quarantine, privacy issues) which got affected by the pandemic.
Listen here: Apple Podcasts | Spotify
Lawyer 2 Lawyer
This podcast is hosted by Massachusetts Bob Ambrogi (attorney) and J. Craig Williams (criminal defense lawyer). Launched in 2005. This is a US-based award-winning legal podcast and is one of the longest-running legal podcasts. The guests are industry professionals who analyze and debate hot topics and recent decisions in the area of law. The detailed analysis of renowned cases like the Bill Cosby sexual assault trial and the 'Making a Murderer' trial of Steven Avery, the legalities of Amazon's Echo, and gender discrimination in the workplace are taken are common subject discussions.
Listen here: Apple Podcasts | Spotify
BBC Radio 4 Best of Today
This podcast helps in developing your commercial awareness by talking about the latest news stories, insights, and analyses. Its previous topic included an easing of covid-19 restrictions in England and an interview with Saskia Jones' family following her death outside Fishmongers' Hall in London.
Listen here: Apple Podcasts | Spotify
BBC Law in Action
This podcast is hosted by Joshua Rozenberg QC (ULaw alumnus). This is Radio 4's long-running legal magazine program and it features reports and discussions on matters relating to law. There are plenty of episodes related to the law which include topics such as e-scooters and the law, climate change and the law, and whether Love Island contestants leave their legal rights at the door of the villa. It is one of the interesting podcasts to listen to whether you want to make a career in law or not.
Listen here: Apple Podcasts | Spotify
The Legal Room UK
The guests of this podcast are specialist lawyers and the recent topic of the talk was to include a look at residential landlords and covid-19, commercial lease break notices and pitfalls for tenants, and divorce law reforms.
Listen here: Apple Podcasts | Spotify
Commercial Awareness with Watson's Daily business and financial news
This commercial awareness podcast is hosted by former stockbroker Peter Watson. He talks about businesses and financial market news including the future of shopping malls, OnlyFans' potential IPO, and WeWork prospects.
Listen here: Apple Podcasts | Spotify
The Daily Matters
This podcast talked about different ways to succeed in the current economic climate as lawyers and other legal industry professionals were finding ways to stay grounded during our global pandemic because the legal industry was undergoing a crucial change due to the worldwide crisis. The Clio CEO and Co-founder Jack Newton wanted to support law firms in finding a way by which they can serve their clients during this unprecedented situation. Overall, Daily Matters provides human-centered and forward-looking content to support lawyers to succeed.
Listen here: Apple Podcasts | Spotify
Best Legal podcasts for Tech and Innovation
Law Next
This is a weekly podcast hosted by Bob Ambrogi, publisher of LawSites and a specialist in legal tech. Each episode has guests including entrepreneurs and innovators who are involved in transforming the legal industry and providing better access to justice. The talks are mainly based upon blockchain technology, the practice of law, legal tech products and services, and the future of law. Anyone who wants to stay updated about legal tech trends and has an interest in legal innovation can listen to this podcast.
Listen here: Apple Podcasts | Spotify
Linkubator (Linklaters)
This innovation podcast is led by students and it is designed to help students who want to understand and gain knowledge on the impact of innovation and emerging technologies on the legal sector. The episodes include talks with experts and legal innovators on a variety of topics, including non-financial misconduct and whistleblowing, e-money communications, and a new duty of care.
Listen here: Apple Podcasts | Spotify
The Digital Edge
This podcast is hosted by Sharon D. Nelson and Jim Calloway, two lawyers who are technology specialists. Technology has not remained an option anymore for lawyers thinking to get at the top of the game. It covers tech-related topics for lawyers and law firms which also includes tech tools, software, the Cloud, etc. Listening to this, the lawyers always get some advice on using technology to help their firms grow.
Listen here: Apple Podcasts | Spotify
Herbert Smith Freehills Podcast
This podcast is hosted by lawyers from global law firm Herbert Smith Freehills. They discuss topics like women in tech, the future of work focusing on HR tech, AI and monitoring staff, and a future cities series including a look at post-covid cities, tech in the city, and net-zero cities. It is of interest to those students willing to hear from legal experts about contemporary legal and commercial issues.
Listen here: Apple Podcasts | Spotify
Best Legal podcasts for leadership
Thinking like a lawyer
In this law podcast, the hosts Kathryn Rubino, Joe Patrice, and Elie Mystal share their experiences and a unique approach to engaging in legal discussions. In it they discuss topics happening in the everyday life of people and their approach by a lawyer. This is a great one if you want to know the accuracy of lawyers shown on TV.
Listen here: Apple Podcasts | Spotify
Lawyers gone ethical
This podcast is hosted by Megan Zavieh. The legal industry is greatly influenced by ethics and weekly focuses upon the constantly evolving ethical rules of law. She covers the crucial topics on interpretations and applications of the ethics rules of social media, data security, and legal marketing. She also highlights the tools and resources to become a leader in law.
Listen here: Apple Podcasts
Talking Law
This podcast is hosted by Sally Penni who is a chair of Women in the Law UK and a multi-award-winning barrister. She, along with other leading professionals in UK law, discusses the ups and downs of their careers, the difficulties, and the challenges faced by them in the legal profession. The guests include Chris Daw QC, Mary Prior QC, and Lady Hale along with other famous legal professionals. This is one of the best one which deeply discusses the realities to be faced by lawyers to attain a top position. She shares her personal experiences as well as the insights of her guests.
Listen here: Apple Podcasts | Spotify
Best Legal podcasts for Law firm management
New Solo
It is a monthly podcast hosted by Adriana Linares which provides insights, strategies, and tips on shifting from a law firm to a solo practice. Highlighting the issues that lawyers face during the different phases of a solo career, It also conducts interviews with lawyers who have carved their path to building their practice. Each episode talks about a new topic and a guest having experience in the same.
Listen here: Apple Podcasts | Spotify
Lawyerist Podcast
It is a weekly podcast hosted by our very own Laura Briggs and Stephanie Everett. This podcast is mainly about lawyering and law practice. Their talks cover innovative business models, legal technology, marketing, ethics and starting a law firm. It is mainly designed to stress topics to help solo and small firm lawyers by providing the latest information. It is a great example for forward-thinking lawyers always searching for a better way to practice law
Listen here: Apple Podcasts | Spotify
The Lawsome podcast
It is hosted by legal marketing professionals Jake Sanders and Paul Julius. This podcast gives insights about legal industry advice and access to the best experts for the development of law firms. Every week, the speakers talk about current legal news, running a law firm, and digital marketing.
Listen here: Apple Podcasts | Spotify
Maximum Lawyer
It is hosted by Jim Hacking & Tyson Mutrux (marketing-savvy attorneys). It is a weekly podcast and its talks are based on a variety of topics including marketing, hiring, practice management, lead generation, and other things a lawyer requires to start a law firm. This also touches upon mental health issues and pains attached with solo law firms. It is now a community of global attorneys who share their ideas, resources, and their views about the legal profession journey.
Listen here: Apple Podcasts | Spotify
Legal Toolkit
This podcast is hosted by Heidi Alexander and Jared Correia. It is a monthly podcast highlighting law practice management and the ways to improve it. The guests include top lawyers and professionals to share ideas, discuss services and programs which helped in improving and management of their practices. The episode mentions the latest legal trends, strategies, and tips which help to improve legal practice.
Listen here: Apple Podcasts | Spotify
Have we missed your favorite? Get in touch and let us know about it!
Can an employee resign without resignation letter?
Tags:
Like what you just read?
---
Subscribe to our newsletter and be the first to hear of the latest Zegal happenings, tips and insights!