Tips to find small working co-working spaces
By Alex Tanglao, Updated: 2023-10-20 (published on 2017-08-02)
Thinking about starting a business or expanding an existing business into another country? Whichever situation you're in, there's one thing you would need to think about – office space. While companies conventionally rented their own office spaces, the evolution of work habits has opened up a plethora of other options. For small businesses with limited time and resources, the rise of coworking spaces in the last decade has made office spaces much more accessible and affordable.
Coworking movement enthusiasts will rattle off the many benefits that coworking spaces offer you: collaborative networks, built-in resources, a dynamic ecosystem that fosters innovation, and a more convenient way to start a business. In addition, these membership-based workspaces where diverse groups of freelancers, remote workers and other professionals work together in a shared setting can have benefits for your team too:
Workers who use coworking spaces see their work as meaningful. Working among people engaging in different kinds of work makes one's own work identity stronger as workers frequently have the opportunity to describe what they do, use their unique skill set to help other community members, and share in the coworking movement's values of community, collaboration, learning and sustainability.
Workers have more job control. As coworking spaces are typically accessible 24/7, they offer both structure and flexibility. People can decide which times of the day during which they wish to work, while being part of a community that provides discipline.
Workers feel part of a community. A big draw of coworking spaces is the opportunity to connect with individuals from diverse backgrounds. Socialising isn't compulsory or forced and members can choose when and how to interact with others, thus fuelling a strong sense of identity within the community.
Source: Harvard Business Review
Here, we give you five Tips to find small working co-working spaces.
1. Find a fit for your company culture
With the growth in the coworking movement, there is now a wide range of coworking spaces, each with its own distinct culture and community. It is thus important to properly assess your company's culture and needs in order to ensure there is a good match. When evaluating your options, ask yourself the following questions:
What's your ideal location?
How often do you need to meet with clients and potential business partners?
Do you need a space that's accessible on weekends and holidays?
Does your team prefer a quieter work environment?
Do you want a private office or desks within a shared space?
Is socializing with other entrepreneurs important?
Do you want access to mentors, advisors or service providers?
Would you prefer a space that's nonprofit, for-profit, or backed by venture capitalists?
Do you anticipate needed access to conference rooms on a frequent basis?
Is it close to public transportation?
Is a gym membership included?
Adapted from Built In Chicago
2. Find a community you want to be a part of
A big advantage of being in a coworking space is the opportunity to connect people with other interesting experiences to bring to the table. It is thus important to find a community that you want to be a part of – whether this is social entrepreneurs, the tech crowd, or early stage startups. The coworking space may also be for-profit, not-for-profit, or funded by an incubator or accelerator.
All around the world, the combinations are diverse. The Arcade in Melbourne, Australia is a not-for-profit space that targets game developers and other creative companies that utilise gaming methodologies and technologies.
Zegal's Co-Founder Emmanuel Pitsilis in Show Me the Money! organised by Hong Kong coworking space Paperclip. Emmanuel shared the stage with other startups to shed light on what investors look for and how startups can meet their needs.
With an enriching community, you are placing yourself in an environment where you can seek inspiration, learn from the way other businesses work and even land yourself opportunities for collaboration. When you have found the right community for your company, here are some tips for how to leverage that network and maximise the value it brings to your company:
Attend events in your coworking space. Many coworking spaces organise and host events that add value to their members. An example is the global movement Fuckup Nights, where individuals share their business failure stories to spark discussion, which is often held in coworking spaces such as Impact Hub all around the world.
Host events in your coworking space. Make use of the community spaces for your own events, such as launch parties or workshops.
Eat lunch in the community area. A quick chat with someone over lunch has the potential to evolve into a fruitful partnership.
Suggest a work trade. When you meet someone who offers you something you need, offer something that person needs in return. This will also spread the word about the products or services that you offer.
Offer useful promotional materials. Share your company swag with others in the space, whether this is a notebook or post-it pads with your company name on it. This is a great way of strengthening your brand identity and generating awareness about your company.
Adapted from Entrepreneur and Built In Chicago
3. Ensure that the facilities available meet your needs
Apart from the people, make sure that you don't neglect the physical work environment when searching for a coworking space. Think about both the macro and the micro. Look at the layout of the space and ensure that it is built for collaboration and productivity, instead of being another cubicle jungle. If your company has frequent client meetings, check that there are open spaces such as a café, or meeting rooms you can book if you need more privacy.
Apart from the office layout, check that the coworking space offers the office tools that you need, such as printers, fax machines and WiFi connectivity. More importantly, ensure that the space has good workspace management and that there are dedicated staff to maintaining the space and office equipment. You don't want to be the one dealing with printer problems or electrical outages.
4. Test drive the space before committing to it
Many coworking spaces offer the opportunity for a trial use of the space before you sign on the dotted line. EngineRoom in Australia in offers a free 3-day guest pass while Impact Hub Singapore organises open house tours for you to check out their team rooms, events spaces, meeting rooms and quirky break-out spaces.
During your trial use of the coworking space, look out for the following things:
Management and cleanliness;
Dynamics of the other companies in the space;
Noise levels and distractions;
Office temperatures;
Pantry provisions;
Package delivery; and
WiFi connectivity.
While these may seem trivial, they contribute to your overall experience in the space. Perks such as free beer on Friday evenings are an added bonus, but more crucially, a comfortable coworking space will help your team feel at home and maximise productivity during the work day.
5. Check that the lease terms are suitable for your company
When you decide on a coworking space, you would need to sign an agreement with the coworking space provider. Think about your company's bottom line. In particular, consider whether the rent (whether per desk or per company) is reasonable, and whether there are additional costs involved in the form of deposits, printing charges, and furniture purchases.
In addition, think about how flexible the agreement is and whether it offers your company room to grow. For instance, look at the requirements on how much notice you have to give before moving out. If you are not sure where your company will be in the next few months, it would be better to sign a month-to-month lease instead of a year-long agreement.
If you have excess space in your office and are thinking about turning your office into a coworking space, you would need a Co-working Space Application Form and Terms of Use to set out the terms under which you will work together. This is a practical way to acquire income and minimise costs while maximising access to office space. Make sure that your lease allows you to enter into such an agreement. When drafting the Co-working Space Application Form and Terms of Use, look out for the following key clauses:
Details about the owner;
Details about your applicant;
Number of seats required by the applicants;
When the applicant intends to move in;
How long the user intends to use the premises;
What facilities the user can access;
Between what hours and which days each week the user can access the premises; and
Monthly charge for renting out the premises and the date for rent payment.
FURTHER READING:
With Zegal available in Australia, Hong Kong, New Zealand and Singapore, you can rely on us to provide you with the right legal documents so that you don't have to worry about legal as you enter new markets to expand your business.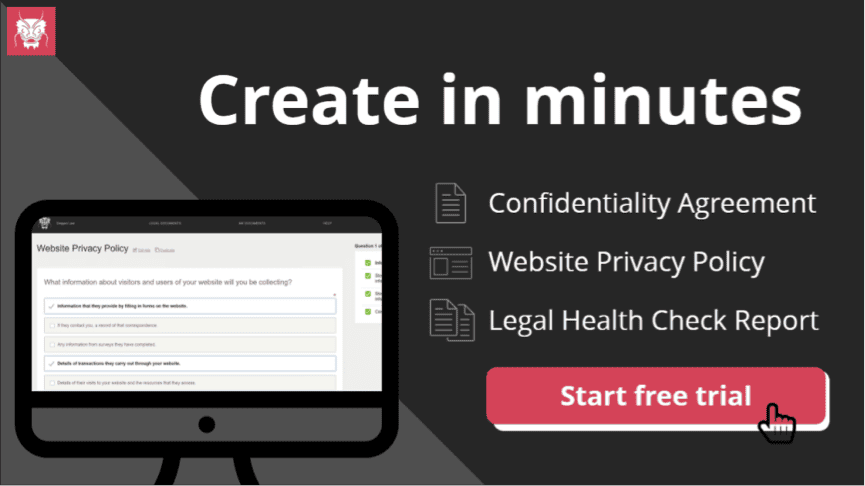 Do you have any other tips for selecting the right coworking space?
Let us know in the comments below!
Tags:
Like what you just read?
---
Subscribe to our newsletter and be the first to hear of the latest Zegal happenings, tips and insights!