The Ultimate Guide to the Startup Community in Singapore
By Alex, Updated: 2023-01-18 (published on 2016-10-17)
The startup landscape is a closely-knitted community of dreamers, hustlers and shakers, all looking to help one another out. This is especially true in Singapore – a small town where you'd very likely run into a friend or two at the corner of every street! So if you are a founder (or a founder-to-be), read on because we've compiled below some must-join and must-know communities and programmes to keep you busy:
Communities
The Tech in Asia Community
The Tech in Asia Community tops the list because it is our everyday go-to for the latest news, events, and discussions. If you are looking for talent, you can even advertise your roles in their job portal! The friendly Tech in Asia community team also runs an interactive Facebook Group to help you keep up to date with the latest updates.
Discuss: Should startups hire a PR agency or D.I.Y.?
Singapore Infocomm Technology Federation (SiTF)
Beyond local startups, the SiTF advocates for the ICM (Information, Communications and Media) industry and in its membership directory reaches widely to SMEs and MNCs alike. Their 123jumpstart initiative offers free membership for qualifying startups, which will help them gain access to mentors, investors, workshops, co-working facilities and networking and collaboration opportunities in general.

Mobile apps
B.E.A.M
Available in iOS and Android, the B.E.A.M app aims to be the single app that lists every player in the tech ecosystem: Including founders, investors, developers, journalists, legal advisors, and executives. Launched in June this year, the app remains as an invitation-only platform – to receive an invite, submit your email on the B.E.A.M homepage.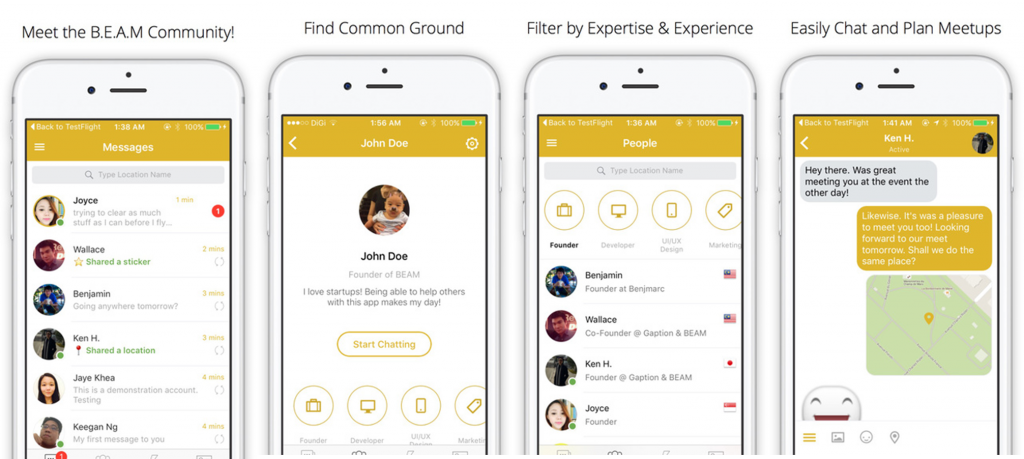 Photo credit: Vulcan Post
It was announced in a press release earlier this year that B.E.A.M had already on-boarded 500 users, with 100 more on the waiting list.
DBS BusinessClass
The DBS BusinessClass app is specially designed for SMEs to connect directly with a network of industry experts, venture capitalists, entrepreneurs, and DBS SME Specialists. The app boasts a membership directory of over 15,000 professionals across the region.
Facebook groups
Singapore Startups
Get advice on company set-up and structures, obtaining visas, business strategy, marketing plan, finances, investments, auditing, and networking in general.
Singapore Startup Club
For APAC technology startups only, currently a community of 19,574 members (at time of writing).
Events
The List
The List sends you a weekly email of the most interesting startup, entrepreneur, beer/boozy, bookish, networking, designery, artsy, and techy events. No more, no less.
Tech in Asia events calendar
Similar to The List, Tech in Asia diligently curates upcoming tech and startup events around Asia in this public Google Calendar. You can add the events into your own Google Calendar which makes it super easy to follow and stay updated!
Meetup.com
Meetup makes it easy for anyone in a local community to get together. The platform, at this time of writing, boasts:

Source: Meetup.com
The most active Meetup groups to join are:
Also stay on top of major conferences like Tech in Asia, Echelon, and RISE which are great for startups to either attend or exhibit.
Aside from the major tech conferences, look out for the day-to-day events in co-working spaces like The Working Capitol whose spacious event space, known as The Commons, houses more than 100 attendees each time and is a popular venue option for major events such as the Product Hunt, TEDx, or even health and wellness programmes like yoga and meditation. Subscribe to their event page on Facebook here.
Join our upcoming event at The Working Capitol: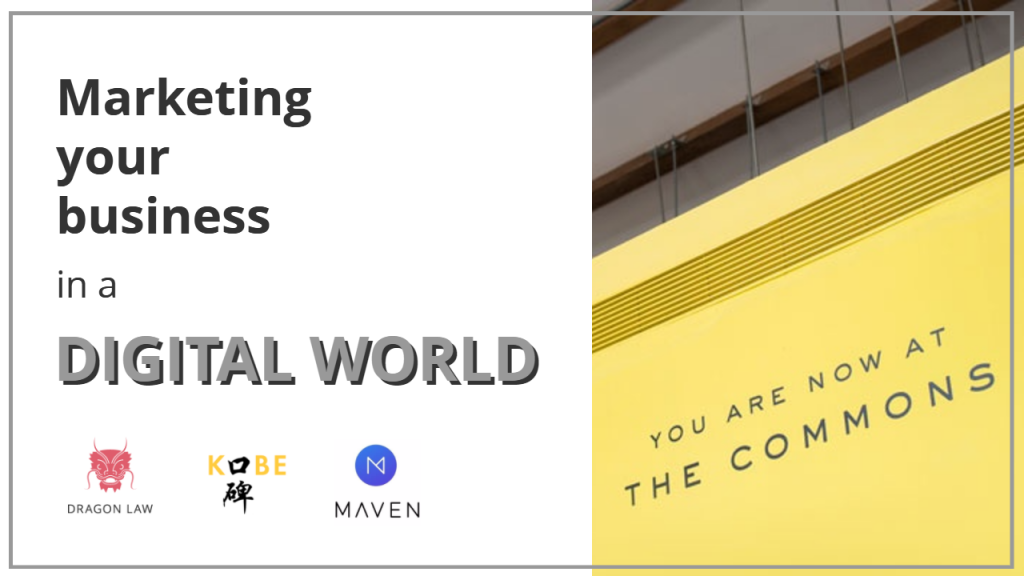 Resources
Zegal
Lawyers are expensive – nuff' said! A startup we work with was once quoted S$20,000 for set of legal documents required to raise a seed funding round. Most law firms begin to watch the clock and start billing from the initial consultation (even before they begin to do any work!).
Zegal shines a light through the 'legal black box': Times have changed. With technological advancements, legal is no longer the specialised, expensive, and untouchable service that once only lawyers could do. If you are a founder who would like more control over your own legal work (and save money, at the same time!), check out Zegal's comprehensive library of (FREE!) eBook resources, blog, and sign up for a free trial to start creating your own legal documents.

Claim your free Website Privacy Policy and Confidentiality Agreement (NDA)
SME Centre (@ SICCI)
The SME Centre is one of SME Portal's initiatives to help Singapore SME owners and aspiring entrepreneurs access information, tools, and services that can help them build sustainable and competitive businesses.
The SME Centre@SICCI (Singapore Indian Chamber of Commerce and Industry) was set up in 2008 in collaboration with SPRING Singapore. Qualifying SMEs may seek business advisory services (such as a consultation session on government grants and schemes) at no charge.
Accelerators and incubators
The Joyful Frog Digital Incubator (JFDI) claims to be longest-running, most successful startup business accelerator programme in South East Asia. JFDI offers intensive mentoring, introductions to early-stage investors, cash investment, technical facilities, and office accommodation in return for equity.
Startupbootcamp is an accelerator programme on a global scale. They claim to offer startups access to an international network of the most relevant mentors, partners, investors to help them scale globally. Additionally, Startupbootcamp invests in each startup to help cover living expenses, as well as access to co-working spaces. Check out the current programmes open for applications:
Source: Startupbootcamp
In recent years, corporations and banks have also jumped on the startup bandwagon to introduce accelerator programmes of their own:
The SPH Plug & Play accelerator programme seeks media and/or technology startups looking for early-stage or seed-stage funding. Selected startups will receive S$30,000 in seed funding, plus perks and services worth up to S$200,000 in exchange for an equity stake.
Related reading: SPH Plug & Play finalist Soulscape shares their journey with Zegal
The DBS HotSpot Accelerator Programme on the other hand makes offers a compelling award of S$25,000 for zero equity.
Other accelerator operators for example, like Nest.vc who runs the AIA Konica-Minolta and OCBC Open Vault FinTech accelerator programmes, have their own unique styles of working with corporations and startups, and offer different terms and conditions of particpation:
Source: The Open Vault at OCBC
Related reading: Is getting on-board with an accelerator/incubator the right route for every startup?
Did we miss anything?
What buzzing startup and entrepreneur communities are you a part of?
Let us know in the comments below!
–
This article was written by Zegal for The Working Capitol and was first published on The Working Capitol blog and the Capitol Press, a publication of The Working Capitol.
Tags:
Like what you just read?
---
Subscribe to our newsletter and be the first to hear of the latest Zegal happenings, tips and insights!