4 tips for saving time on small business administration
By Alex Tanglao, Updated: 2023-11-28 (published on 2017-07-16)
As a small business owner, you probably feel that you're always running out of time. After clearing your emails, meeting with your team, handling your accounts and filing your paperwork, there doesn't seem to be much time left for thinking about growing your business. While small business administration might be a hassle if you're not the most organised person around, developing strategies for tackling your administrative matters more quickly and efficiently – thereby saving you time and money – can help you take your business to the next level.
Here, we offer you four tips for how to go about it:
1. Think twice before calling for a meeting
Whenever you're thinking about sharing information or making decisions, your default response may be to schedule a meeting with the relevant stakeholders. While it may almost be instinct to do so, the next time that thought forms in your mind, take a step back and think about whether a meeting would the best course of action to achieve your goal. Meetings are time-consuming and peppering meetings throughout the day may break your focus from more important tasks that are best done with larger blocks of time.
In order to determine whether that meeting you're thinking of scheduling is necessary, run yourself through the following questions:

Have I thought through this situation? Gain clarity about what you're doing on a project by evaluating the scope of the project, its current status and project milestones, and laying out a plan of action. Do your own strategic thinking before even thinking about calling for a meeting.
Do I need outside input to make progress? If you know what needs to be done and simply need to do the work, update your to-do list and take action. If you find that you do need outside input to feel comfortable before taking action, continue on.
Does moving forward require a real-time conversation? If you don't require a two-way conversation, e-mail may be a better option. This is especially so if you are seeking feedback on written plans or documents, and it is better to give people time to process their thoughts before responding.
Does this necessitate a face-to-face meeting? If you don't necessarily need to see a person, scheduling a phone chat or video conference may save you travelling time.
Source: Harvard Business Review
It is only if your answer is 'yes' to all the above questions that it may be wise for you to schedule a meeting.
If you do have to call for a meeting, make sure that it is as efficient and focused as possible. Here are some ground rules for organising productive meetings:
Keep the meeting small – not more than 7 people. This prevents social loafing and ensures each individual member in the meeting is more engaged.
Ban devices. There are many reasons devices should be banned – multitasking is unproductive and devices distract other people. Only allow devices when you may need people to take notes or retrieve reference material.
Keep the meeting short – no longer than an hour. There are several advantages to shorter meetings – people stay more focused and are more productive when under time pressure.
Organise stand-up meetings. Studies have found that stand-up meetings tend to be shorter than sit-down meetings, yet produce the same solutions.
Make sure everyone participates. This ensures that everyone has the opportunity to value-add to the conversation and that the meeting is a relevant enough to be put on their schedule.
Adapted from Harvard Business Review
By being deliberate about when you call for meetings, and conducting meetings productively when you do, you'll be able to free up time in your day for more pressing tasks.
2. Draft invoices and payment terms that encourage timely payment
Any small business owner would know that one of the most time-consuming processes is invoicing. While the objective of the invoicing process is to obtain payment for the services or products you have offered, you're not getting paid for the time it takes to compile what to charge, create the invoice, send the invoice, and remind the customer that his payment is overdue.
Drafting invoices and payment terms that will encourage your customers to pay up on time can save you time in the invoicing process.

3. Go paperless to save time on printing and organising hard copy documents
Managing hard copy documents can unknowingly take up a lot of your time and energy. In a paper-based office culture, there are many hidden costs and time-suckers associated with printing services, delivery, mailing, storage, processing, disposing and recycling. Beyond time saved, moving towards a paperless model has the following benefits: easier access to your documents, saved space, stronger security and being more eco-friendly.
If you're thinking about going paperless, here are four tips for how to go about it:
Plan for disposing of documents. Scanning documents and turning physical files into digital files can be a tedious process, so develop a proper system for it. Your process should include document collection, offsite storage and disposal.
Give employees the "why". Explain to your team the rationale for the transition so that everyone would be on board and motivated to learn the new system of managing documents electronically.
Implement strict protocol. Some implementation tips include encouraging the use of smartphone apps that capture the content of paper files and turn them into digital files and doing away with the requirement that printed documents must be physically signed.
Make paper inconvenient. To prevent your employees from lapsing into old paper habits, make it difficult to use paper by removing fax machines and printers from the office. The habit of a paperless operation will become second nature.
Adapted from Inc
In order to ensure that the documents stored electronically are accessible by the employees who need them, store your documents in the cloud. Common options are Google Drive and Microsoft OneDrive, although there are a whole host of other options you can consider.
Source: NFIB
Going paperless and moving document storage onto a cloud is a great way to save you the time and tedium of small business administration.
4. Automate processes to avoid repetitive tasks
We've all heard the drill: technological developments are set to take away our jobs because robots can do our jobs more quickly and efficiently than we can. However, the reality is not all doom and gloom. Automating tasks that you do repetitively can actually save you time in small business administration. Simple steps such as integrating data platforms (instead of entering data from a web portal manually into a desktop applciation before you use it) or putting meetings on your calendar (instead of going back and forth with clients and colleagues to arrange appointments) can be a game changer in terms of saving you time on small business administration.
In order to determine whether a process is ideal for automation, ask yourself the following questions:
Does it involve a lot of a data entry? If you're managing a lot of numbers by hand in PDFs or printed documents, look for ways to leverage Optical Character Recognition (OCR), where documents are scanned and text converted into a digital, editable format.
Is the task repeatable and repetitive? Automating mundane tasks such as monthly bill payments will save you time.
Does the task have no room for error? Humans a prone to mistakes, while automation reduces errors such as incorrectly formatted, missing, or duplicate entries.
Adapted from Forbes
Related reading: Technology tools that will help your small business do more with less
If you're looking for a way to draft legal documents more efficiently, Zegal's web app does just that. As a Zegal subscriber, you get access to our document library where you can select documents to customise to your specific needs using our easy-to-navigate Q&A interface. Storing your legal documents in folders in the cloud and inviting parties to e-sign your documents also saves time and money on printing costs, thereby helping efforts to go paperless and allowing you to easily access your legal documents when you need them.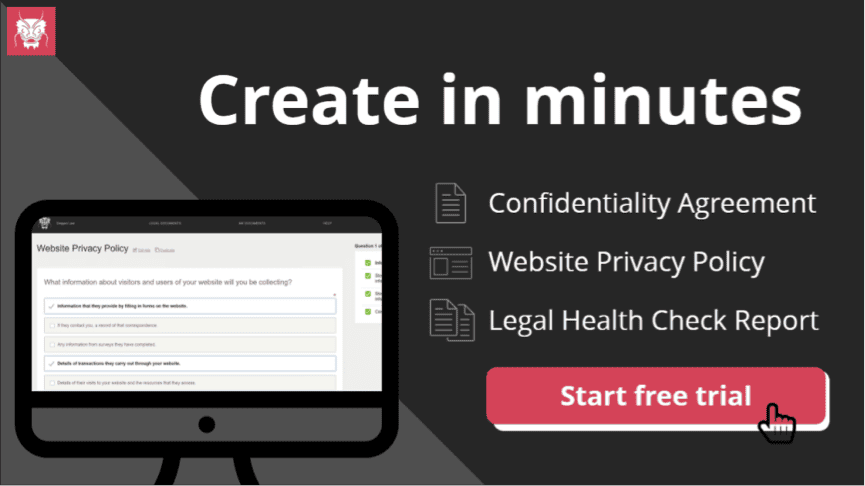 Start managing your legal needs with Zegal today
What tips do you have for saving time on small business administration?
Let us know in the comments below!
Tags:
Like what you just read?
---
Subscribe to our newsletter and be the first to hear of the latest Zegal happenings, tips and insights!