5 Tips for Making Facebook Marketing Part of Your Social Media Strategy
By Alex, Updated: 2023-09-18 (published on 2016-12-19)
As your prospective customers spend more time online, it is crucial that you have in place an online marketing strategy to capture the attention of new audiences. But do you know where to begin?
With limited time and resources, you'd want to be spending time on the one channel that yields maximum results with minimum investment.
Facebook is the most popular social network around and an essential platform for online marketing with over 1.71 billion monthly active users.   
 Tweet this
Customers trust third party endorsements and family and friends more than they trust brand marketing. Presence of customer reviews on your Facebook Page help to build your credibility. Small businesses shouldn't miss out on this opportunity to build a trustworthy online brand and reach and convert more prospects.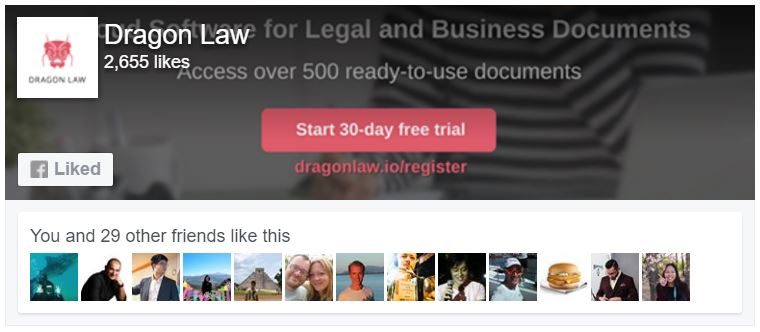 Here are 5 top tips for making the most of your Facebook marketing strategy:
1) Create a professional and compelling Facebook page
Before you can start building your company brand on Facebook, you must first have a solid Facebook business page. This is a key touch point between you and your customers and will help you make the most out of your Facebook marketing activity.
Here are some quick tips for creating a solid Facebook page:
Claim your Page's vanity URL. Instead of using a randomly assigned number and URL,

use a recognisable vanity URL

to make your Page more shareable and searchable.

Add a great cover photo. Make sure that your cover photo is optimised – 828 pixels by 315 pixels on desktop, and 640 pixels by 36 pixels on mobile. Check out more tips on what makes a good cover photo

here

.

Add a recognisable profile picture. This should be something that is easy for visitors to recognise, such as your company logo. Again, keep in mind the ideal dimension of 180 pixels by 180 pixels.
Optimise your "About" section – especially the preview. This is what appears on the left side of the page as a short blurb. Make sure that this section is brief yet descriptive to give visitors a sense of what your business is about before they decide to 'Like' you.
Earn the "Very responsive to messages" badge.

Having a response rate of 90% and a response time of 15 minutes over the last 7 days will earn you a

"Very responsive to messages" badge

. This assures customers of great service and your attentiveness to their needs.

Add milestones.

This allows you to highlight your business' biggest accomplishments (e.g. awards, product releases, accolades).

Choose a call-to-action button

.

Choose from seven pre-made button options ("Sign Up," "Shop Now," "Contact Us," "Book Now," "Use App," Watch Video," and "Play Game") and link it to any website that aligns with your business' goals. This can be your homepage, a landing page, a contact sheet or a video.

Create custom page tabs

. Apart from the default tabs such as Timeline, About, Photos and Likes, create custom tabs to give visitors a specific path for what you want them to do for your Page.
Source: HubSpot
2) Share content that is visually-attractive, relevant, adds value, and includes clear call-to-action
Every time you Like a Facebook post, there are 4,166,666 people doing the same. In short, there is an insane amount of content generated on Facebook every single day. For you to stand out in this sea of content, abide by these 4 principles: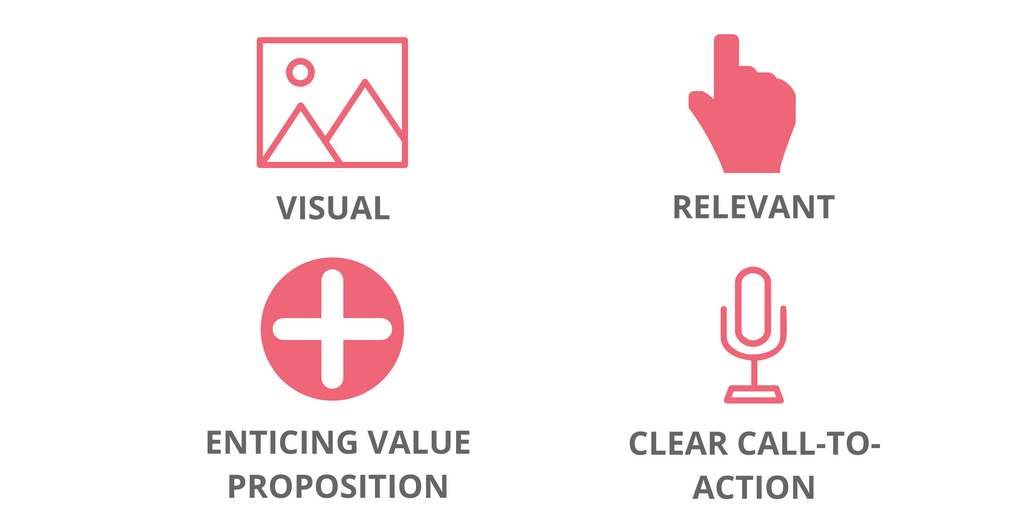 Visual. Given that 90% of information transmitted to the brain is visual, make sure that any content you create includes an image that is visually appealing and attention grabbing.
Relevant. There is a feature with

in the Facebook advertising platform that rates your ads and gives you a relevance score, similar to Ad Rank in Google AdWords. The more relevant your ad image, copy, and destination page are to your audience, the higher you score – and the more favourably Facebook will treat your ads.

Enticing value proposition.

This tells someone more about your business and why they should care.

Adding social proof – for instance, by offering useful content such as an eBook – helps.

Clear call-to-actions.

Add a CTA like "Buy now and save X%," or "Offer ends soon" to add a sense of urgency and encourage people to click on your ad or post now.
Adapted from HubSpot
These 4 principles apply regardless of the type of content you create – whether a post, regular ad, video ad, or event page. Here are some examples of Facebook ads that successfully abide by these 4 principles.
3) It's not just about your product; there's so much more
If your business has had an online presence on Facebook for a while, chances are that you would have spent some marketing dollars on Facebook Ads. Marketers like Facebook ads because they can be tailored for your target segment(s), letting you reach even more people based on location, age, gender, interests and more. What businesses sometimes forget is that they can do so much more with Facebook ads, beyond advertising your product.
Here are some suggestions for how you can harness Facebook to draw attention to your business and generate more clicks:
Host Facebook contests. Put simply, people love free stuff. Enticing users with promotions or discounts and free giveaways would likely have minimal actual cost for your business when compared with the social media and brand awareness payoff.
Crowd source answers. Post a simple question to the Facebook community or use polls to get them to vote on different questions. This is a form of social listening that signals your business' customer focus and also allows you to collect insights on your potential customers.
Provide unique and valuable content. Offer advice and solutions to customers through your Facebook page. This can come in the form of eBooks, blog posts or videos, and can help establish your business as a thought leader in your field.
Adapted from Hootsuite
By opening up your marketing beyond your core product, you increase brand awareness and recall, generate more leads, and open up the doors for an initial touch point with your customers.
4) Answer the question: What's in it for me?
Visitors who come across your Facebook ads for the first time may not be compelled to click if they know close to nothing about your product. But that's not to say they are not your target customer. They may still be in the initial phase of their customer journey where they are understanding their problem, and the solutions that are available to them.
According to Hubspot's inbound methodology, a typical customer journey comprises of 5 different stages (Strangers → Visitors → Leads → Customers → Promoters); you nurture customers through these stages with different objectives in mind (Attract, Convert, Close and Delight), by employing different marketing methods and channels such as the ones listed below:
Hubspot's Inbound Marketing methodology.
Source: Zegal Legal Academy: Doing Business Online
This "lead magnet" magic is made possible when you continuously offer useful content to draw new visitors in. Put these content behind a "gate", or otherwise known as "content upgrades". When your content is of value, visitors will be happy to provide you with their email address and/or other contact information in return for it.
Examples of gated content include free PowerPoint templates, eBooks, guides, cheat sheets, tool kits, free trials, and discounts.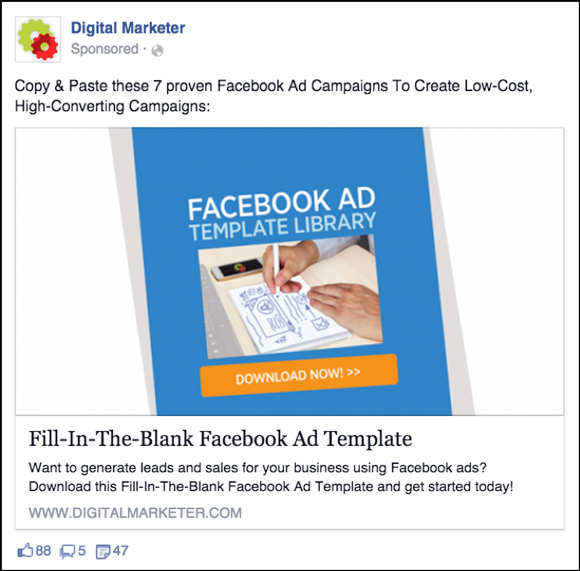 Source: Digital Marketer
In short, whatever goes into your Facebook (or any other form of social media) marketing efforts, make sure you tie it back to your business goals.
Of course, driving traffic to your business' website means that you should also put your best face forward when it comes to your website. This means paying attention to a whole host of things – ensuring that your website copy is simple and succinct, having in place crucial legal documents such as the Website Privacy Policy and Terms of Use, and building an email list to communicate with your customers.
Claim your free trial. Start drafting legal documents with Zegal today.
5) Use social media management tools  
When sharing content on social media, timing is everything. The best time to reach your target audience varies according to your business, product/service, and audience demographic. It is also important to share content regularly as this signals that your business is active and constantly engaging customers.

Source: Hootsuite
Every small business struggles with limited manpower and time. Of course you're not going to designate one person whose role shall be to create and post content on Facebook around the clock! This is where social media management tools such as Hootsuite can help. Block out a day in a week, or a day in a month, just to sit down and schedule posts to go on Facebook. This allows you to schedule your posts at optimal times and gives you a big-picture overview of how much content you have so that you can avoid overwhelming your Facebook audience. Best of all, it allows you to save you time and stress – schedule all your posts ahead of your vacation so that you can enjoy a worry-free holiday! 
Did we miss anything? What are some Facebook strategies that have worked for you? Let us know in the comments below!
Tags:
Like what you just read?
---
Subscribe to our newsletter and be the first to hear of the latest Zegal happenings, tips and insights!