Coworking Space in Bristol
By Guest Post, Updated: 2023-06-22 (published on 2021-09-14)
Coworking space in Bristol is renowned for possessing a uniquely independent spirit and carrying a strong tradition of activism, Bristol is home to the longest chain of independent businesses in Europe and prides itself on fostering a creative, collaborative, and entrepreneurial community. As a city known for serving as a start-up haven, it's no surprise that Bristol is awash with a wealth of resources and hubs specifically designed for the purposes of cultivating greater innovation. Catering to the needs of up-and-coming creatives aspiring to live and work in Bristol, these are the city's top 10 co-working spaces.
What is a Coworking space?
Coworking spaces are shared workspaces, where many companies or freelancers work together to reduce the operating cost by sharing common resources. This shared space offers basic amenities required in an office like meeting rooms, internet connectivity, kitchen & coffee, printer, etc.
Normally freelancers, startups, and small teams prefer these kinds of workspaces because it provides them an opportunity to save high rental fees, and operating costs required in a traditional office space.
Advantages of coworking space
Better flexibility and cost-saving
Offers better networking opportunities
Access to all office necessities like Hot desk, dedicated desk, private office, meeting space and mailing address, etc.
Collaboration opportunities
Wellness and work-life balance
Here is the complete list of the coolest coworking spaces in Bristol. 
1. Redbrick House
This not-for-profit coworking space in Bristol is home to three stories of contemporary workspaces suitable for anyone from freelancers, entrepreneurs, to start-ups and is an ideal space for both solitary and collaborative working arrangements. Complete with amenities such as kitchen facilities, artisan coffee, fiber optic wifi, and free printing, Redbrick house also hosts a variety of social and networking events for its members. 
Redbrick's flexible co-working membership packages come in two offers for you to choose from; £100 a month for 60 hours, or £140 a month for unlimited use. Alternatively, a fixed single desk comes at £180 per month and studios range between £150 and £330 per month depending on size.
Location: York Court, 6, Wilder St, Bristol BS2 8QH, United Kingdom
Phone: +44 7387 820253
2. Pollen Place 
Equipped with a professional photography studio, meeting room, and spacious open-plan desk space, this vibrant co-working studio is appropriately located in the crux of Bristol's creative arts quarter – Stokes Croft. Unwind after hours by attending one of Pollen Place's plethora of networking events, creative workshops, and supper club nights.
Prices at Pollen Place start at £195 a month for a fixed desk that is accessible 24/7, with meeting rooms priced at £20 per hour or £150 per day. 
Location: 15 -17 Backfields Lane, Stokes Croft, Bristol, BS2 BQW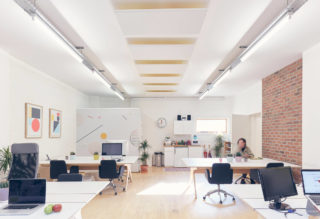 3. Distil Co-Working 
Contrary to its location in Bristol's historic Old City, Distil is one of the city's newest coworking space in Bristol. Complete with scenic views over the Glass Arcade, this co-working space offers complimentary coffee and tea, meeting rooms with a flat-screen for video conferencing, as well an inclusive bar drinks allowance. With just 14 decks, this calming space offers a place for productivity in a quieter part of the city. 
Co-working spaces at Distil operate between 8:00 and 23:00, with tariffs starting at £70 per month for 30 hours, £120 per month for 60 hours, and £260 per month for unlimited use. 
Location: All Saints Ln, Bristol BS1 1JH, United Kingdom
4. OneUp Coworking Space
Located just opposite College Green at the bottom of Park Street, this two-story coworking space has everything you need; from hot desks and meeting rooms to professional creative content studios and spacious event rooms. The offices at OneUp are cleaned professionally three times a week and come with showers, lockers as well as a fully fitted kitchen. Take advantage of its city center location by using one of Park Street's many transport links, or grab a bite to eat using OneUp's exclusive membership discount at local food and drink businesses. 
A full-time desk at OneUp starts at £275 per month. Alternatively, use one of their hot desks by the hour for £4, £20 per day, or £90 per week. 
Location:  3 Unity St, Bristol BS1 5HH, United Kingdom
Phone: +44 117 214 0111
5. Gather Round 
The vision behind one of the most popular co-working spaces in Bristol was to combine both beauty and practicality. Tucked on the ground floor of the Cigar Factory, one of Bristol's industrial heritage sites, Gather Round offers both indoor and outdoor fixed and hot desks, boardrooms, and private studios to accommodate all of your needs. This popular location features only 6 private studios and 16 desks so be sure to book as early as possible before all spaces are reserved.
Adapting to the diverse needs of creatives, Gather Round's self-proclaimed 'super flexible and transparent' memberships provide full access across all their communal spaces and facilities Monday to Friday for £195 per month. Full-time residency, meaning a permanent desk at the space starts at £275 per month and includes lockers. For bigger teams, studios are available for £875 per month and include other services and meeting rooms.
Location: Cigar Factory, 127-131 Raleigh Rd, Southville, Bristol BS3 1QU, United Kingdom
Phone: +44 117 379 0977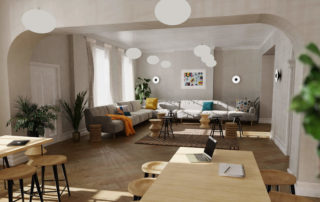 6. Square Works 
Situated in Bristol's most prestigious postcode, Square Works is the city's only high-end upscale co-working space located in a private members' club. One unique advantage to this co-working space, in particular, is free-range access to their members-only club which is home to a network of over 600 professionals, as well as full access to a members' portal where you can stay connected to your team online and meet fellow members. 
Hot desk memberships start at £90 per month for 30 hours, £160 per month for 60 hours, and £275 per month for unlimited access between 9 am and 6 pm. 
Location: 17-18, Berkeley Square, Bristol BS8 1HB, United Kingdom
Phone: +44 117 322 6635
7. Bristol Tour Depot
For a more traditional office environment, head to Bristol Tour Depot, a co-working hub situated just beside Netham Park. This affordable and spacious open plan office accommodates all your co-working needs; whether you're just looking for a desk and locker, or a larger storage space and personal desks with a phone line. 
Prices at Bristol Tour Depot start from £7 per day, £34 per week, and £125 per month for hot desks between 10 am and 6 pm. 
Location: Unit 7, Netham Industrial Estate, Bristol, BS5 9PJ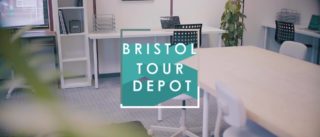 8. Raw Space 
Complete with a rooftop garden and free parking spaces, this shared working space in Bristol is available 24/7 to provide the most flexible, social, and productive experience to the most dynamic entrepreneurs. The core mission of Raw Space is to cultivate a supportive community that can learn from each other in both a business and social sense; this is reflected not only in their relaxed working space, but also through their flexible membership plans.
Memberships at Raw Space are divided into four classes. These packages range from 30 hours per month for £59, 60 hours per month for £99, £199 per month for unlimited access, and £250 per month for 2 permanent desks. 
Location: 111 Gloucester Rd, Bishopston, Bristol BS7 8AT, United Kingdom
Phone: +44 117 403 0415
9. DeskLodge- Coworking space in Bristol
For a unique and one-of-a-kind workspace experience, look no further than to DeskLodge, located in both Old Market and Temple Meads. Each workspace cubicle was designed with different themes in mind, such as a police box and the back of an old Volkswagen bus, creating an inspiring, fun, and creative environment for you and your team. 
With an array of membership options, this space is suitable for entrepreneurs and teams of all sizes. Hot desking ranges from £25 for a day pass, £120 for an 8-day pass, and £195 for a full month. Dedicated desks and private offices are also available, starting from £200 and £250 per month respectively. 
Location: 1 Temple Way, Bristol BS2 0BY, United Kingdom
Phone: +44 117 383 0130
10. Runway East 
Located in the heart of Bristol and home to notable high-growth companies like Deliveroo and Huggg, Runway East at Bristol Bridge is known to host regular networking events and social meetups, all while offering essential amenities such as meeting rooms, private offices, and printing services. Only 8 minutes away from Temple Meads Station, this Coworking space in Bristol provides both convenience and practicality. 
Dedicated desks, as well as hotdesks at Runway East's Bristol workspace, start at £350 per month, and their spacious private offices can accommodate teams of up to 100 people.
There is clearly no lack of innovative talent coming from Bristol, and its plethora of creative hubs and incubation centers prove just that. With workspaces that breed large-scale collaboration across industries and membership options that cater to teams of all sizes, Bristol continues to serve as a haven for entrepreneurs and is one of the best cities in the UK for startups of all kinds. 
Location: 1 Victoria St, Redcliffe, Bristol BS1 6AA, United Kingdom
Phone: +44 117 287 2344
READ MORE:
Follow us on Facebook, Linkedin & Twitter
Like what you just read?
---
Subscribe to our newsletter and be the first to hear of the latest Zegal happenings, tips and insights!