Talent Management Best Practices and Strategies
By Alex Tanglao, Updated: 2023-01-18 (published on 2018-01-30)
Talent Management Best Practices and Strategies play a vital role for the success of any organization. Savvy executives know that engaging and guiding the right talent at the right point in the life of your organization is the path to success. That path, however, is strewn with diversions. Success, however, requires that you keep your eye on talent management strategies throughout the life of your organization.  
In recent times, it seems increasingly difficult to focus on talent development and management. That is understandable. Here's why: to some extent, talent management is significantly determined by customers, employees, and management: customers' expectations are continuously expanding; younger and more highly educated employees across the globe expect to get the best opportunities; and management expect their skilled and highly educated workforce to be more agile, mobile, and multi-dimensional.
The key to successfully managing expectations is to commit your organization to a sustainable, strategic focus on talent development that offers your organization the right workforce talent pool now and into the future. Do that and your enterprise will be able to meet your customers' expectations over time.  More importantly, having a strong workforce means having the capability to compete successfully in an increasingly competitive environment.
The real question, then, is how to create Talent Management Best Practices and Strategies for SMEs to sustain that talent pool. The answer is two steps:
First, have a clear HR vision, mission, and strategy that helps to drive your overall business strategy (and communicate these clearly and frequently)
Second, be responsive and adaptable to your business environment.
Let's look at how best to accomplish those key steps.
Have a clear HR vision, mission, and strategy (and communicate it)
Remember that human capital is your largest capital investment, which logically means that it also has the potential to reap the most significant ROI. In an era when global organizations across the whole world beckon younger and more mobile employees, your HR function must develop a workforce team with the right skillsets and a serious commitment to the work of your enterprise.
Where do you start? Elevate the HR function to a C-suite partner.
In the Harvard Business Review's (HBR) article, People Before Strategy: A New Role for the CHRO, Ram Charan, Dominic Barton, and Dennis Carey write:
"It's time for HR to make the same leap that the finance function has made in recent decades and become a true partner to the CEO. Just as the CFO helps the CEO lead the business by raising and allocating financial resources, the CHRO should help the CEO by building and assigning talent, especially key people, and working to unleash the organization's energy. Managing human capital must be accorded the same priority that managing financial capital came to have in the 1980s when the era of the "super CFO" and serious competitive restructuring began."
With the HR function embedded as a C-suite team member, the head of HR will be in the strategic communication loop.
The HR leader and the CEO co-formulate the vision and mission for the human capital side of the equation for the enterprise.
The HR leader then becomes the liaison and chief communicator on behalf of the C-suite for the workforce.
The workforce becomes more engaged as a result of knowing that they have a voice at the C-suite table.
As a result of becoming more engaged, the workforce will dive into supporting the enterprise's strategies and business goals.
An HR director who is a C-suite partner also can support the enterprise by "predicting outcomes, diagnosing problems, and prescribing actions on the people side that will add value to the business," as the HBR article notes. Those actions call for a broad understanding of the business's goals along with the industry trends and business environment.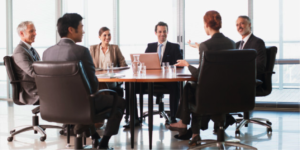 Be responsive and adaptable to your business environment
Your enterprise may have the ideal team in place right now, but any executive who believes that is sufficient will learn, in time, that leaving the future of the enterprise vulnerable to a skills or leadership gap builds in a serious weakness that will inhibit long-term gains.
The foundational step to long-term success: build-in skills and leadership pipeline.
Caution: make sure the tail does not wag the dog. Requisite skills need to be defined by your enterprise's business strategies and goals, your competition, and industry trends. Assuming that a generic skillset will suffice to profit your enterprise often leads to skills and leadership gap in today's fast-paced business environment. Playing catch-up to close the gap comes with a high price tag.
Consider which specific talents and workplace functions will deliver to your enterprise a competitive advantage in your industry. Consider specific forecasted trends for your industry and the current and future economic climate in which your industry operates.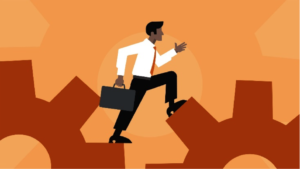 One key question: What leadership skills will work for us now and into the foreseeable future? An obvious one is an agility. That is, regardless of the position, being responsive and adaptable must be part of the skill mix.
Where to start: take advantage of natural leadership ability among the current workforce, and train in specific skills. It is much easier to expand and guide natural ability than to train against the grain.
Your HR leader also should be armed with an understanding of the competition for your workforce and stand ready to respond to secure your team and your competitive edge. As the HBR article states, your HR leader should be able to predict "the likely impact of any changes related to human resources at rival companies—such as modifications to their incentive systems, an increase in turnover, or new expertise they are hiring—and what those changes might signify about their market moves." With a seat at the C-suite table, the HR executive can introduce a level of competitor intelligence that helps ensure the long-term success of your enterprise.
–
This article is a guest contribution by Evelyn Chow, Managing Director of DecodeHR. The views expressed here are of the author's, and Zegal may not necessarily subscribe to them. You, too, are invited to share your point of view. Learn more about guest blogging for Zegal here.
About DecodeHR
DecodeHR provides strategic advice and high-impact solutions to clients primarily in Asia, specializing in the areas of Strategic HR Reviews, Competency Frameworks Development, Strategic Workforce Planning, Pre and Post Merger & Acquisition integration and Transformation projects.
Our strength is our deep knowledge of Singapore and Asia, and this is coupled with experience in the international arena. We distill the best global practices to bring to you practical solutions for maximum impact.
Tags:
Like what you just read?
---
Subscribe to our newsletter and be the first to hear of the latest Zegal happenings, tips and insights!