Types of IP: Trade Mark vs Patent vs Copyright – What's The Difference?
By Alex, Updated: 2023-11-16 (published on 2016-07-21)
It has never been easier to copy someone's work.
Take this example from a fully-accessorised iPhone 6 Plus that runs on the Android operating system!
It is said that Yahoo's nearly 3,000 patents and pending applications could fetch up to $3 billion in a sale. IP protection has never been more crucial and worthwhile.
But to what does IP apply?
IP refers to the exclusive rights that attach to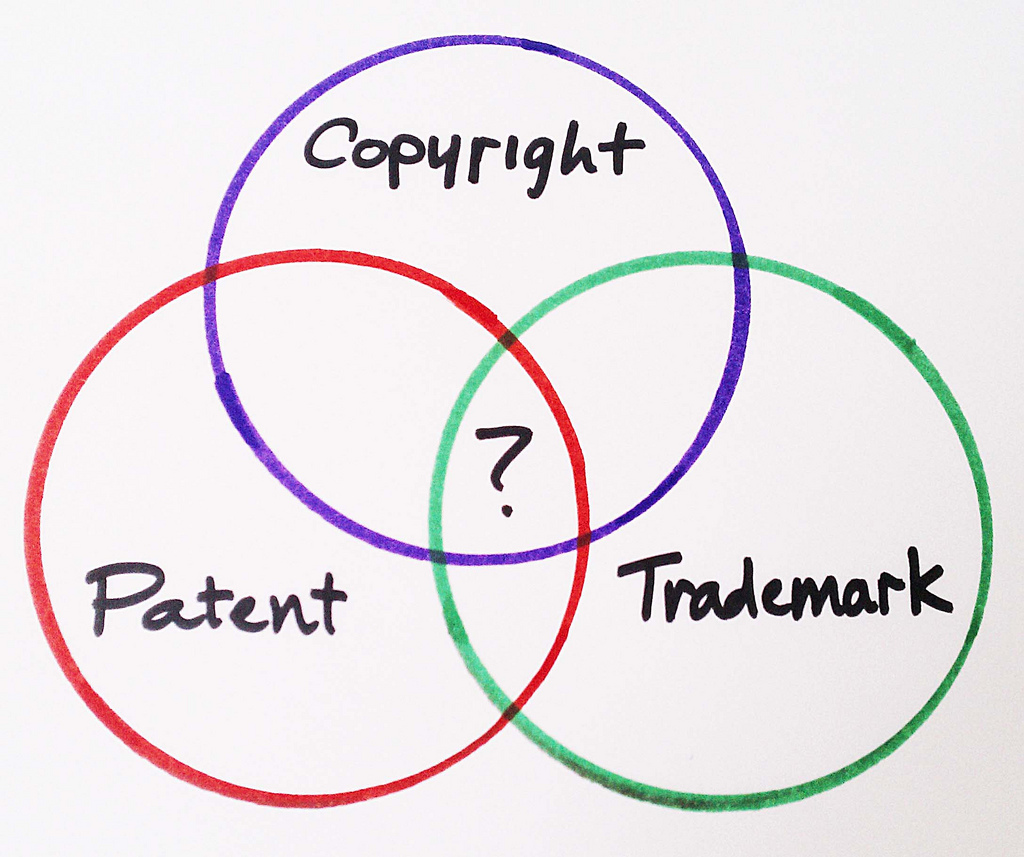 intangible human creations. IP protection is important to innovators, artists and business owners. In fact, it is even more crucial for startups, as your IP may be your most valuable asset in the early stages of your business.

But of the different types of IP – Trade Marks, Patents and Copyrights – do you know which apply to YOU?
1. Trade Mark
What is it?
Trade marks are words, designs or phrases which serve as "the brand" for a product or service. Work that may be registered as a trade mark include words, names, signatures, labels, as well as a host of other marks or a combination of these elements. Both Singapore and Hong Kong use NICE International System of Classification to classify trade mark registrations. There are 34 different classes of goods and 11 classes of services under NICE. For an element to qualify as a trade mark, it has to be distinctive and capable of distinguishing your goods or services from similar ones of other traders. 
Tweet this
Why register a trade mark?
While you don't need to register your trade mark to protect it, doing so gives you additional protection and gives the trade mark value. As a registered trade mark is a form of IP, you can license or assign it to others. For instance, you can license your trade mark to third parties (e.g. a franchisee) or sell for a specified value or help to raise equity that can be reinvested into growing your business.
How to register your trade mark?
To register your trade mark in Singapore and Hong Kong, you may file an application with the Intellectual Property Office of Singapore (IPOS) and the Intellectual Property Department (IPD) in Hong Kong respectively.
How long can your trade mark last?
Once a trade mark is registered it can last indefinitely as long as you renew it every 10 years. It is important to keep using your trade mark in relation to all goods or services that are covered by your trade mark registration, in order to defend against a possible removal action in the future.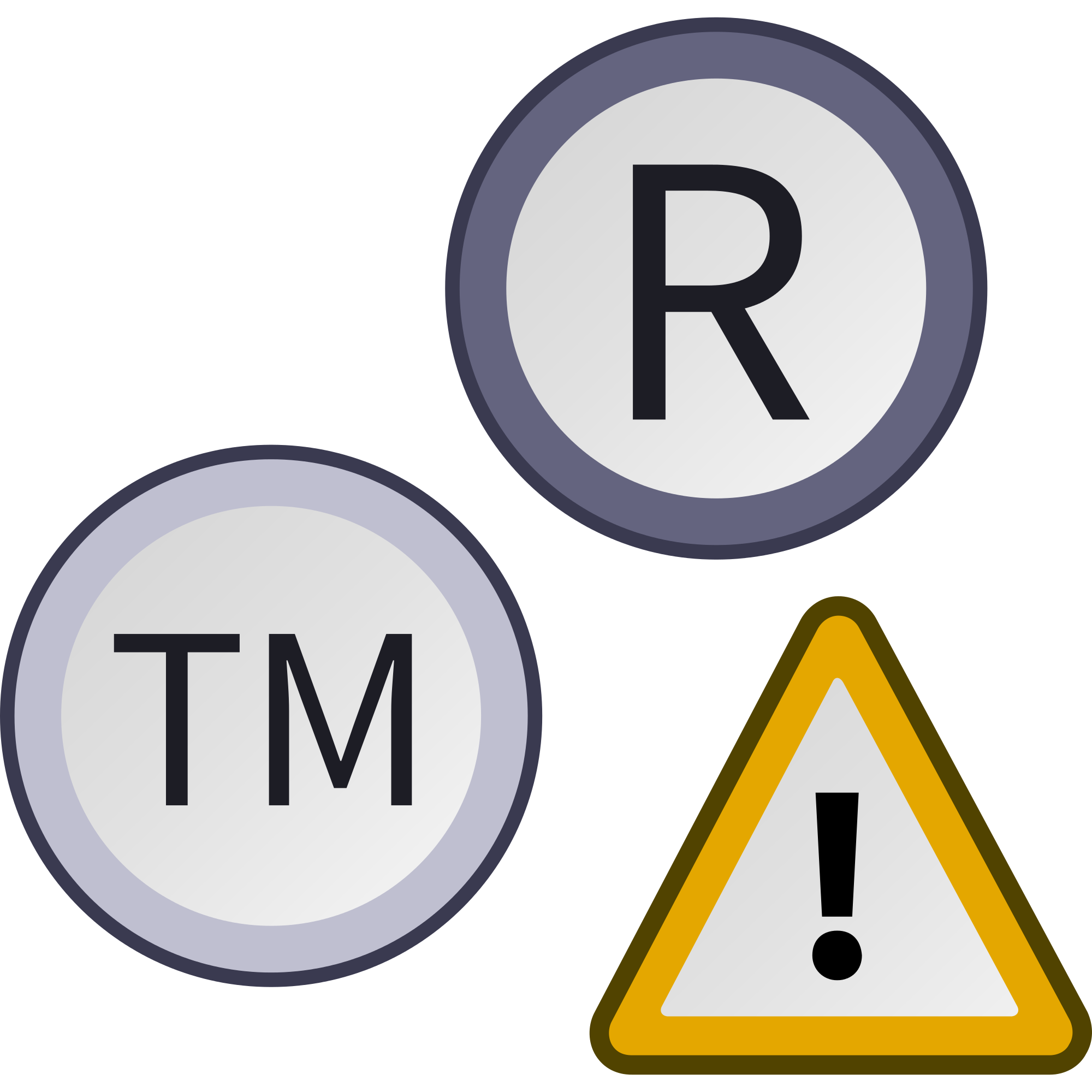 How to protect your trade mark?
Although not compulsory to do so, it is advisable to clearly display the ® symbol next to your registered trade mark, and the "™" symbol next to your trade mark whilst it is still a pending application. This will serve as notice to others that your trade mark is in use, and will make it easier to enforce your trade mark rights against others if required. You should also ensure that all members of your business, your licensees, distributors, and customers are regularly reminded as to the proper usage of your trade mark.
You should take appropriate action as soon as you discover any improper use of your trade mark. It is recommended that you seek the advice of a qualified and experienced trade mark professional to gain a better understanding of what options (both legal and non-legal) are available to you so that you may make an informed decision how best to proceed in enforcing your trade mark rights.
Learn more about protecting your trade mark: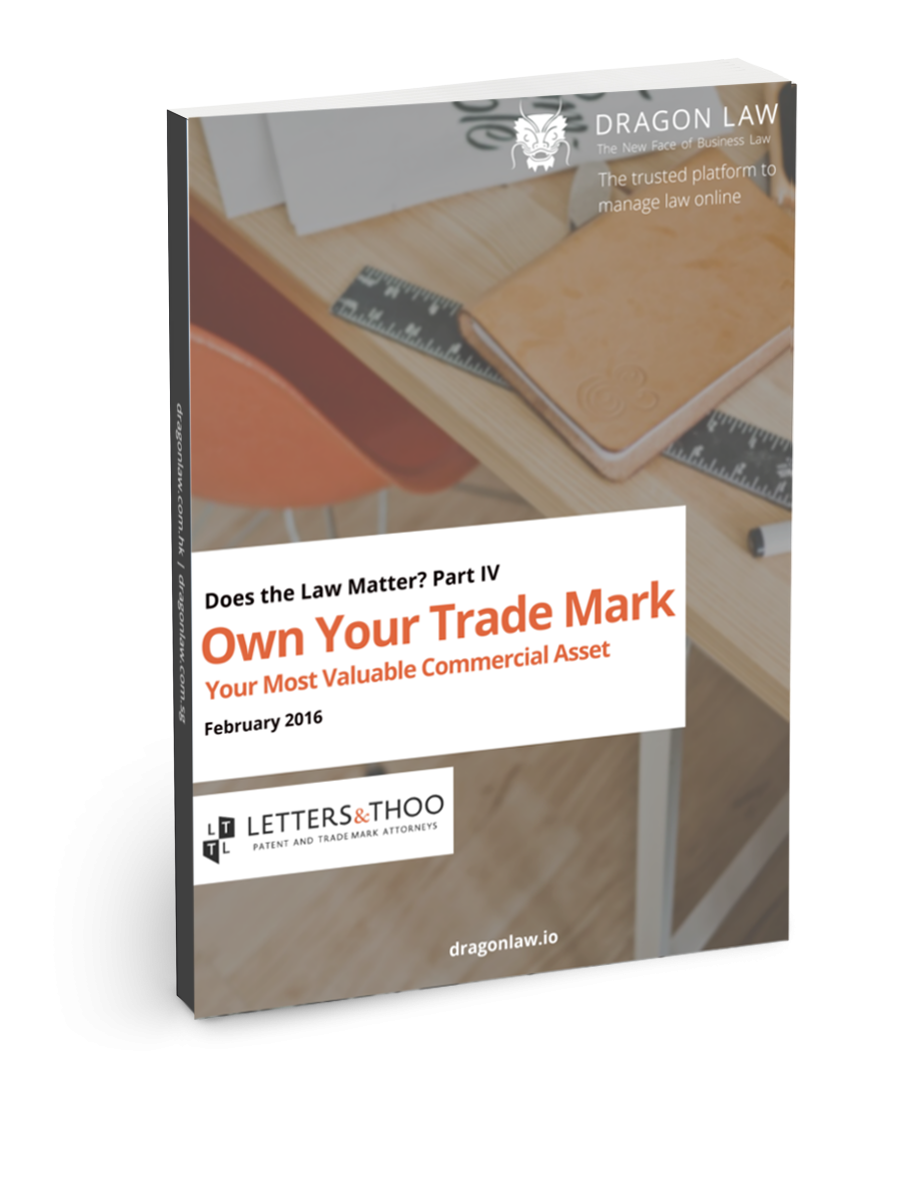 2. Patents
Patents can be obtained for ideas or concepts which are novel and non-obvious. These typically includes inventions such as products or processes. In general, for an invention to be patentable, it must satisfy the following criteria:
New

Inventive step

Industrial Application (Source: IPOS)   Tweet this
Related reading: Blog: What you didn't know about Intellectual Property protection
Why register for a patent?
Securing patent protection will allow you to prevent unauthorised manufacture, use, sales or imports of your invention. If you wish to, you may license your patented invention to third parties for commercial returns or sell the patented invention.
How to register your patent?
To register your patent in Singapore and Hong Kong, you may file an application with the IPOS and the IPD respectively. The application process varies depending on the locations you are applying from. Although it is not mandatory to file a patent application through an agent, applicants may appoint agents to act on their behalf. It is usually recommended that applicants seek legal advice to ascertain the scope of their rights.
How long can your patent last?
In Singapore, the term of a patent is 20 years from the filing date. To enjoy this full term, the patent must be renewed before the expiry of the 4th year and every year thereafter. In Hong Kong, there are two types of patents: Standard patents can be renewed annually after the end of the third year, up to a maximum of 20 years. Short-term patents can be renewed after the end of the fourth year, up to a maximum term of 8 years.
How to protect your patent?
You may take legal action if you discover that your registered patent has been infringed. Possible remedies that you may seek include an injunction to stop the infringing action, account of profits and damages for the loss suffered.  
3. Copyright
What is it?
A copyright can be used to protect creative expressions such as writing, music or video. It is not necessary for the work to have aesthetic value. Examples of works which may be protected under copyright law include:
Literary works (e.g., written works, source codes of computer programs)

Dramatic works (e.g.,. scripts for films and dramas)

Musical works (e.g., melodies)

Artistic works (e.g., paintings, photographs)

Published editions of the above works

Sound recordings

Films

Television and radio broadcasts

Cable programmes

Performances (

Source:

IPOS)
What are the benefits of a copyright?
A copyright owner enjoys the exclusive right to reproduce, publish and communicate their work to the public, among other rights. The specific rights the copyright owner enjoys depends on the category of work produced. Copyright essentially refers to this exclusive bundle of rights and allows the owner to control the commercial exploitation of his work.
How to register your copyright?
There is no need to file an application in both Singapore and Hong Kong. An author automatically enjoys copyright protection as soon as he creates and expresses his original work in a tangible form, such as in a recording or writing.
How long can your copyright last?
The term of protection varies according to the type of copyright work concerned: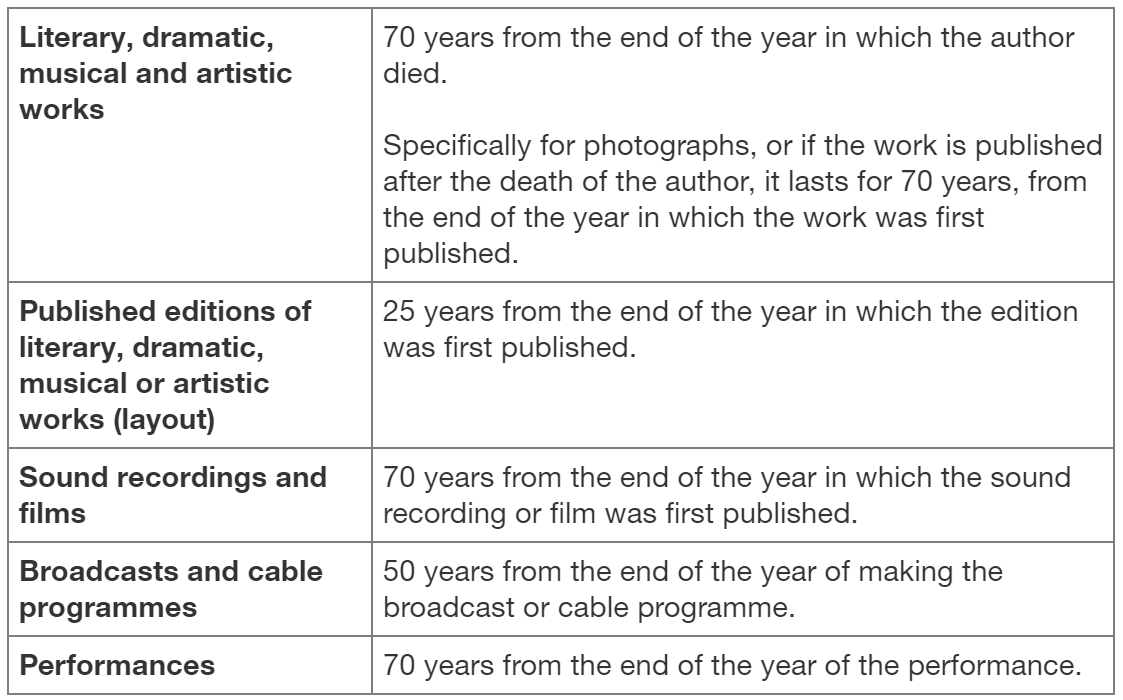 Source: IPOS
How to protect your copyright?
The "©" symbol is not crucial for copyright protection. It is merely a notice of a claim by the owner that copyright exists and does not accord the copyright owner any substantive right. In other words, you are entitled to a copyright claim in the event of infringement even without the "©". A person who willfully infringes copyright may be subject to criminal liability in both Singapore and Hong Kong.
When your copyright is infringed (e.g. when an individual copies your work and distributes it to the public), you may commence legal action against the infringer. Possible remedies that you may seek include an injunction to stop the infringing action, receipt of the infringer's profits and damages for the loss suffered. 
In a nutshell…
How can Zegal help?
Securing your IP rights is important. Zegal works with our network of partners to be your one-stop solution for all necessary documentation and procedures required for assigning and licensing your IP rights.
Like what you just read?
---
Subscribe to our newsletter and be the first to hear of the latest Zegal happenings, tips and insights!