Reasons to start business in Asia
By Alex, Updated: 2023-01-18 (published on 2016-11-09)
Wow, Google searches for "move to Canada" from the US have soared the last four hours. #ElectionNight #Elections2016 pic.twitter.com/8b0q880YYb

— Lily Leung (@LilyLeung) November 9, 2016
Google searches for "move to Canada" from the U.S. have soared in the last twelve hours.
If you're thinking about moving out of the U.S., could Asia be the destination for you?
We've outlined some reasons to start a business in Asia.
1. You can keep overall costs low
In Asia, your cash lasts longer (ie. low burn rate) for various reasons:
a) Cost of living is much, much lower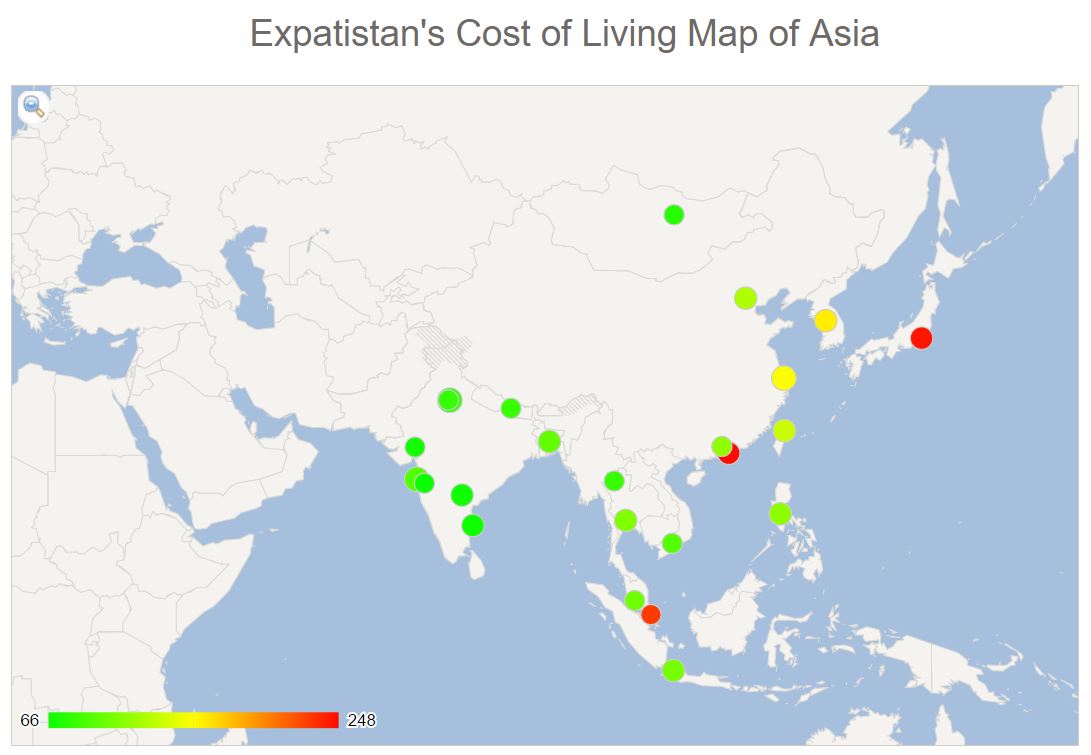 The map below by Expatistan, a cost of living comparison site, illustrates the cost of living of cities in Asia:
The color of the markers corresponds with the cost of living in the city. Red markers show more expensive cities, green ones show cheaper cities. Compare that with the 3 major cities in the U.S. where the cost of living index are way off the charts!
b) Lower cost to employ talent
Depending on where choose to base your office, salary levels can be half or even less than half of median salaries in the U.S. Talent mobility in Asia is high; ie. even if you choose to incorporate in cities such as Hong Kong and Singapore you will still have the ability to access a remarkable talent pool from the rest of the region.
Source: Sandbox Advisors
c) Lower tax liabilities
Corporate income tax rate in the U.S. stands approximately at 40% (KPMG), more than double of that of Hong Kong (16.5%), where the Inland Revenue Department only requires companies to pay profit tax. In Singapore, newly-incorporated businesses further enjoy tax exemptions for their first S$100,000 chargeable income for the first three years.
All of the above factors help keep the initial costs of running your startup low, so you will be able to have a longer run rate (and hence more time to raise additional funding).
2) Money is all around
Governments in Asia have invested in various initiatives to attract investors to the region. Besides your typical angels and VCs, the startup industry is also fueled by interest from the big boys with corporations, banks, and medical industries running their own accelerator programmes and innovation labs.
A recent Tech in Asia online panel also revealed the ongoing uptrend of Software-as-a-Service (SaaS) receiving funding in India and the rest of Southeast Asia:
Source: Tech in Asia
U.S.-headquartered venture capital firm 500 Startups has also been quick to the game with the launch of its second fund in Southeast Asia, 500 Durians II, investing between $50,000-150,000 in seed-stage firms, and have follow-on investments of up to $500,000 for those showing great progress.
3) Innovation is everywhere
Another reasons to start a business in Asia is Innovation. According to a McKinsey Podcast, companies in Asia are transforming their digital operations to great effect and building some of the world's most successful tech giants. A few factors make the impact of digital more pronounced than in other markets, including social penetration, consumers' openness to new technologies and the mobile Internet, and willingness by companies to innovate.
But the opportunities aren't limited to technology. A recent article by The Entrepreneur also gave praise to rising economies in Asian countries, creating endless business opportunities in a multitude of industries.
In fact, Asia is now home to some of the hottest and most disruptive technological innovations.

4) Think long-term growth: Access to emerging markets
According to the International Monetary Fund, emerging economies are expected to grow two to three times faster than developed nations such as the U.S.. American companies know this very well – the fastest-growing American companies in the past year have their non-U.S. markets to thank for their quick growth.
The same article also predicts that emerging markets will account for 70% of world growth over the next few years, with China and India accounting for 40% of that growth.
Many organizations have also picked business hubs such as Hong Kong and Singapore to incorporate their company and access the rest of the region from here. In Asia, the process is fully digitized and can take only 2 to 5 days!
All in all, it is high time to consider moving your start-up to Asia – where you can enjoy cheaper operations, more investors, an innovation-driven culture, where you can build and expand your own business in the long term.
So if you're thinking of making a move out of the U.S., why not consider embarking on an entrepreneurial journey in Asia?
Take the first step to managing law online and
access reliable legal documents for use in Hong Kong and Singapore.

Check out Zegal's latest plan for Startups:
Learn more

Tags:
Like what you just read?
---
Subscribe to our newsletter and be the first to hear of the latest Zegal happenings, tips and insights!