Essential Tools You Need When Starting an Online Business
By Guest Post, Updated: 2023-11-16 (published on 2023-01-05)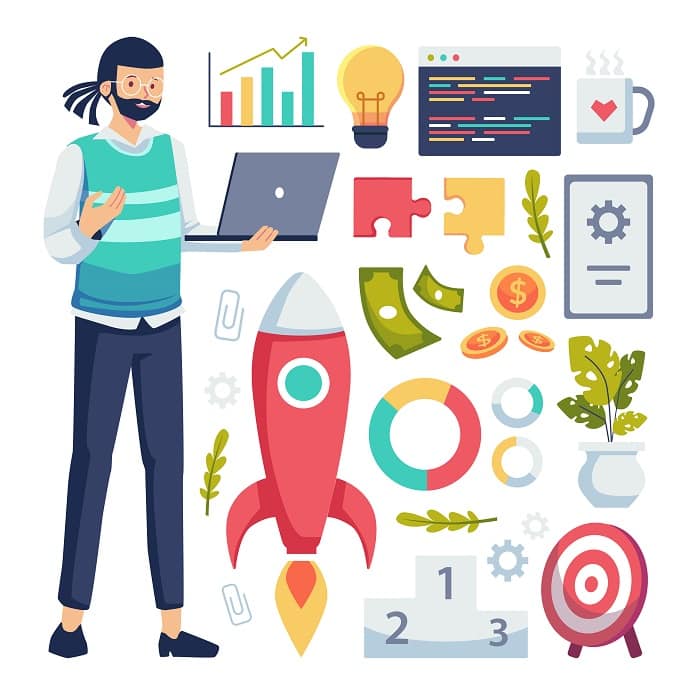 Have you recently decided to start an online business? You need to know that although online businesses are sometimes more profitable than physical businesses, managing them is pretty tricky. In online businesses, you must take care of many things, including product management, inventory, content creation, marketing, advertising, responding to clients, shipping, etc. And managing all these things without some modern tools is almost impossible.
So, you must equip yourself with essential tools when starting an online business. Those tools will divide your burden and let you focus on more productive and profitable tasks. However, if you don't keep those tools in your toolkit, you will quickly realize that managing an online business is not child's play. This short but comprehensive article will discuss the essential tools online businesses need to use to streamline their businesses. Here they are!
Keyword Research Tool
The first thing an online business needs is a website. Hiring website developers and getting an attractive, fast, responsive website is easy. However, to bring organic traffic to websites, the website owners need to put in a lot of time and effort. They must select a few keywords, create an SEO strategy to rank the websites against them and implement that strategy. The most essential thing in the whole process is selecting the right keywords. If you don't select the right keywords, all the efforts in SEO won't reap any fruit. That's why a keyword research tool is a must that can answer many of your queries related to the keywords. For example;
What is a keyword's search volume in your targeted area?
What is the competition against the keyword?
What other keyword alternatives do you have?
What keyword combinations can you use?
Once you select the right keywords, you can attract traffic to your website. So, instead of randomly picking up the keywords, get assistance from a keyword research tool and experience the difference.
Content Related Tools
You need content for your online business. And with that content, you can educate your audience about what your business is about or what you are offering.
Here are must use tools you need for your content:
Paraphrasing Tool
After selecting the keywords, now is the time to utilize them in your website content. Website content is the most crucial thing in the online business. It is the content quality that decides whether people will buy products/services or not. If your content is unique, engaging, and impressive, it will bring traffic and boost conversions. On the other hand, if your content is of low quality and copied, it will damage your search engine reputation and ranking on SERP (Search Engine Result Page). So, to create a lot of content without compromising quality, you need a paraphrasing tool.
A paraphraser can rewrite already written content and create high-quality, engaging, unique content within a few seconds. So, when you have a tool that can create content for you, save your time and utilize that tool to be more productive. However, if you don't want to rely entirely on a rephrasing tool, create most of the content through it and add calls to action and other essential information yourself.
Plagiarism Checker
Creating content is one of many things you need. You also need to check whether that content is plagiarism-free or not. And for that purpose, you need a plagiarism checker. A plagiarism detector can help you detect plagiarized portions of your content. Most people don't check for plagiarism in a text before publishing articles on their websites.
However, they regret it later once they get warnings from search engines. Plagiarized content is poison for a website. Nothing can harm websites more than plagiarized content. So, using any free plagiarism checker to check for plagiarism in your content is better. But don't ever let any single sentence go on your website without checking for plagiarism. It could be harmful to your brand and website's ranking and reputation.
Marketing Calendar
The marketing calendar tools are a kind of tool that assist businesses in planning, organizing, and tracking their marketing activities. A marketing calendar can be helpful for companies that run various types of marketing campaigns simultaneously. For example, if you run a campaign on search engines and multiple social media platforms, you need a marketing calendar to organize your campaigns. The marketing calendars help businesses know the deadlines for specific tasks and what tasks need to be completed immediately. They help them avoid missing deadlines and ruining their efforts. Moreover, these calendars help business owners avoid overspending on different campaigns by organizing everything effectively.
Project Management Tool
Project management tools are online or offline applications or software programs that assist individuals and teams in managing almost every task related to their projects, including time tracking, invoicing, communication, project planning, documentation, evaluation, etc. Almost every online business needs these tools to streamline its operations and monitor employees' performances. When looking for such tools, consider using project management software with client portal to enhance collaboration and communication with clients, ensuring seamless project coordination and transparent interactions.
Project management tools provide a wide range of benefits to online businesses. The most common among them are here;
Improve collaboration among workers
Enhance efficiency
Help in resource management
Assist in task management
Reduce labor cost
Analyze individuals' and teams' performances
Social Media Management Tool
Social media could play a pivotal role in the success of any business, whether online or offline. Billions of people spend hours on social networking platforms, making them great marketing platforms. Those businesses that perfectly utilize social media always succeed in competitive markets. That's why businesses, especially online businesses, must create a solid marketing and advertising campaign for social media. For that, they need social media management tools. Social media management tools allow businesses to keep track of their social media activity and performance. These tools help business owners measure different things that can lead them to make informed and correct decisions for their marketing campaigns. For example, with the help of a social media management tool, businesses can track their user engagement and conversions and calculate ROI (Return-On-Investment). This data can help them decide where to put more effort and which platforms to avoid.
P
Like what you just read?
---
Subscribe to our newsletter and be the first to hear of the latest Zegal happenings, tips and insights!