Legal Checklist for Startups
By Alex, Updated: 2023-01-18 (published on 2016-11-16)
As an entrepreneur, there is always something more you can do to make your business succeed. Whether it is perfecting that pitch for a potential investor or tweaking that one button in your app to make it more aesthetically appealing. With so much on a founder's mind, it is no wonder that the startup legal documents or legal needs of a budding business often take a backseat.
However, not having proper legal documents during start-up in place can potentially lead to drastic consequences down the road. Disagreements among shareholders on rights and obligations, and when your company logo is misused without your permission are just two examples. Legal is important, and while it might not be a make or break, staying on top of your legal documentation and regulatory requirements can make running your business more fuss-free.
We'll explain in 6 easy Legal Checklists for Startups. We'll also round up the key legal documents you need as you go through the different stages:
1. FORM A BUSINESS
As a founder, you should consider the needs of your business carefully. Choose the structure that will work for you now, but more importantly, make sure it will work in the years to come. Depending on the type of business structure, you may require a Partnership Agreement or Shareholders' Agreement as one of the founding legal documents for your start-up. You can also find more information about the difference between shareholders' agreements and investment agreements here.
⃞
Document
Used for

⃞

Partnership Agreement

Forms the foundation of your business partnership by protecting and aligning the interests of you and your partners.

Ensures your business is run in a professional and cooperative way.

⃞

Shareholders' Agreement

Legal contract between all the shareholders that sets out all their rights and obligations. Sets out the rules while providing more flexibility than relying solely on the company's Articles of Association.

⃞

Share Certificate

Issue this to each shareholder as evidence of their shareholding in your company.
Resources for setting up your business
→ Confused about how the different business structures impact the transferability of ownership and degree of liability? This post summarises the key differences between setting up as a sole proprietor, business partnership or a company.
→ Incorporating a company for the first time? Download our free eBook to gain a practical understanding of key issues involved in incorporating and maintaining your company in Hong Kong and Singapore.
2. FUND YOUR BUSINESS
While businesses typically start out bootstrapping, at some point many business owners need to look to other sources of funding to secure the capital necessary to maintain operations and grow the business. Depending on what your source of funding is, you will need different legal documents to manage the new infusion of capital.
⃞
Document
Used for

⃞

Promissory Note

Where you have asked family and friends for support via a loan, a simple agreement that records the terms of the loan and repayment can prevent future disputes.

⃞

Commercial Loan Agreement

If other businesses are interested in helping you out, use this document to set out the terms and conditions for the loan. This agreement can

help both parties more closely monitor the condition of the loan, thereby enhancing the borrower/lender relationship because it promotes more frequent communications between the parties.

⃞

Term Sheet

If your source of funding is private investors such as venture capital firms or angel investors, they will typically ask for a Term Sheet. This is a preliminary document that will include the key terms of an investment in a company, including the agreed-upon valuation of the business, the proposed capitalisation table, the key financial and legal terms, and the rights of the company and the investors.
Resources for raising funds
→ Curious about what your options are when it comes to sources of funding? Download our free eBook on Early Stage Funding to learn about the pros and cons of each method and decide which is the best fit.
→ Want to know what's on the mind of investors when they're deciding whether to invest? Check out insights from investors, entrepreneurs and lawyers from our Legal Startup Academy session on Early Stage Funding.
→ Want to raise funds via a Convertible Note? Check out this post on our blog to learn how the Convertible Note mechanism works as well as the relevant documents that you need.
3. GO ONLINE
Your business website is your new front door; even if you do not use your website as a platform for the sale of goods or services. Are you turning customers away even before they walk in?
On your website, make sure you have these key legal documents in place to manage the relationship between your business, web developer as well as website users.
They are made available on your website for users to read and, by continuing to use the site, users accept these terms.
⃞
Document
Used for

⃞

Website Design and Development Agreement

Business owners often hire freelancers or other third parties to build or redesign their websites. Make sure you have in place this contract to set out the nature and ownership of the website as well as service expectations so that your company can focus on its business and the contractor can focus on the website.

⃞

Website Privacy Policy

This is a statement you place on your website laying out how your business will collect, use, and manage a user's personal data. By clarifying the scope of use of such personal data, you can avoid future disputes concerning data privacy infringement.

⃞

Website Terms of Use

A

Website Terms of Use

structures the relationship between you as a website operator and your website users by setting out each party's rights and obligations.
Resources for online businesses
If you are running an online business, there are other legal documents that will help you establish prudent legal protections and grow a successful enterprise. Check out the following resources:
→ Running an online business? Download our free eBook: How to Set up & Protect Your Online Business and read more about the key documents you will need to protect your online business and build a successful online enterprise.
→ Operating an online marketplace? Check out this post for essential legal considerations for online marketplaces.
4. HIRE A TEAM
Once you have your business concept and legal entity in place, a crucial step is to hire the right talent to form your team and grow your business. Manage the recruiting process right by having these key documents in place.
The document is useful if you want to dissuade certain new hires from leaving your company too soon, disclosing confidential information about your business, or going to work for a competitor.
⃞
Document
Used for

⃞

Offer of Employment Letter

Before you take your new hire on board, extend an

Offer of Employment Letter

to indicate a conditional offer to your selected candidate. This lays out the conditions that the candidate has to fulfil in order for the offer to be valid and summarises the terms of employment, including remuneration, benefits, working hours, and probation.

⃞

Employment Contract

Once your candidate has accepted the offer of employment, put together the Employment Contract to regulate the relationship between the employer and employee in order to minimise potential disputes.
Resources for growing your team
→ Unsure what employment laws you have to comply with when taking on board that new hire? Download our free eBook The New Hire (Hong Kong) and The New Hire (Singapore) to learn how you can avoid pitfalls by navigating through areas of employment law.
→ Want to keep your employees happy and motivated? Check out this post on our blog for tips on incentivising employees without burning a hole in your pocket.
5. OWN YOUR INTELLECTUAL PROPERTY
Whenever your business develops intangible human creations, it is key that you secure your Intellectual Property (IP) rights in order to protect your creations. Intellectual property is a core asset of a business. The main types are trade marks, patents, copyrights, and trade secrets. Protect your IP rights and prevent others from infringing your brand:
⃞
Document
Used for

⃞

Trade Mark License Agreement

This agreement allows the owner of the trade mark (the licensor) to give approval to another person (the licensee) to use the trade mark. Licensing

can help a company expand into new markets effectively while lending the licensee an established name and reputation as well as provide lucrative income for trade mark owners.

⃞

Confidentiality Agreement (or Non-disclosure Agreement)

Your business has information that should remain private, such as customer database, financial information, or new business ideas. An NDA is your first line of defence to protecting this information. This legal document creates a confidential relationship between your business and any contractors, employees, and other business partners who might get a behind-the-scenes look at your operations.
Other resources for protecting your brand
→ Confused about the differences between the various types of IP? Check out this post to find out what the various types are and what you need to qualify for IP protection.
→ Just designed a logo that you want to protect? Download our free eBook Own Your Trade Mark: Your Most Valuable Commercial Asset to learn about what you need for a successful application, how to maintain your trademark and maximize its value globally.
→ Want to whether your latest invention qualifies for IP protection? Learn about the key considerations in this interview with an IP lawyer.
6. SELL GOODS & SERVICES
In every business that involves selling goods or services, it is crucial to have key documents in place to ensure manage the relationships with your stakeholders, whether these are customers, sellers or business partners. There are a number of documents that your startup may need depending on the type of business and the products or services you offer. These span the entire timeline of the business relationship and sets out the terms and expectations of the relationship.
⃞
Document
Used for

⃞

Letter of Intent (Memorandum of Understanding)

In the early stages of negotiations before a formal agreement has been entered into, it would be good to summarise the result of negotiations in a non-binding document known as a Letter of Intent.

⃞

Sale of Goods Agreement

This is a legal contract for the sale and purchase of goods that sets out the exact nature of the goods, as well as price and payment terms.

⃞

Supply of Services Agreement

This is a contract between a supplier and a customer for the provision of a specified service that documents the key terms of how that service will be carried out.

⃞

Purchase Order

This is a standard document or template that your customers or clients can use to order goods or services from your business. When you accept the

Purchase Order, a binding contract is formed.

⃞

Invoices

An

Invoice

is a document you can send to a customer requiring payment for goods or services that you have provided or will provide. It acts as a bill and a proof of a transaction.
Resources for optimizing cash flow
→ Download our free eBook Manage Cash Flow: How to use legal documents to optimize your cash flow to learn more about how you can use key legal documents to ensure you receive payment on time and optimize your cash flow.

Overwhelmed by the legal needs you need to navigate as you try to get your startup off the ground? In the years that we have worked with startups and small businesses, and being a startup ourselves, we have seen how challenging building a business from scratch can be. We have worked with over 5,000 startups in 25 countries, and we see that legal frequently isn't at the top of an entrepreneur's mind. It is costly and there are often other more pressing needs that demand your attention. But legal is important nonetheless.
This is why we launched Zegal for Startups. Our online legal software allows you to manage your legal documentation reliably and affordably. It means less time spent on routine legal work and crucial cost savings for a startup raising early funds. Signing and storing all your legal documentation on the cloud allows you to access your documents on the go.
As a Zegal for Startup's subscriber, you get:
Access to all the documents your startup needs,

fully customizable,

Unlimited document creation,

yes, you heard it right, create as many legal documents as you need, and

Free client service support

(for the first 3 months) via live chat, email, or phone.
As we onboard your team, we will create a personal roadmap for the legal documentation that you need. We'll help you gain confidence in managing your legal documentation online.
Learn more: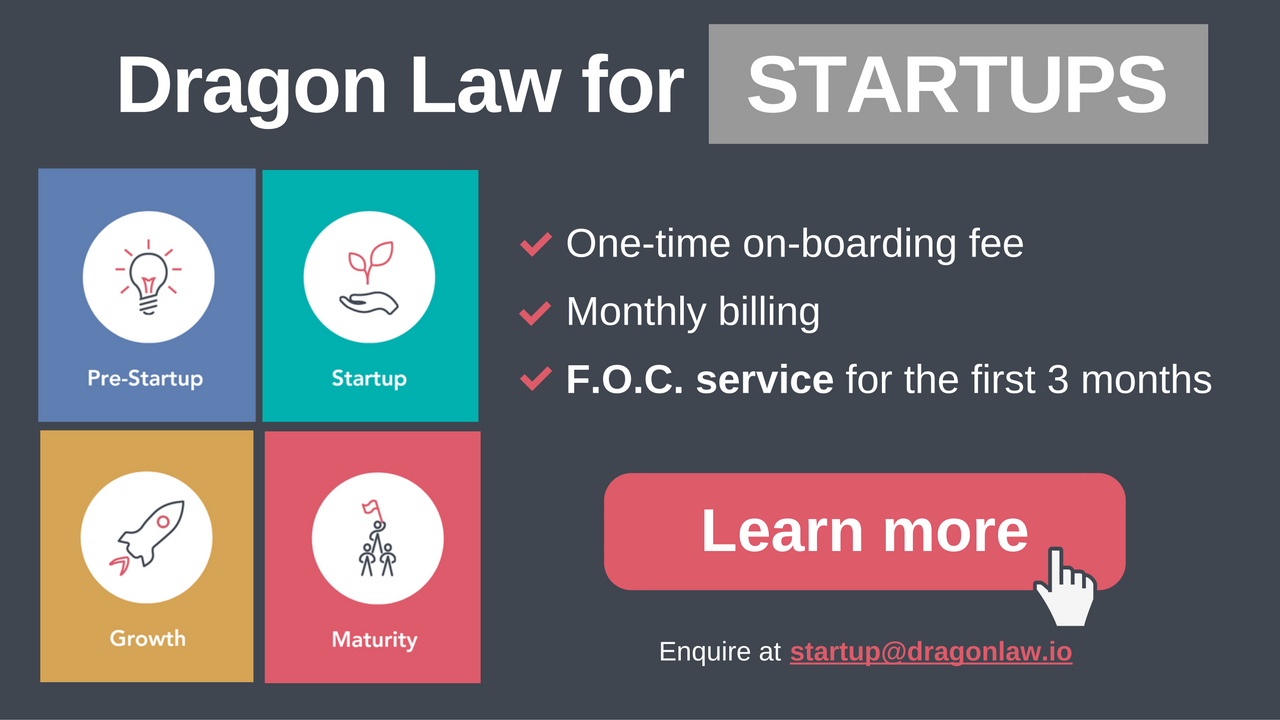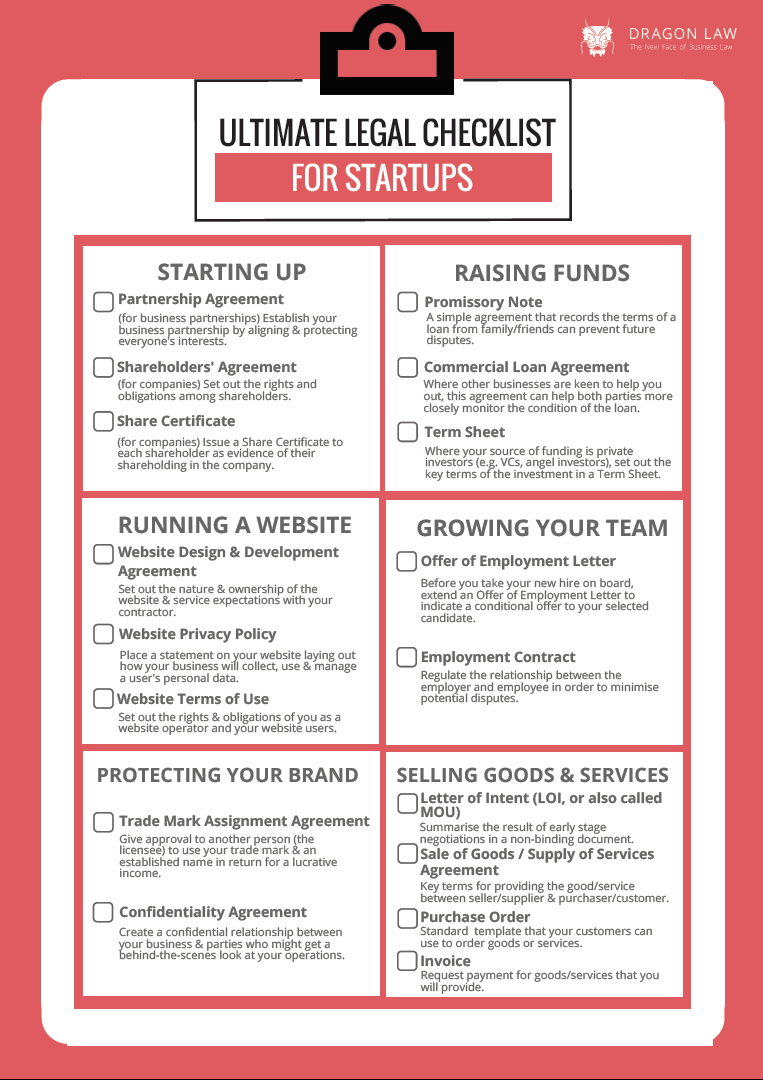 FURTHER READING
Tags:
Like what you just read?
---
Subscribe to our newsletter and be the first to hear of the latest Zegal happenings, tips and insights!