Our New Unlimited Free Trial on Selected Documents
By Tom Odlin, published: 2023-07-13
As pioneers in legal technology, we at Zegal have consistently sought to challenge the status quo and revolutionise how businesses approach legal processes.
We're passionate about creating user-friendly, innovative solutions that make legal operations more accessible and less daunting.
Today, we are thrilled to announce an exciting new offer: an unlimited free trial on selected documents.
This innovative move underpins our commitment to bringing legal tech to every business, big or small, demonstrating our confidence in our platform's unrivalled quality and efficiency.
Endless opportunities with Zegal's free trial
Uncharted territory in the legal tech sphere, our unlimited free trial brings a wealth of opportunities.
Businesses can now explore our extensive legal services without financial commitment, granting unlimited access to selected legal document templates throughout the trial period.
This is more than a promotional strategy – it's a testament to our belief in the power of our product. We're so confident in the capabilities of our platform we're placing it in your hands, fully featured and without a time limit.
Empowering businesses of all calibres
Whether you're a fledgeling startup navigating the nuances of your first employment contract, an SME, or an established firm looking to optimise your legal processes, our unlimited free trial offer is the ideal opportunity to discover the myriad benefits of legal tech.
Experience the satisfaction of having professional, ready-to-use legal documents at your disposal, reducing the need for costly legal consultations for every minor query.
A bold stride towards the future of legal tech
Our unlimited free trial exemplifies our commitment to eliminating barriers in the legal sector. It's a step towards a future where legal services are universally accessible, transparent, and more efficient.
We believe every business should have access to quality legal services; this new offer is a testament to that belief. Seize this opportunity to explore how Zegal's unique blend of technology and legal expertise can help to simplify and streamline your legal operations.
By offering access to crucial legal documents at no cost, we're striving to democratise the legal industry, making it more accessible and user-friendly for all.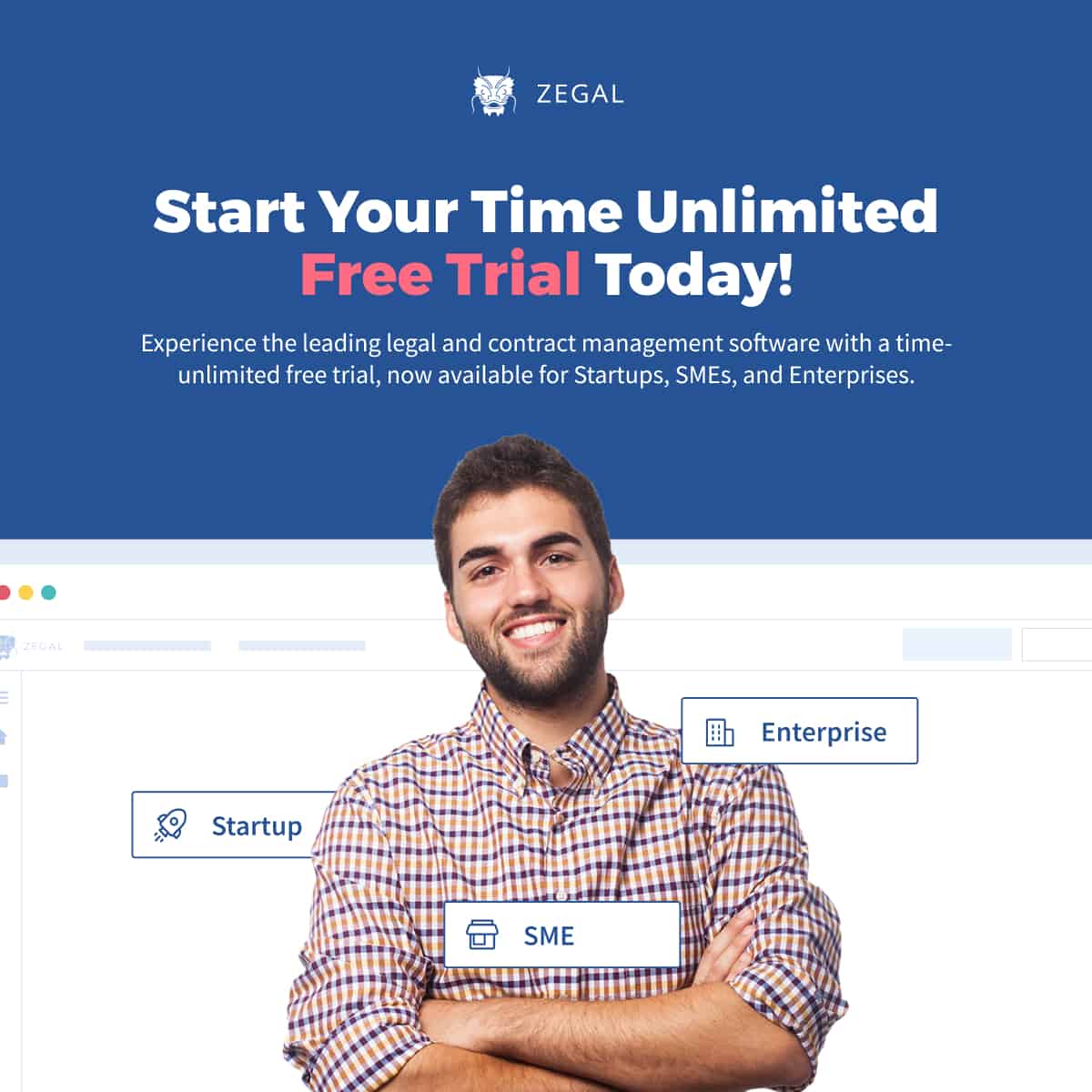 Like what you just read?
---
Subscribe to our newsletter and be the first to hear of the latest Zegal happenings, tips and insights!