Overview of a Business Collaboration Agreement
What is a Business Collaboration Agreement?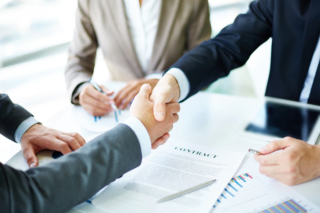 A Business Collaboration Agreement is an agreement signed by multiple involved parties. Businesses are complex and the scale and scope of it can raise conflicts among partners involved. A Business Collaboration Agreement helps reduce this friction between partners. It is a legal agreement that states how the business shall be run, and how profits will be divided and it defines the professional relationship between partners.
How do you write a Business Collaboration Agreement?
Each Business Collaboration Agreement differs from another. However, there are a few key points you should not miss while writing one. They are as follows:
The percentage of ownership of each partner.
How the division of profit and loss will take place.
The length of the partnership.
How decisions will be made and disputes resolved.
Define who holds the Binding Authority.
What happens in case of withdrawal or death.
What is the difference between a partnership and a collaboration?
Partnerships and collaborations both include two parties coming together and working for a common interest. However, the two are in fact quite different from one another. In a collaboration, individual parties operate independently. Each has complete control over the resources they bring along. On the other hand, a partnership consists of more co-mingling of resources, and a structure is put in place to manage and oversee the engagement.
Are collaboration agreements legally required?
There is no statutory legal obligation to have Collaboration Agreements in place as they are private commercial arrangements between parties. However, the choice to have a legally binding collaboration agreement will depend on the risks along with the time, money, and resources that are being put into the project.
If you do not have a written agreement in place, there is uncertainty about how your arrangements will be interpreted later. It will particularly be troublesome if some dispute arises in the future. Additionally, if a project requires third-party financing or insurance, then funders, lenders, and insurers will most likely ask for a legally binding agreement as it provides something concrete for them to refer to when providing their services and keeps them on the safe legal front.
You Might Also Like
Along with this document, make sure you see these other templates in our library:
The Zegal Template Library
Zegal's template library represents a complete and curated list of essential and premium business templates that can be used directly, for everyday business needs. Importantly, whether you're a startup or a larger enterprise, you will find that our Zegal automation solution allows anyone to create a legal agreement, any time, anywhere. All without a need for an expensive lawyer. Why do we do this? Well, we think that running your business day-to-day is important, and having these templates at your fingertips allows you to not miss a beat!
Lawyers draft and curate all of our legal templates for ease of understanding using plain English. Just fill out our guided questionnaires, and we will create the contract for you. Using our patent-pending expert rules engine, we automate the creation of complex legal contracts.
Try it for free today!