5 Tips For Improving Customer Retention And Loyalty
By Alex, Last updated: 2023-01-18 (originally published on 2016-11-23)
The hustle to market your product and acquire new clients is characteristic of the growth stages of any business. However, once you manage to close these initial deals, the next priority would be to keep them happy, and most importantly – keep them coming back!
Brand loyalty is vanishing, making customer retention one of the growing headaches for companies large and small.
Any business that aims to be sustainable in the long-run must be proactive in engaging their existing clients, and continue to pursue product/service excellence to keep clients coming back for more.
Here are 5 tips for retaining clients:
1) Keep your product/service simple
According to a Harvard Business Review study, the modern consumer is overwhelmed by the growing volume of marketing messages, ie. Customers today are increasingly distracted and disloyal! While there are a range of factors that affect the stickiness of your product or service, such as price and customers' perception of a brand, the factor that by far has the biggest influence in stickiness is "decision simplicity". By enabling customers to navigate the purchase journey with ease and providing support along the way, you can make the customer journey enjoyable.
Source: Service Design Tools
A useful framework for charting out the customer journey is to start with customer journey map. This allows you to identify key touchpoints in the product, experience or service that you are offering, and conscientiously improve the interaction and engagement at every step of the way. The aim is to ensure your product is easy to navigate and make decision-making simple.
2) Provide reliable and accessible customer support
Get into the mind of a new customer who purchases and uses your product or service as a journey with potential pitfalls and pain points. Newer customers are more likely to drop out of the customer journey map when they encounter a roadblock and do not receive immediate assistance. Hence it is crucial for you to understand where your clients' potential pain points are, and provide timely support at every step of the way. Below are some quick and actionable ways to signal to your customer that you are available to assist should they encounter difficulties:
Place a 'Get Help' button that leads to a live chat, form, or email composer in a prominent location on your app or website.
Proactively communicate service standards to your customer (e.g. by letting them know that you will reply their emails within 48 hours) to manage expectations and assure them that help is on the way.
Publish a list of Frequently Asked Questions (FAQs) that is easily accessible and written from the customer's point of view.
By being available whenever your clients need you, you will be able to establish a reputation of dependability that will keep your clients coming back.
3) Give your clients a consistent experience
Nothing irks a client more than inconsistencies in how their account is managed, whether this is in the sale of goods or supply of services. According to a McKinsey article, sustaining the long-term commitment of a client boils down to maintaining consistency in three different categories: 1) Customer-journey consistency, 2) Emotional consistency and 3) Communication consistency.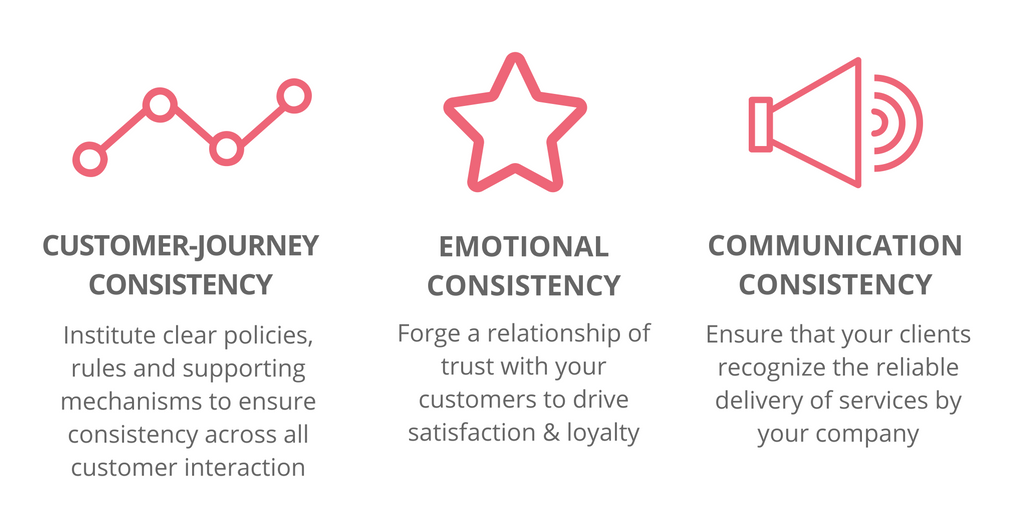 One way to ensure consistency when managing client accounts is to have clear workflows and processes, especially in the areas of payments and finances. Ensure you have in place the key legal documents that outline your payment practices, including the following:
Businesses often do not pay enough attention to these critical documents as they regard payment transactions as mere formalities that are not central to the customer experience. However, there may be detrimental consequences if such processes are inconsistent and the documents not well-drafted. You (and your sales force) should have the same answer to answer these questions:
What payment options do your company accept?
Is there any option to make payments in instalments?
Are there discounts for bulk purchases?
These are questions that may be on the mind of your customers. Having standardized documents and systems in place ensures that both you and your clients know what to expect.
4) Continually improve your product based on customer feedback
In order to build empathy with your clients, it is important for you to listen to them. Put in place feedback channels that make it easy for your customers to provide suggestions for improving your product or service. There are two aspects to obtaining customer feedback: 1) Proactively seeking customer input, and 2) providing a platform for customer feedback.
If you do not seek your customers out to signal that their opinion is valuable for you, they are unlikely to take the initiative to provide feedback on their own accord.
There are a range of platforms and tools that your business can choose from to maximise effectiveness and efficiency in obtaining customer feedback. Tools like Delighted help to measure Net Promoter Scores; couple that with Advocate.ly and Intercom that help to automate the customer communication process – it doesn't take that much extra work at all!
Whichever you choose, keep in mind that you surveys should be designed in a way that invites responses that are timely, reliable and actionable. In-app satisfaction ratings have the highest response rates, while email surveys would be more effective in reaching inactive users. Follow these three key principles when designing customer surveys:
Take direct action on the specific issues raised
Where customers indicate specific complaints, ensure that someone from your company takes follow-up action so that customers do not feel that they are dropping feedback into a black hole.
Keep your surveys quick and short
Customer satisfaction surveys should be two or three targeted questions at best, to signal that you respect your customers' time.
Learn from the feedback
Analyse the feedback that you have collected, and update the design of your product or service accordingly.
Adapted from Harvard Business Review
While surveys are great for when you want to obtain information on specific issues – for instance, feedback on product features or data on consumer habits – customers might sometimes want to provide feedback. Businesses leverage on this by setting up a constantly available feedback platform within their website or app that allows customers to give open-format feedback. This allows customers to voice opinions on issues which they feel are most important.
Ultimately, what is most important is that your business takes action based on feedback collected by setting up a system that effectively converts customer feedback into product improvements. Knowing that the business has a functioning feedback loop in place will empower customers to influence product development in tangible ways and ensure that the business constantly responds to its customers' needs.
Customer feedback: Delegate and Zegal
5) Build empathy and trust with your customers
At the end of the day, your business should focus more on your customers (rather than your competitors!). Businesses need to respond to customers' intrinsic desire to feel empowered. This requires businesses to be flexible and adapt to their clients' preferences and behaviours. For instance, if your client is browsing your website on their desktop and next speaks to a salesperson in your store, branch or call centre, be ready to pick up where they left off in order to facilitate a seamless customer journey. The goal is to embody a customer-first attitude at the core of your business.
If you don't like filling out forms again and again (think: like when filing your insurance claims!), neither will your customers! Cloud technology today allows data to be synchronised across devices in real-time – say goodbye to pen, paper, scan, and data-entry!
Legal in the cloud. Anytime, anywhere.
Here are some good practices which can help your team build empathy with your customers:
Share customer insights with everyone in your team and actively discuss ways to improve the customer experience.
Become a customer by stepping into the shoes of your customers and gaining first-hand insight into their experience.
Conduct ethnographic research by interviewing clients on a one-on-one basis and developing customer personas.
Create a life-sized map of the CX journey and walk through it
Incorporate understanding phrases into your customer service to convey empathy to your customers
Adapted from Salesforce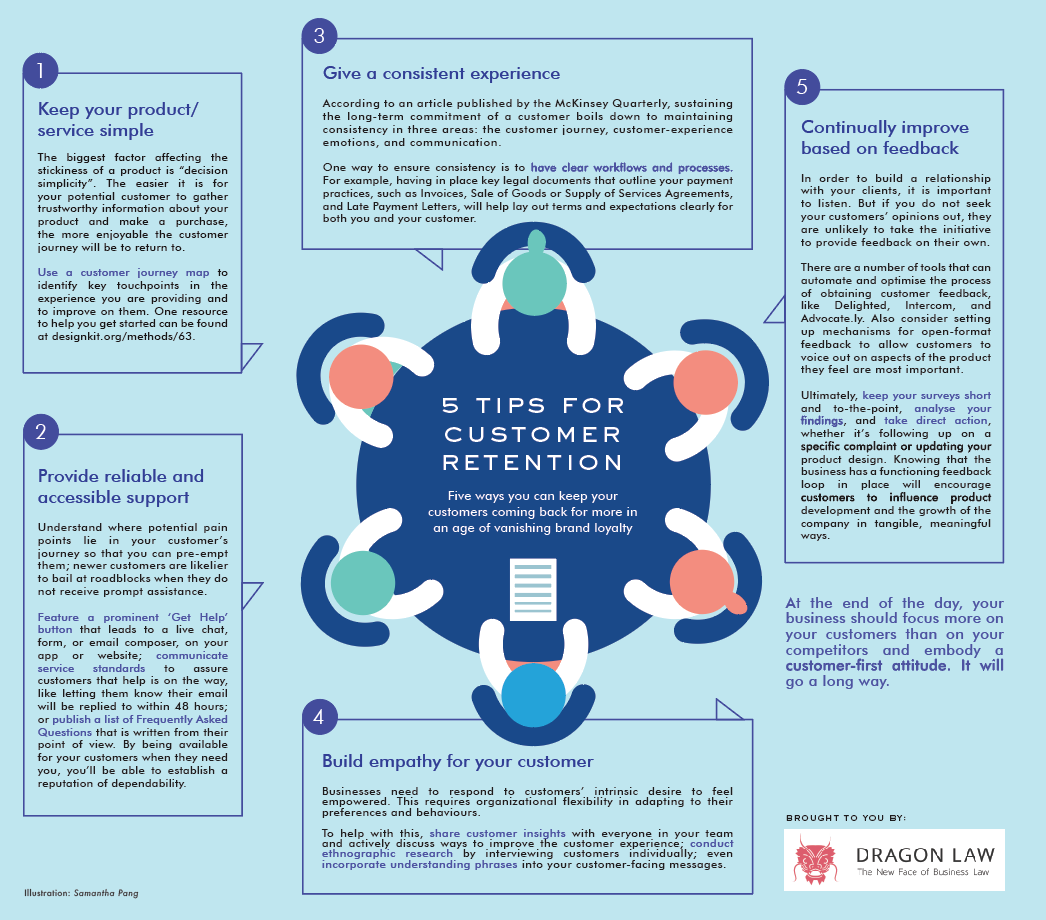 Source: The Working Capitol
What strategies or tools do you use to keep your customers engaged, happy, and coming back for more? Let us know in the comments below!
Tags:
Like what you just read?
---
Subscribe to our newsletter and be the first to hear of the latest Zegal happenings, tips and insights!