Coworking space in Nottingham
By Guest Post, Updated: 2023-06-26 (published on 2021-09-22)
Coworking space is rapidly growing in Nottingham and around the world because it helps small business owners, startups, and freelancers by fixing the real estate solutions and reducing the administrative cost involved while renting an office space.
The historical city of Nottingham is rich in creativity, diversity, outstanding education, and is home to a thriving textiles industry. This prosperous metropolis is known internationally for its rapidly developing economy and is one of the UK's largest urban areas following its industrial period in 1750. Boasting beautiful scenic views across its Market Square and Arboretum Green Square, it's no surprise that this city has become a hotspot for aspiring entrepreneurs starting their own enterprises. Whether you're an entrepreneur, SME owner, or startup in Nottingham, you may be considering different co-working spaces. This guide will introduce you to our top picks for the best co-working spaces around the city.
Advantages of coworking space
Better flexibility and cost-saving

Offers better networking opportunities

Access to all office necessities like Hot desk, dedicated desk, private office, meeting space and mailing address, etc.

Collaboration opportunities
Wellness and work-life balance


What is a Coworking space?
Coworking spaces are shared workspaces, where many companies work together to reduce the operating cost by sharing common resources. This shared space offers basic amenities required in an office like meeting rooms, internet connectivity, kitchen & coffee, printer, etc.
Normally freelancers, startups, and small teams prefer these kinds of workspaces because it provides them an opportunity to save high rental fees, and operating costs required in a traditional office space.
Here is the complete list of the coolest coworking spaces in Nottingham. 
1. Works Social 
Located within the city's former industrial gem, Works Social offers a variety of co-working and events spaces to cater to all needs. Whether you're an independent worker, micro-business, or up-scaling team, Works Social has a cost-effective, flexible, and well-equipped option for you. Its fresh and inspiring environment aligns with its community-driven mission and provides a go-to creative hub for innovative ideas, sharing resources, and talent. 
Location: 16 Commerce Square, Nottingham NG1 1HS
2. Cobden Place 
Advantageously positioned between Nottingham's City Centre and Creative Quarter, this spacious co-working space is located inside a renovated factory building, offering two stories of desks, meeting, and events rooms ideal for all types of small and medium-sized businesses. Their flexible plans make the perfect home for teams whether you are looking to rent desks by the hour, week, or even secure a permanent space long term. The building boasts high-speed internet, heating, and unlimited tea and coffee.
Location: Unit 5, Cobden Chambers Cobden Place, Pelham St, Nottingham NG1 2ED, United Kingdom
Phone: +44 115 784 2944
3. Scale Space Nottingham
If you're looking for a modern, flexible, and more formal option for you or your team, look no further than Accelerate Places, located in the City Centre. The spaces in this office were strategically designed for collaboration and innovation through synergistic communication with different entrepreneurs and creatives. In addition to amenities such as limitless printing, a full-service cafe, and meeting catering, Accelerate Places also hosts a plethora of networking workshops and events for businesses in all sectors, encouraging the sharing of ideas and skills.
Location: The Poynt, 45 Wollaton St, Nottingham NG1 5FW, United Kingdom
Phone: +44 115 795 0141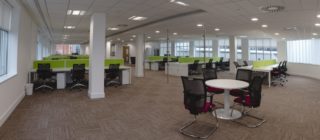 4. Minor Oak Nottingham Coworking 
Nestled alongside the city's best independent businesses, cafes, and pubs, Minor Oak's co-working spaces come equipped with all the essential tools, facilities, and services that your business needs to work efficiently and productively. Aside from basic amenities such as a desk and professional venues for meetings, workshops, and events, the spacious co-working floor plan allows for open collaboration with a supportive group of fellow entrepreneurs, remote workers, and independent professionals like you. 
Location: Sneinton Market, 4, Unit 6 Gedling St, Nottingham NG1 1DS, United Kingdom
Phone: +44 115 860 0051
5. THiNK in NG 
Complete with tall ceilings, large windows, and spacious desks, this former factory space was transformed into a bright and modern co-working space for creatives, SME owners, freelancers, and entrepreneurs. Central to all of Nottingham's main transport links, THiNK in NG was created specifically for the purposes of assisting young businesses in nurturing their creativity and collaborating with other industry professionals through workshops and their bespoke 1:1 mentoring services.
Location: Cobden Chambers, Nottingham NG1 2ED
6. Regus Express 
Hilton Hotel, Milton St, Nottingham NG1 3PZ
If you're suited to a more formal and quiet work setting, the Regus Express maybe your best option. Located in the Hilton Hotel, this simplistic workspace, though smaller than other co-working spaces, offers well-organized, pleasant, and clean desks along with unique 'ThinkPods', designed to offer a place of solitude and silent work. Equipped with all your basic necessities such as desks, meeting rooms, and high-speed wi-fi, this space is an affordable option for those looking for a simplistic and flexible space. 
Location: Hilton Hotel, Milton St, Nottingham NG1 3PZ
7. Antenna 
Membership plans at Antenna are tailored to the working arrangements of each and every individual looking to rent a space there. Home to hundreds of small and medium sized businesses, this co-working space offers both traditional membership plans which come with access to reception services, on-site cafes and meeting spaces, as well as a unique virtual tenancy membership which provides you with exclusive access to the Virtual Tenants' Lounge, shared office space, and the options for post forwarding and calls answering/forwarding. 
Location: 9A Beck St, Nottingham NG1 1EQ, United Kingdom
Phone: +44 115 993 2350
8. Business HQ 
Business HQ is a friendly family-run business center located in Carrington, just outside of the city center, and situated in the premises of a renovated old factory building. Equipped with a staffed reception team, stunning balcony area and plenty of breakout areas, this airy and light space is ideal for businesses regardless of size and sector. The mission of this co-working space is to foster a sense of community, and its myriad of mentoring schemes, social events, and networking opportunities do just that. 
Location: 11 Oak St, Carrington, Nottingham NG5 2AT, United Kingdom
Phone: +44 115 718 0090
9. BizSpace Nottingham Roden
This multifunction space provides a mixture of office suites, studios, workshops, and light industrial units for your business and any of its inventory or storage needs. Spanning over five spacious floors, choose from a catalog of over 50 business units suited to cater to a variety of business sizes and teams. Moreover, their flexible, one-page license allows your business to adapt the terms of space leasing to suit your needs over time.
Location: Roden House, Business Centre, Roden St, Nottingham NG3 1JH, United Kingdom
Phone: +44 115 959 8808
10. Wheeler Gate Workthere Nottingham 
Wheeler Gate's fully furnished office spaces come equipped with all of your basic amenities at an affordable price and a flexible leasing schedule. Located in the business center of the city, the office spaces at Wheeler Gate are surrounded by the atmosphere of the growing companies of the IT and media sectors. These serviced offices offer the best services and flexibility to satisfy the companies' demands, all the while providing a network of budding businesses to collaborate with. 
Location: 15 Wheeler Gate, Nottingham NG1 2NA
Nottingham is a popular destination for entrepreneurs and startups across all sectors and industries. For this reason, finding a suitable location and space to harness innovative ideas and build a network of like-minded creatives is crucial. Ensure that your business builds its foundations amidst a community that encourages progress and development by choosing the right space for its own unique needs. 
READ MORE:
Follow us on Facebook, Linkedin & Twitter
Tags:
Like what you just read?
---
Subscribe to our newsletter and be the first to hear of the latest Zegal happenings, tips and insights!