7 Most Important Point You should Look before Signing Contract for a Job
By Will Elton, Updated: 2022-06-01 (published on 2019-02-07)
You have been just offered a new job? Congratulations but the next step might force you to think again and you need to brainstorm to take a decision on whether to sign a contract for a job or not ?. Your employment contract might have several terms and conditions but you don't know which points to look for and decide what's better for you.  You must have set questions to ask before signing a job contract or you might be wondering what to know about contract jobs?  Well well, Here are the most important things you should really check out before you even consider picking up a pen and signing an employment contract.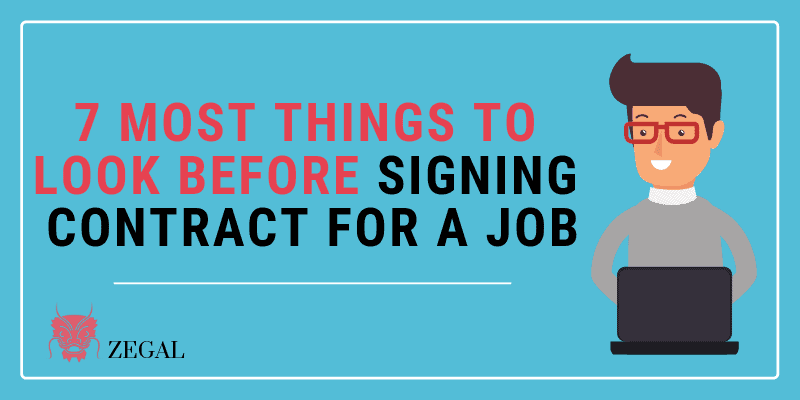 1. Understand At-will employment, Fixed term, and Permanent contract.
You might not be aware of different kinds of contracts. To understand what kind of contract you are going to sign. You can always ask questions when you have doubts about an employment contract.
At-will employment is flexible in which both parties (employee and employer) have a fair, comfortable work environment without any major commitments from either side. Employees can be terminated at any time without any reason, explanation, or warning. It also means an employee can quit at any time for any reason – or no reason at all.
At-will employment has grown increasingly more popular over time in countries like the USA.
Fixed-term employment is a contract in which a company or an enterprise hires an employee for a specific period of time. In most cases, it is for a year but can be renewed after the term expires depending on the requirement. In fixed-term employment, the employee is not on the payroll of the company.
In this type of contract, Company or organization hires an employee for a specific duration of time. Generally in fixed-term employment. The payout or the payment is fixed in advance and is not altered till the term expires.
A permanent contract of job is somehow a long term contract and you have to promise for a long term commitment. For permanent positions, you will be eligible for full employee benefits offered by the client/employer. This can vary for fixed-term contracts (which will be determined by the employer). You will continue to be PAYE (for HMRC purposes).  
So you must be aware of which type of contract you are signing. You might face problems in the future if you don't understand the logic and the nature of the Job contract you are signing. Study the pros and cons of the contract you are offered by the company.
2. Know about your responsibility and title of the job.
The consequences of not checking your responsibility and job title while signing a contract for a job might create a problem. You find yourself doing things you can't or don't want to do. It can also mean that you will end up dealing with a heavier workload than anticipated.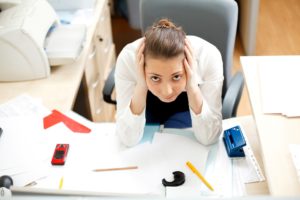 However, you should recheck in the contract whether the job title, department and job scope are the same as what you expected or not. You can read that information in the point of the job title and description. 
3. Know about Compensation & Benefits, You are entitled
While you may have already thoroughly discussed your compensation package with your employer, it is in your best interest to check again before signing an employment contract
A few things to keep in mind:
Salary and Annual bonus provisions and other benefits
The major thing people do the job is for salary. So salary is the most important consideration when you pick a job. While you have negotiated in the interview and have agreed to a certain amount, you should check in the contract as well. You should know how and when you will be paid.
You should also check additional incentives like bonuses, health benefits, and travel expense reimbursements. There should be clearly mentioned how and in which cases you can receive those benefits, you need to understand it clearly.
For Example, Company might have mentioned health benefits. So you should know what amount of benefits you will be getting and the conditions for benefits. If the conditions are not mentioned clearly be aware and ask to clarify before signing a contract for a job.
Vacation (leave) & sick leave. Do you have paid leave?
You should check how many paid leaves you can take in a year is important so you can plan how you will use them.
Also, keep your eyes on compulsory holidays, different countries have different rules for that. As a new employee, you also need to know when you are allowed to take vacation days. Do not forget to check how you can propose vacation leave, emergency leave, and sick leave.
The points that should be clearly stated about holidays are:
How many days you are entitled to vacation?

When do the holiday year start and the compulsory holiday's dates

Whether you have compulsory holidays on occasions like NEW year, Christmas or any other festivals or important dates.

Whether you can carry any days over to the next year
In many countries paid sick leave is a statutory requirement, meaning that there are laws written about it. Make sure you know the law regarding holidays and leave before you look at this section of the contract.
4. Working hours
Know your working hours before signing the contract. You should make sure how many hours you have to work in a day, including the allocated time for lunch or breaks.
Check whether you need to work overtime or even on weekends and if so how will you be paid for this.  In some cases instead of being paid for overtime, these hours can be converted into days off or holidays commonly called "time-in-lieu". You need to be clear on the company's policy and be prepared to negotiate.
Sometimes an employer expects you to work more hours and not get paid for them. Do take note of this.
5. In what condition your employer can terminate your contract?
Read and understand the terms and conditions for termination. If you have any doubt ask to clarify the point. The terms of termination need to be clear. Otherwise, you might end up agreeing to your termination at any time, without notice and worse, without any reason. This is termed 'without cause'. There might be different legal terms to try to understand the proper meaning.
For example The term 'sole discretion' means that your employer can decide to fire you without talking to you first
6. Restrictive clauses
You should check whether there is any restrictive clause in the contract or not. They are applicable to you even after termination of employment. Employers might have special attention to this clause to protect the business, its clients, and other employees. There are four of these, non-competition, non-solicitation, non-dealing, and non-poaching clauses. So if there are any Restrictive clauses have a close look and understand what that is for.
Non-competition clauses may limit you to work for a competitor of your former employer

Non-solicitation clauses prevent you from poaching clients and suppliers of your former employer

Non-dealing clauses prevent former employees from dealing with former customers and suppliers

Non-poaching clauses prevent former employees from poaching former colleagues
7. Confidentiality
You should know whether you are responsible to keep trade secrets or any kinds of information before signing a Contract for a Job. In some cases, you need to sign NDA as well. Although it's another step after signing a job contract it's better if you know about those things before signing the contract.
An employer can't force you to sign a new contract unless you are not clear about all terms and conditions in the contract or without your wiliness.
Hope you like what you just read so stay tuned to zegal for more information about legal services.
Like what you just read?
---
Subscribe to our newsletter and be the first to hear of the latest Zegal happenings, tips and insights!